Home - History - Champions - Showwinners - Our dogs - Litters - News - Judging - Grooming ( Trimmen )- Other breed- Contact - Links
Click here for previous news of Hellacious Acres Golden Retrievers 2008 and before: 2005-2006-2007-2008- & previous showinners
Click here for the previous news of Ramchaine Golden Retrievers 2008 and before: ***
Click here for news of the combined Ramchaine and Hellacious Acres Golden Retrievers: 2009 - 2010 - 2011 - 2012 - 2013
NEWS 2014
January/February - March/April - May/June - July/August - September/October - November/December

The International Dogshow Bleiswijk, NL. – 1st Day


Saturday 1st November , Judge John Thirlwell (Gundog Specialist , UK)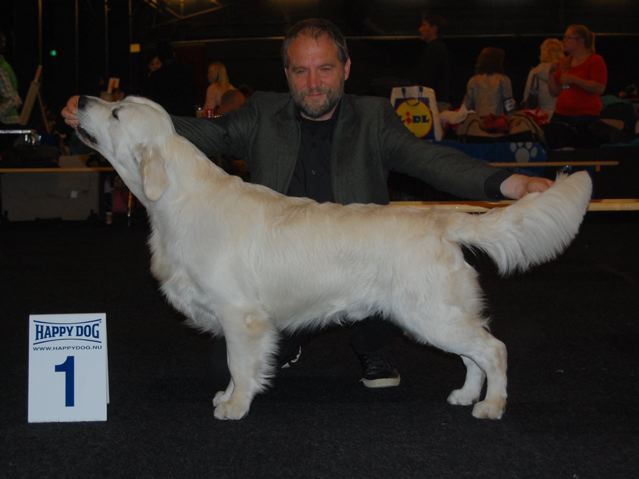 JCH Ramchaine Moment of Truth wins 1st Excellent in Open Dog and the RCAC & RCACIB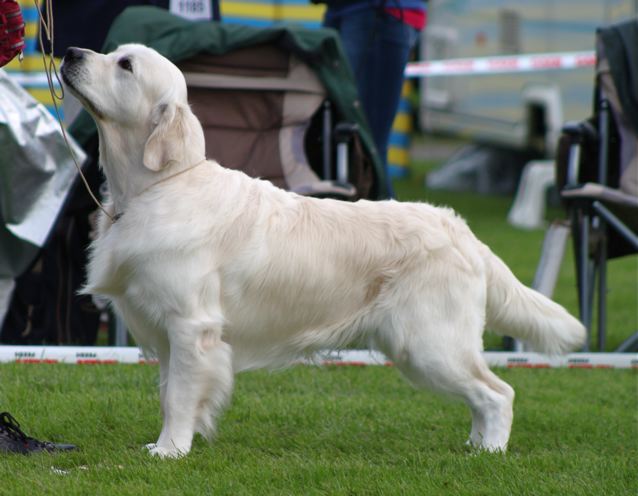 Multi Ch Noah of the Hellacios Acres wins 2nd Excellent in the Champion Dog Class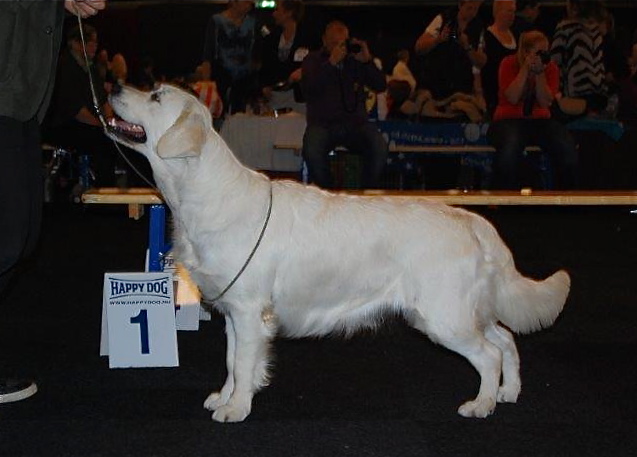 JCH Lizanna of the Hellacious Acres wins 1st Excellent in Open bitch

The International Dogshow Bleiswijk, NL – 2nd Day


Sunday 2nd November , Judge Mrs Kirshi Louhi (Fin)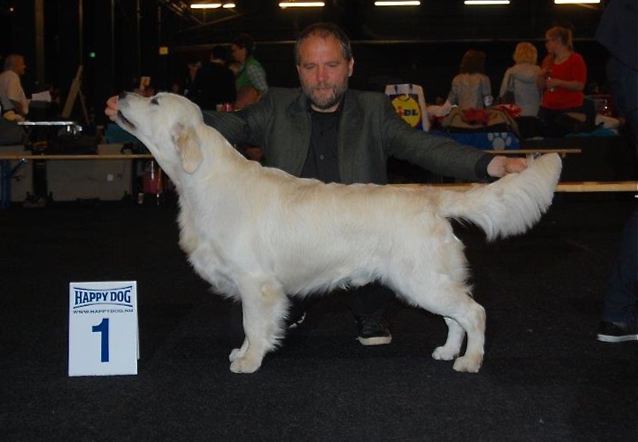 JCH Ramchaine Moment of Truth wins 1st Excellent in Open Dog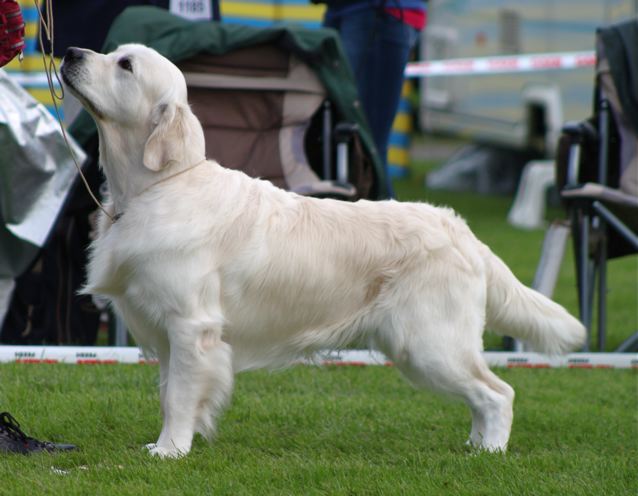 Multi Ch Noah of the Hellacios Acres wins 1st Excellent in the Champion Dog Class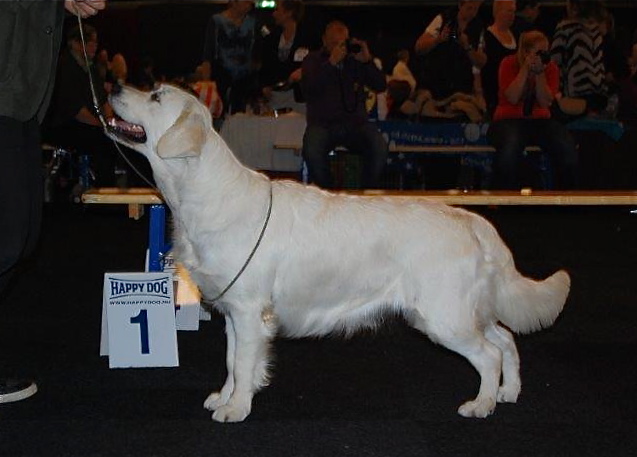 JCH Lizanna of the Hellacious Acres wins 1st Excellent in Open bitch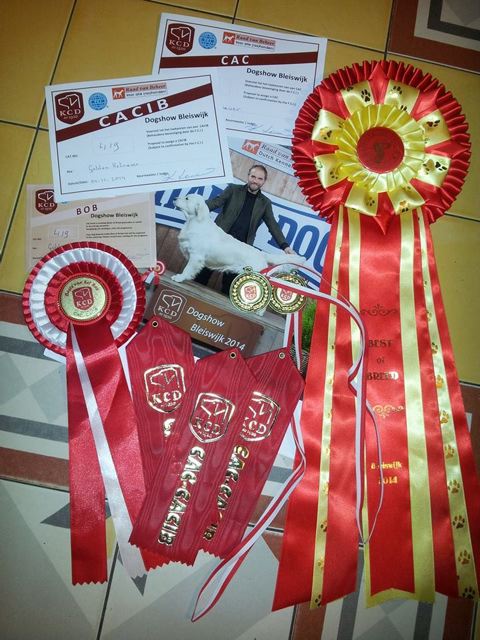 The good results of yesterday get even better today, with all 3 dogs winning 1sts in their respective classes and then our young Trevor becoming
BEST DOG with the CAC & CACIB awards & BEST OF BREED too!!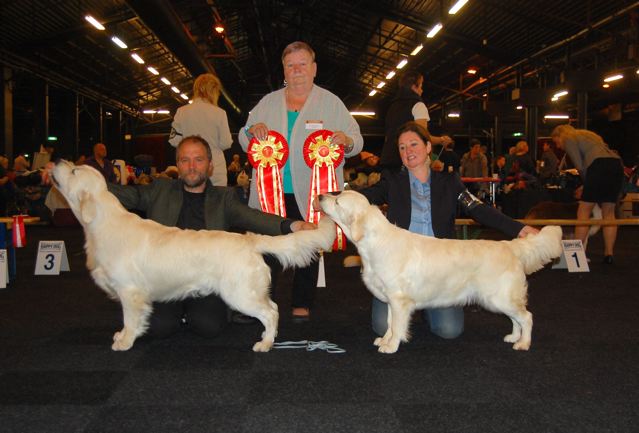 The Judge with her Best Dog and Best Bitch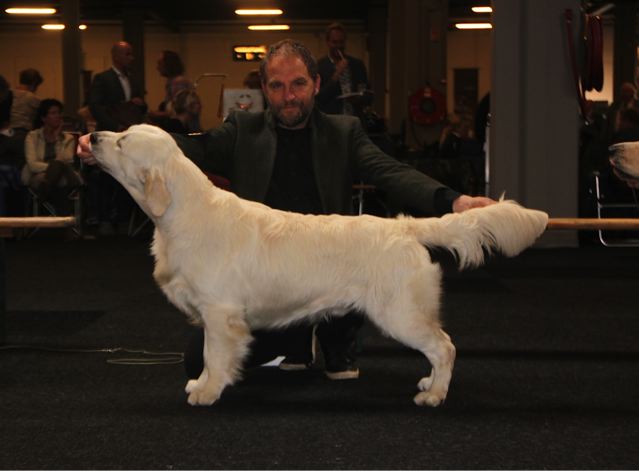 Our 2 year old Trevor now has 2 x Dutch CACs and 2 x Dutch RCACs plus 2 x CACIBs in 2 countries. It has been great results for our showteam over the weekend with 5 x 1sts and 1 x 2nd won between them and an armfull of rosettes and medals to come home with1

Saturday 15th November 2014 – The DRC Championship Clubshow, Kassel, Germany.
Judge : Mr. Adrian McKiernan(UK) (Bushbane).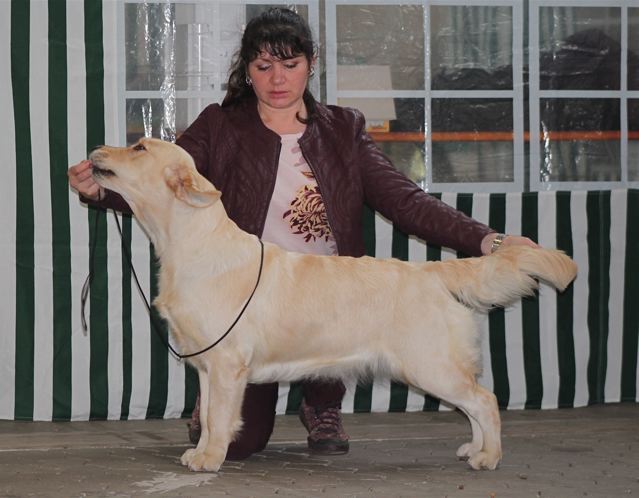 In the Intermediate bitch class our Ramchaine Rosalia wagged herself to the first place, so winning the CAC and the VDH certificate. We are very proud on our ultra waggy JAQ and NOAH daughter "Rosie" .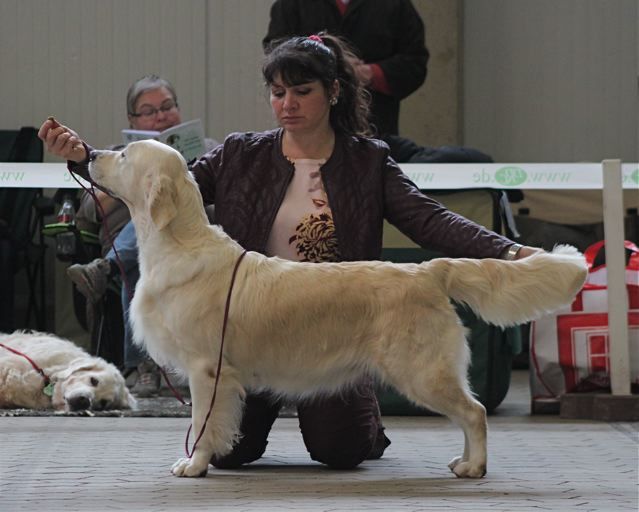 "Fuzzy"- Ramchaine Moonstruck did equally good by winning a huge Open bitch class and also winning the CAC and VDH awards. Our fun loving JEREE and BARNUM daughter can move like a dream, and took off around the ring with immense presence and style.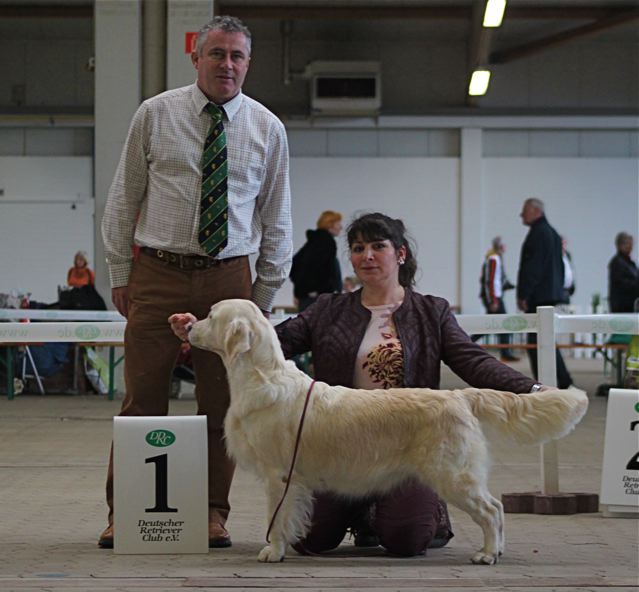 In the bitch challenge FUZZY showed her socks of, stood regal like a queen and outmoved all her competitors and became …. Best Bitch!!! Superrrrr!!!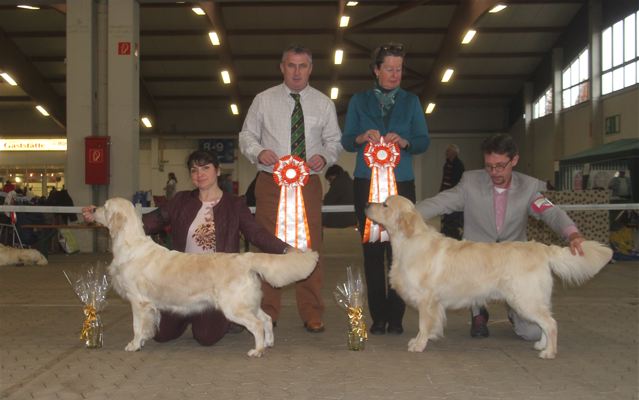 Our Fuzzy is in "top shape", in the challenge for BOB she moved round the ring if it was hers and hers alone and thrilled us to became BEST OF BREED with the agreement of both judges!!! A great ending to a great day!!!

Sunday 16th of November, at the International All Breed Show in Geneva - Switzerland.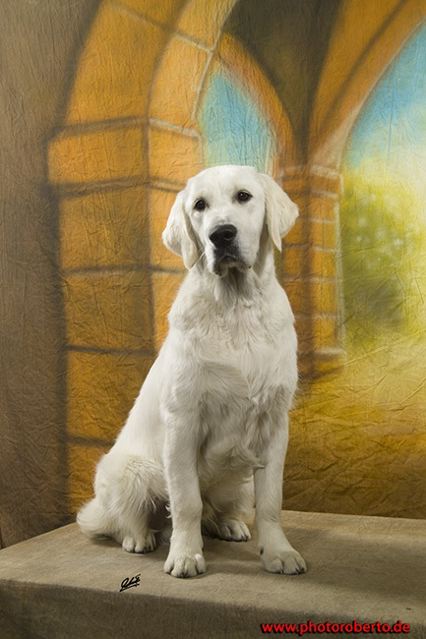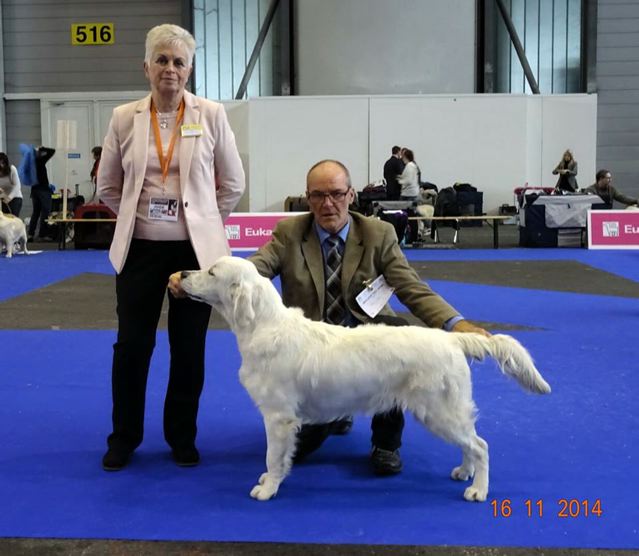 Ramchaine Hard Days Night ( by Multi Ch Noah of the Hellacious Acres ex Ramchaine Monkeynut) wins Best Puppy at 7 months of age, under judge Lyn Strudwick (Burpham) - UK. He is proudly owned by Heini Zellwegger from Switzerland. Well done Heini!!!

Saturday 30th November - The GRC Advents Club Specialty Championship Show, Cloppenburg- Germany.
This is always the last Specialty Golden Retriever Championship show in Germany of the year. The Judges fort his year were Bernard Caterall(Golmas)-dogs and Freda Garget(Garvin)-bitches, both from the UK, with an entry of 177 Goldens.
The Ramchaine and Hellacious Acres showteam existed this time out of "Rosie" Ramchaine Rosalia, "Jina" Ramchaine Monkeynut, "Fuzzy" Ramchaine Moonstruck and "Trevor" Ramchaine Moment of Truth.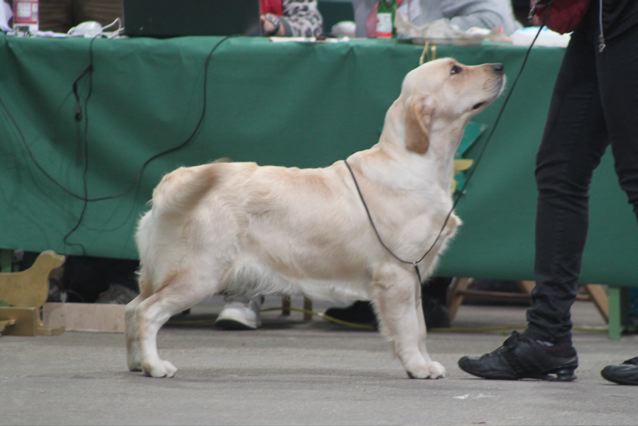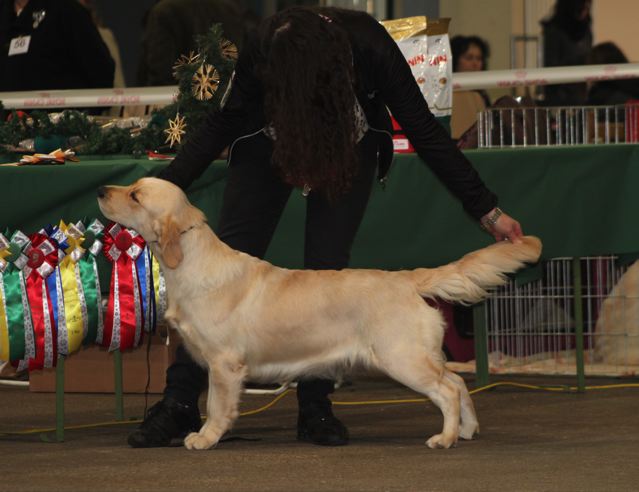 Our Rosie was first in the intermediate bitch class (19 entries). As usual she was wagging and wagging and she wagged herself to the second place with the RVDH/RCAC .... only being beaten by the eventual Best Bitch!!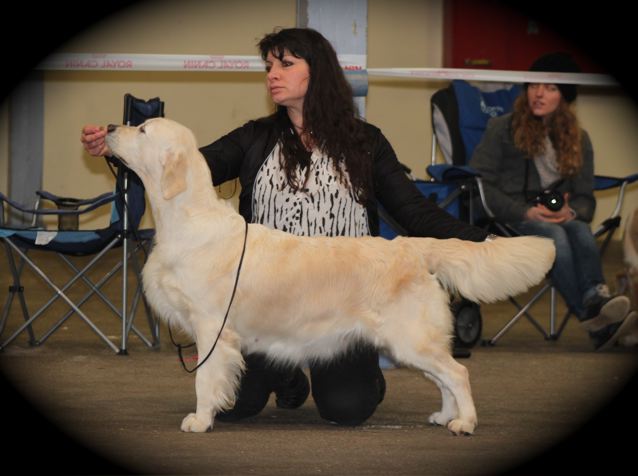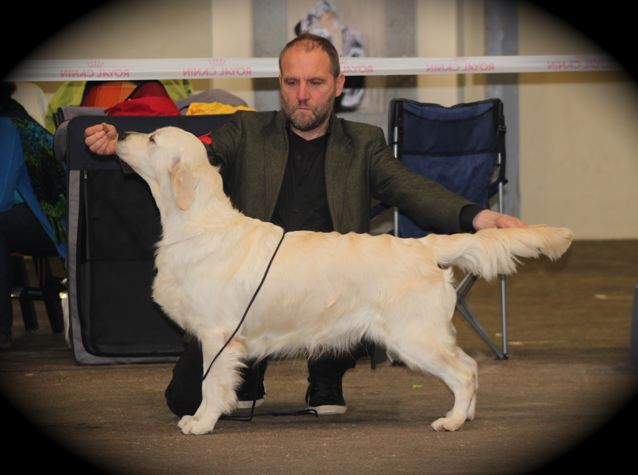 We had entered both our gorgeous Barnum daughters -Fuzzy and Jina, in the open class (20 entries), Jina was just returning back into the showring following a break for her litter to Noah,.
Both the girls were on the edge of a title and a win for either would crown them to their title. They did a wonderfull job and showed brilliantly, resulting in Ramchaine Moonstruck(Fuzzy) winning the class 1st with the VDH/CAC award and Ramchaine Monkeynut (Jina) winning 2nd with the RVDH/RCAC awards.
We couldn't ask for more from our lovely girls xXx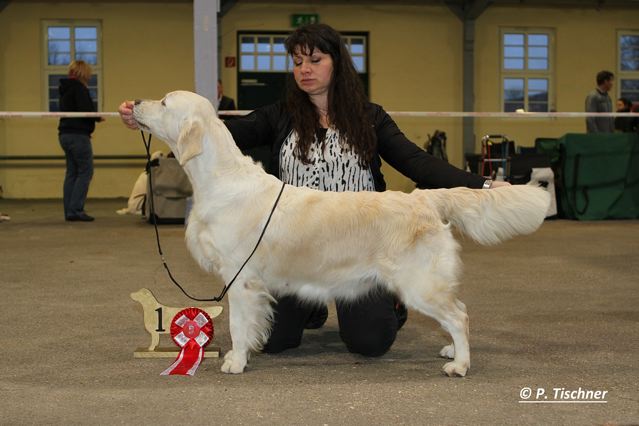 Whhaaaahoooooo!!! Ramchaine Moonstruck (Multi Ch Barnum of the Hellacious Acres ex Multi Ch Ramchaine Essential JW) wins the Open Class and gains her GERMAN CHAMPION TITLE!!!! ( Having only ever been shown at a total of 8 shows overall in her life!!!)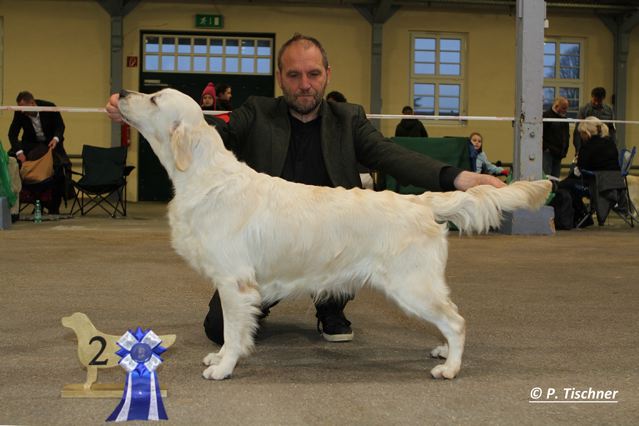 Ramchaine Monkeynut ( Multi Ch Barnum of the Hellacious Acres ex Multi Ch Ramchaine Jaq of Hearts JW)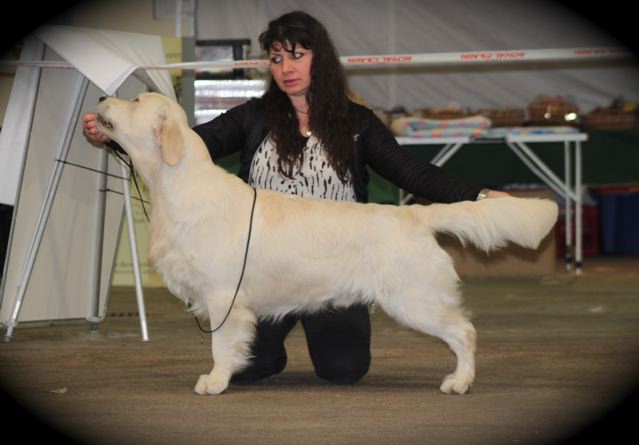 Last but not least was our Trevor in the open class dogs (17 entries) Ramchaine Moment of Truth won 1st Excellent with the VDH/CAC awards,. He again made us very proud and had a very lovely critique from the judge:
"Quality cream boy with masculine, pleasing head, dark eye, good pigmentation, clean neck, excellent shoulders and upperarm, straight front, well padded feet, good mature body with level topline, excellent rear angulation, good tailset, carried correctly on the move. Excellent coat, well presented and handled."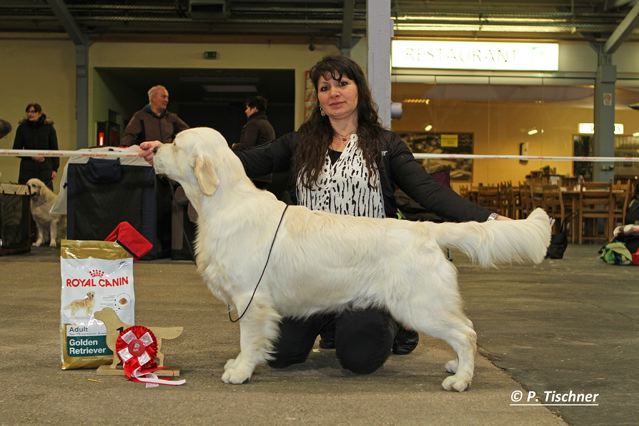 So together our 4 doggies and we won another two VDH/CAC awards and two ReserveVDH/CAC awards between them!!!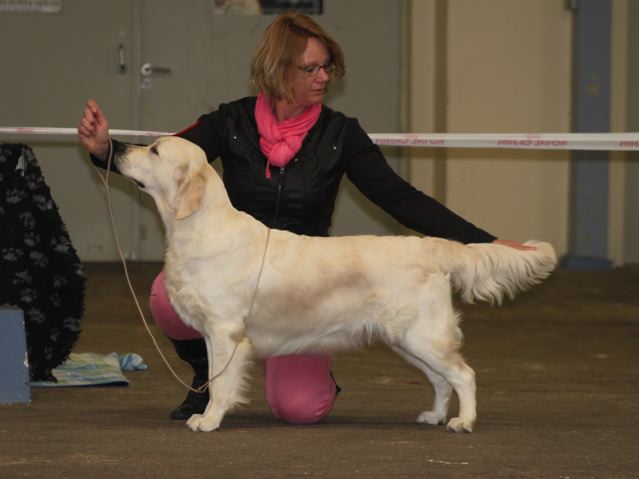 At the same show in Intermediate Bitch (out of 19) was Ramchaine Pink Paradise
( Ch Thornywait Aceymac ex Ch Ramchaine Moonstruck) belonging to Rosita Putters who became 4th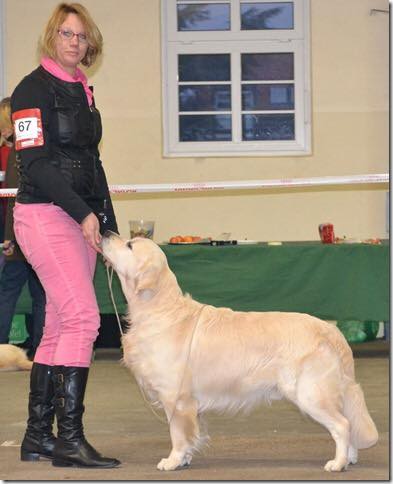 And Rosita's Ramchaine Motif ( Fuzzy's litter brother) also became fourth in the open class dogs (out of 17) . Well done Rosita !!

6th & 7th December the Ramchaine and Hellacious Acres showteam went to the National and International dog show in Kassel(Germany)


Judges: Dr. Verena Neuburger (CH) 1st day & Mr Chris Hancock (IRL) 2nd day

Our showteam of 4 existed this time of - Lizanna of the Hellacious Acres (Lisza), Ramchaine Rosalia (Rosie), Ramchaine Moment of Truth (Trevor) and Multi Ch.Noah of the Hellacious Acres. (Noah).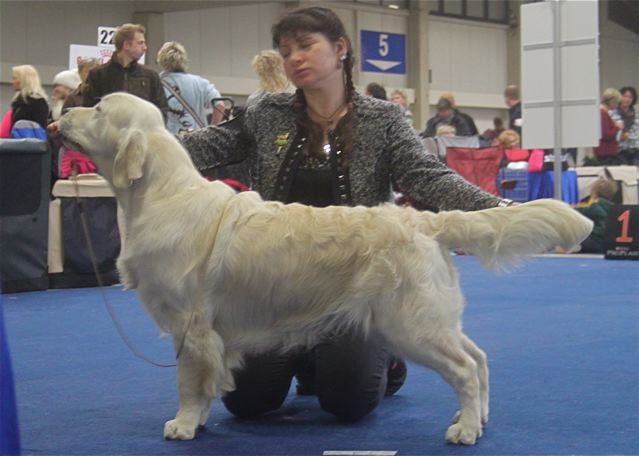 Int.Sh.Ch/Danish/German Ch.Noah of the Hellacious Acres got the VDH-Ch.Award on both days which makes him now also a VDH(German) Champion, another title to add to his name.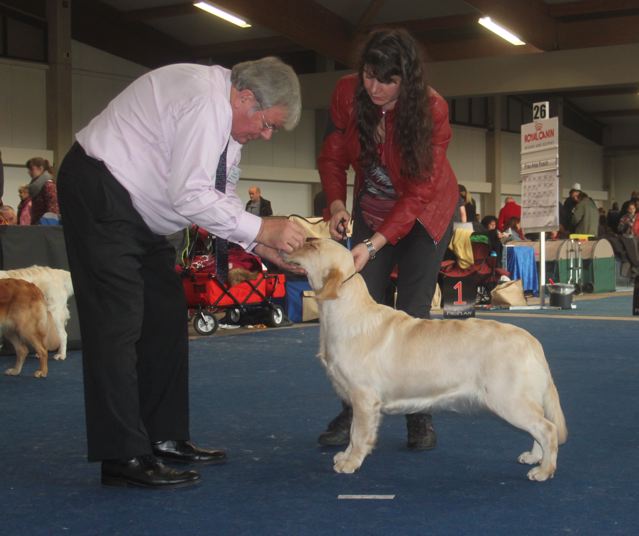 Rosie became second in her Intermediate class winning the Reserve VDH-CH.Award on both days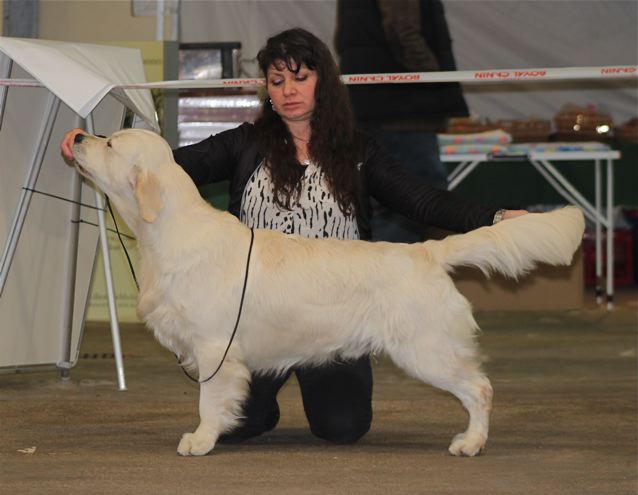 Ramchaine Moment of Truth won 1st Excellent in the strong Open dog class on both days which gave him two VDH-Ch.Awards and also became Reserve Best Dog on the second day with the Reserve CACIB and Reserve CAC. This would give him his VDH-Ch.title but unfortunately he was one day short to get the necessary calender year in between the first and the last, so we have to wait for a next opportunity on his next show!!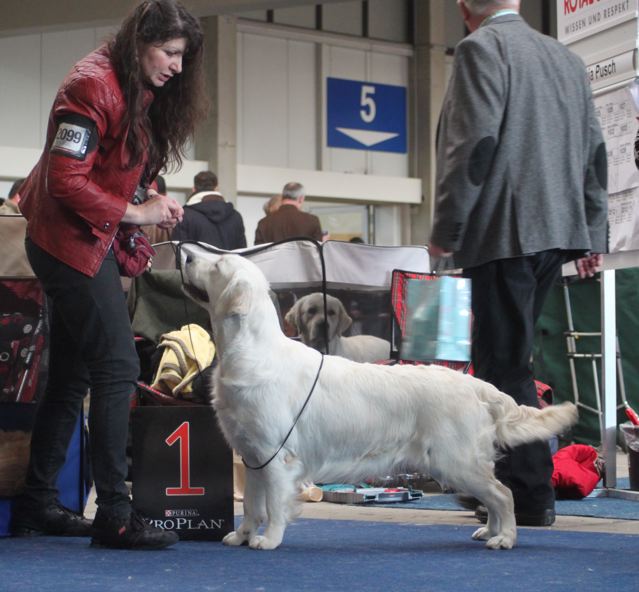 JCH Lizanna of the Hellacious Acres, again in full bloom, won her quality Open bitch class(10 entries) and the VDH-Ch.Award
JCH Lizanna of the Hellacious Acres became BEST BITCH with the CAC and CACIB –awards !!!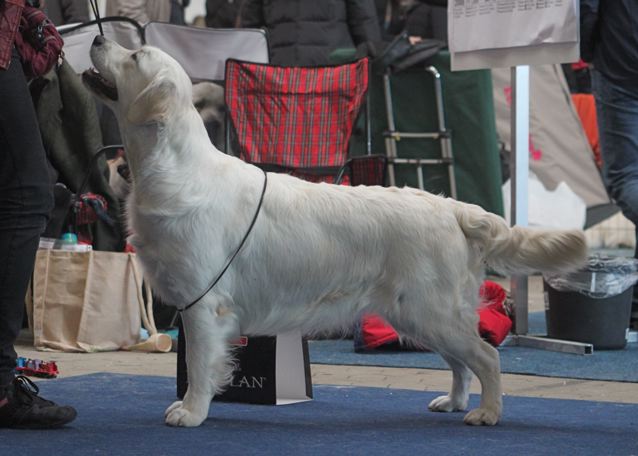 This last VDH-Ch Award was won one year and one week after her first and in the meantime she had already won more than enough VDH-Ch.Awards to be now crowned as:
Ch.Lizanna of the Hellacious Acres.
Her first title with hopefully many more to follow.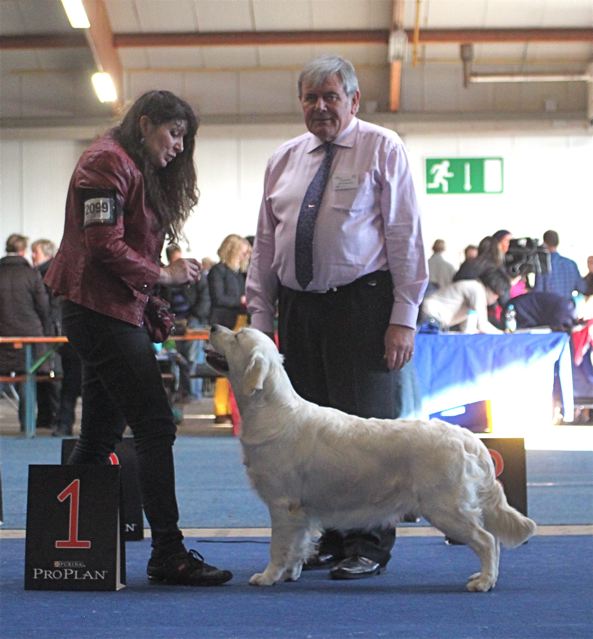 A new Champion in our family, the 10th currently living at home with us. At "Willow Farm", in Twisk.!!!

The "HOLLAND CUP" CACIB Show, Amsterdam, on 12th December
The judge was breed specialist Andrzej Stepinsky (Oligarchia) from Poland.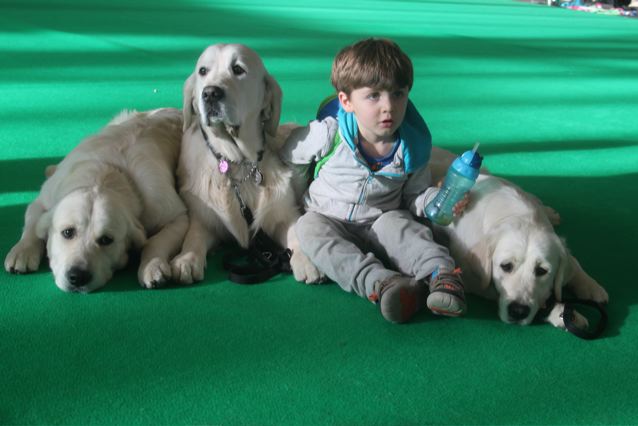 Our showteam for this day out was NOAH, TREVOR and LISZA.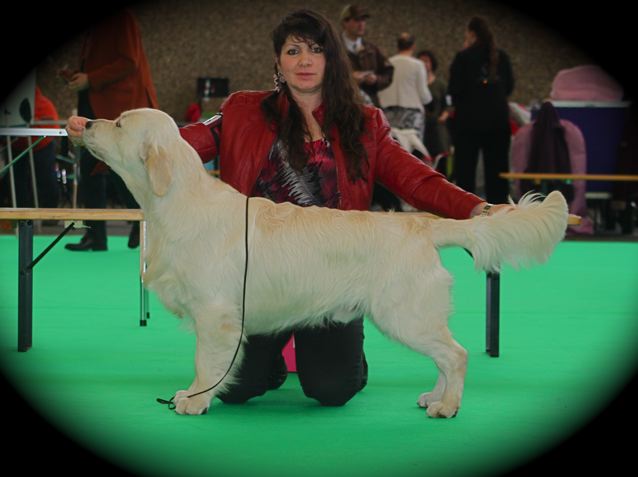 Jun.Ch.Ramchaine Moment of Truth ( Multi Ch Majik Truth or Dare ex Ramchaine MonkeyNut) was first out in the breed ring and won
1st Excellent in the strong open class.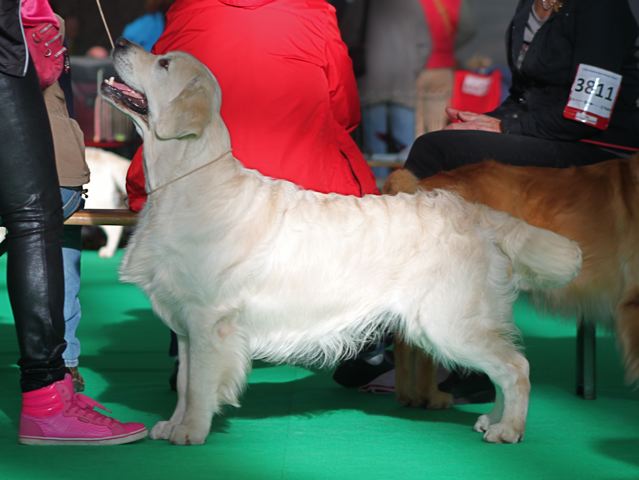 Our Int.Sh.Ch./ Danish Ch/ German & VDH Ch.Noah of the Hellacious Acres did very well by getting second behind the CACIB winner dog. As usual he was a little naughty with all his jumping and cavorting around but thoroughly enjoyed his showday and had a lot of fun in the ring!!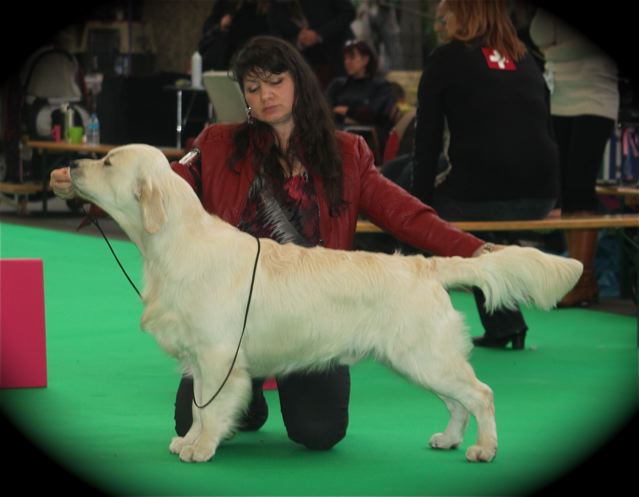 Whaaahoooo!!!
TREVOR thrills us by getting the CAC and Reserve CACIB !!!
The rule in Holland is for a dog to be a least 27 months of age before gaining the final point needed to become a champion And This was the last CAC needed for our Trev to gain his Dutch Champion Title at just 27 months plus 5 days !!!!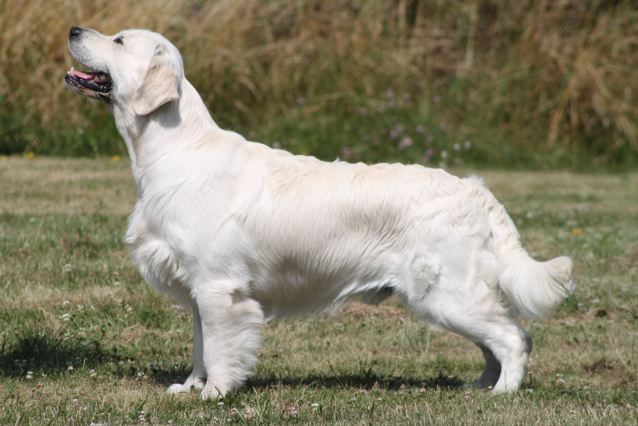 TREVOR is now officially:
DUTCH CHAMPION Ramchaine Moment of Truth NJK, DJK
.... and becomes our 11th Champion to be living at home with us !!!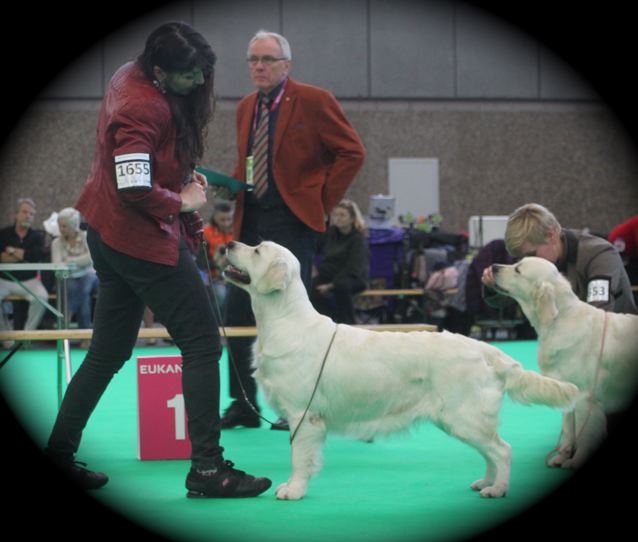 Last but definately not least our Ch.Lizanna of the Hellacious Acres came into the Open Bitch Class among strong competitors and won 1st Excellent ..... As usual wagging and shown freestanding, standing four square naturally herself.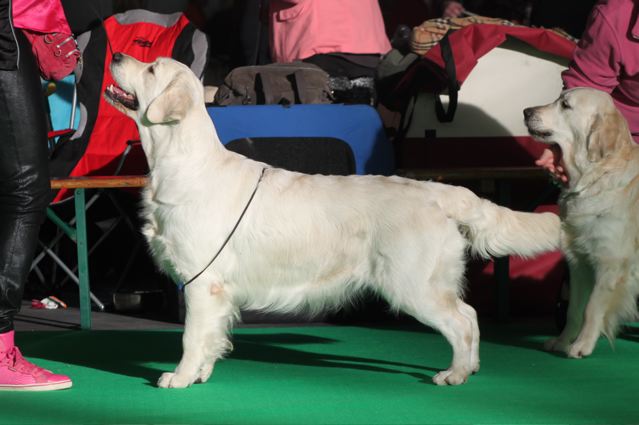 CH Lizanna of the Hellacious Acres comes back for the bitch challenge with all of the other class winners and our GREAT day gets even better with our Lisza winning the CAC/CACIB awards!!!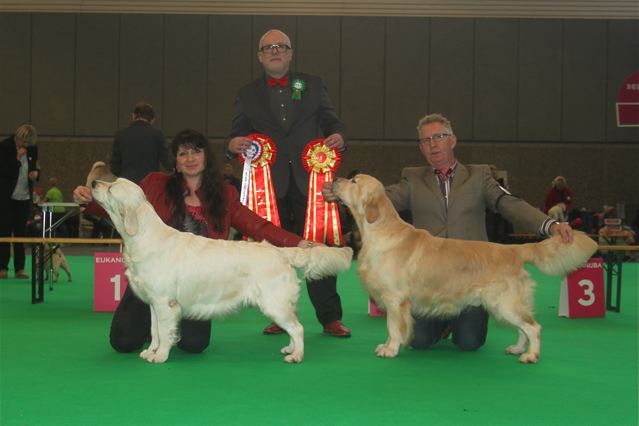 In the Challenge with the best male for BOB she moved well and appealled greatly to the judge for her beautiful head and expression and fabulous dark eyes ..... and won BEST OF BREED !!! On the photo the judge Andrzej Stepinsky with his BOB & BOS.
Again a great and very succesful day for our showteam, which makes us proud of OUR Golden Retriever family who have as much fun in the showring as we have showing them.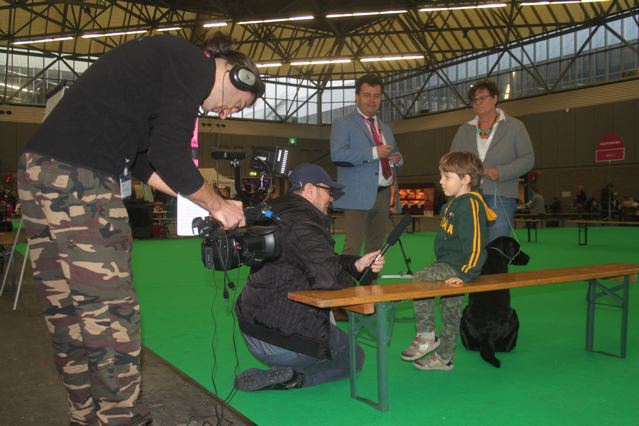 The Eukanuba World Challenge television team and camera crew were doing their rounds at the show before the big event and came along to interview our three year old son SEBASTIAN, who gave his in depth view on the dogshow scene, speaking out on the topic of dogs!!!
Seb was to be seen on screen on the Live Stream coverage of the EUKANUBA Word Challenge Competition!!!