Home - History - Champions - Showwinners - Our dogs - Litters - News - Judging - Grooming ( Trimmen )- Other breed- Contact - Links
Click here for previous news of Hellacious Acres Golden Retrievers 2008 and before: 2005-2006-2007-2008- & previous showinners
Click here for the previous news of Ramchaine Golden Retrievers 2008 and before: ***
Click here for news of the combined Ramchaine and Hellacious Acres Golden Retrievers: 2009 - 2010 - 2011 - 2012
NEWS 2013
January/February - March/April - May/June - July/August - September/October - November/December

Firstly , we would like to wish all our friends, fellow exhibitors & extended 'dog family' a wonderful 2013 - filled with lots of luck, laughter, good health, happiness and moments to treasure xXx
January has been a quiet month at home with no shows. Our 3 x boys – Barnum , Beethoven & Noah were all DNA tested for GR_PRA 1&2 ….. and ALL found to be genetically CLEAR for that defect. (Photo in the cold January snow shows from left to right - Sebastian 15 months, Barnum, Beethoven, Martha, Jiorj, Jacquetta & Noah. )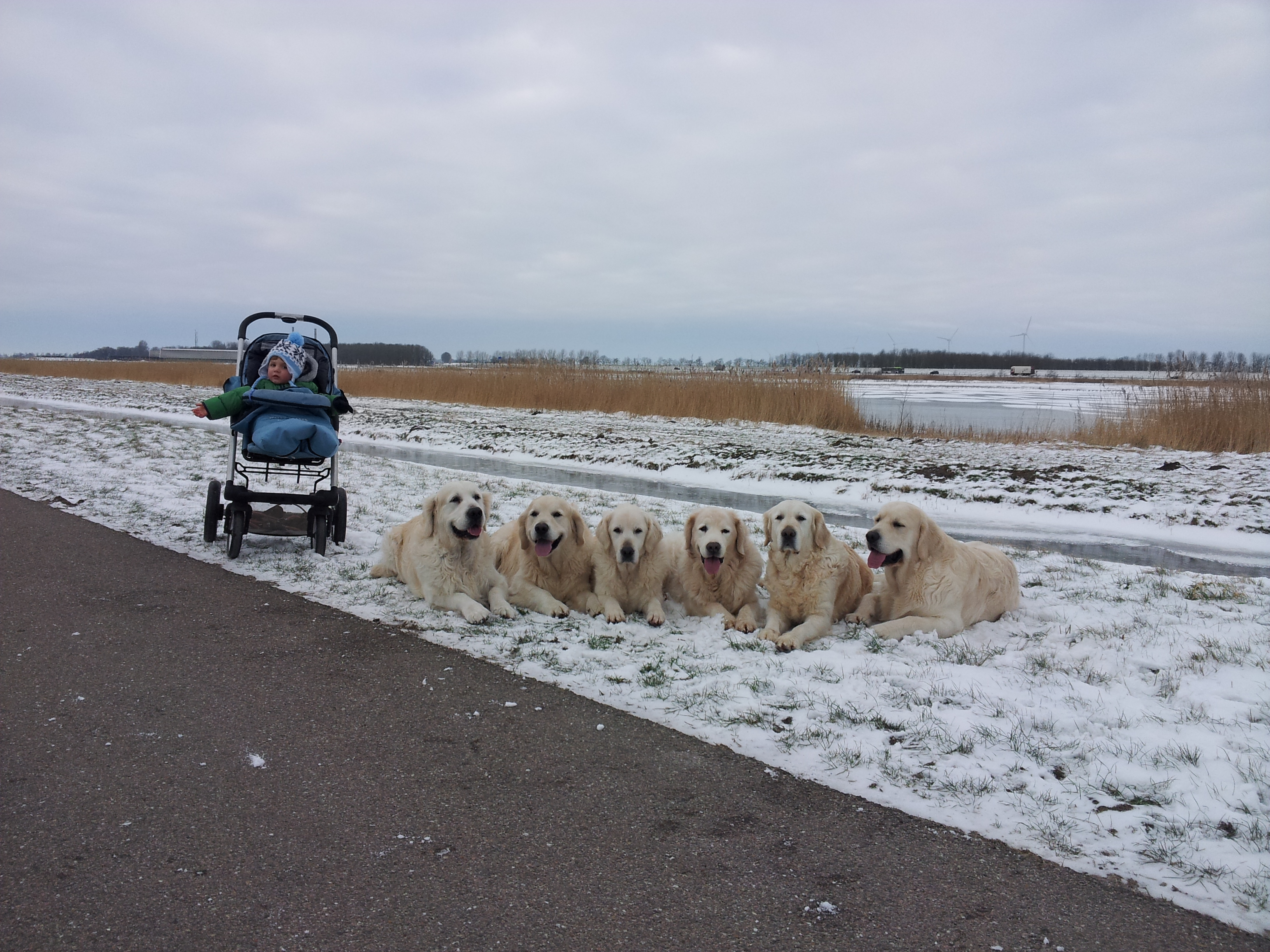 We are pleased that our old ladies made it to celebrate another Christmas & New Year with us and adorn our floors & share our lives for a while longer. Jenna ( Eastonwood High Falutin' of Ramchaine) is now 14.5 years , Jazmin ( Multi Ch Remington Requisite of Ramchaine) is 13, Multi Ch Martha of the H/A is now 9.5 years and Jiorjia ( Sh Ch Ramchaine Rubellite JW) will be 12 years old in April - and despite suffering from a chronic stroke in 2009 which left her lopsided ,wonky and totally deaf, she is doing really well and still enjoying life and her walks with the others ( - as pictured in the photo below sitting on the bench).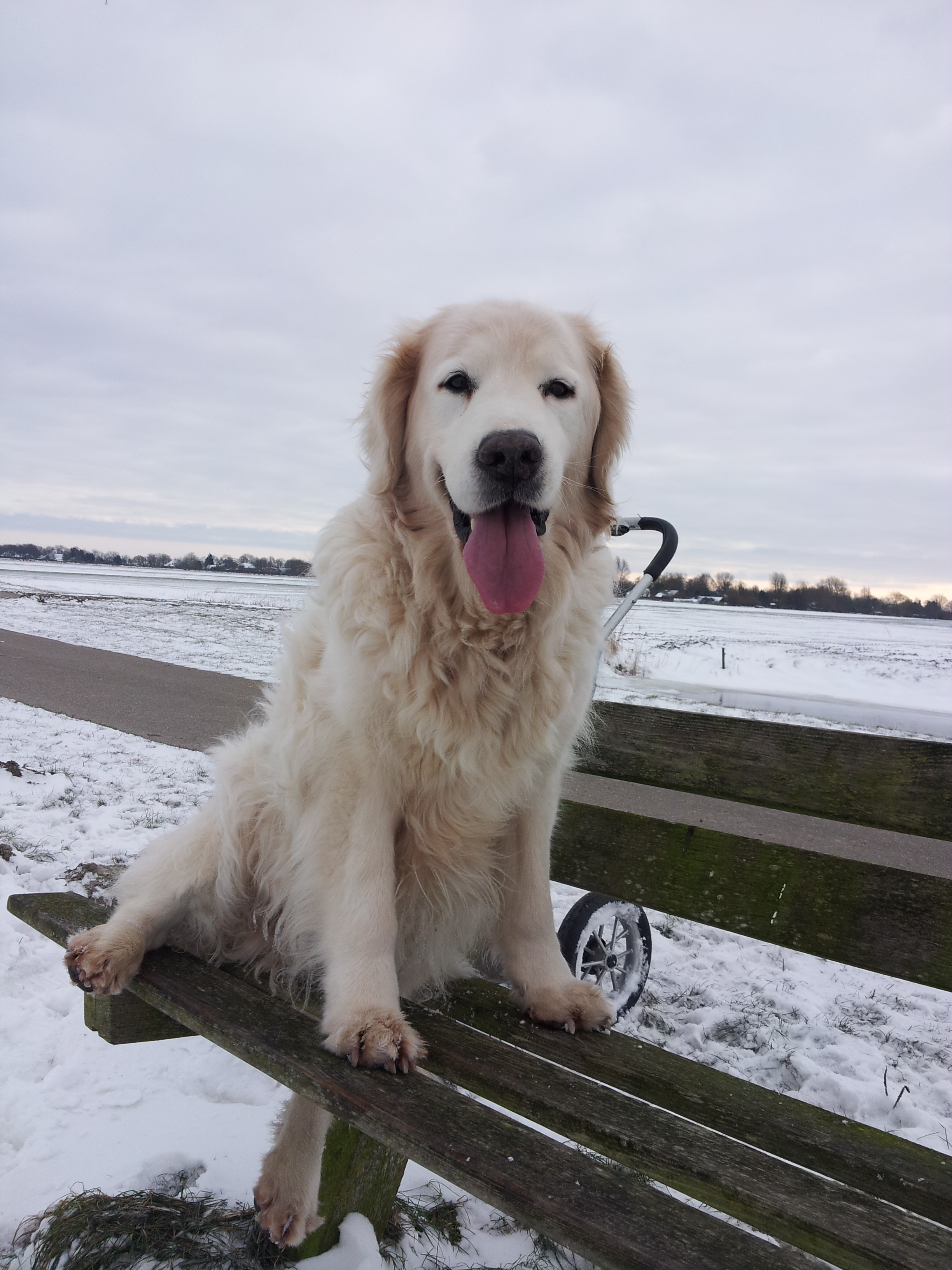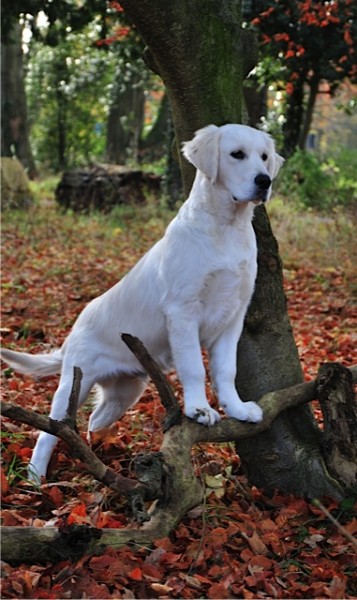 Fabulous pictured captured by Joanne of her young Ramchaine Fabulicious a son of Ludwig & Vogue.

Sunday 20th January in England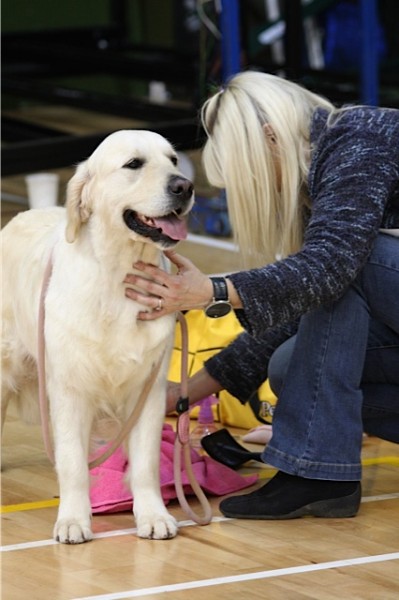 Big congratulations to the glorious SH CH Ramchaine Green Glow by Fenwood JW who won her 17th CC at Manchester Championship Show under judge Beryl Stokes (Jobeka) .

Sunday 10th February in England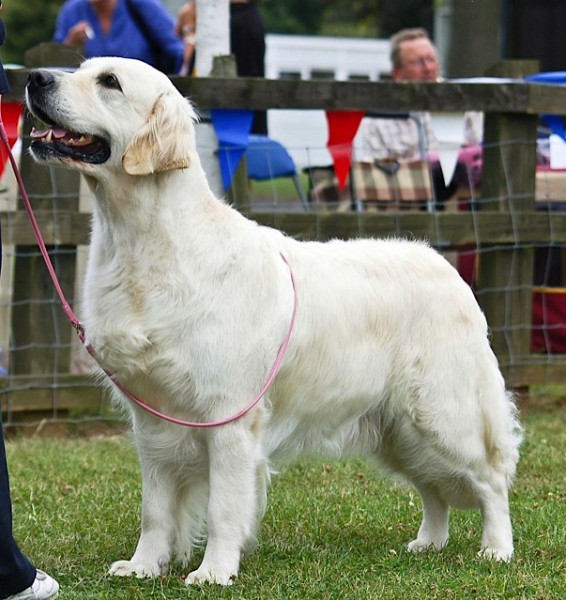 Sh Ch Ramchaine Green Glow by Fenwood JW wins her 18th CC and BEST IN SHOW at the Southern Golden Retriever Club Championship Show under judge Heather Morrs (Xanthos)
……. We are soooo proud of this gorgeous girlie xXx

February in Holland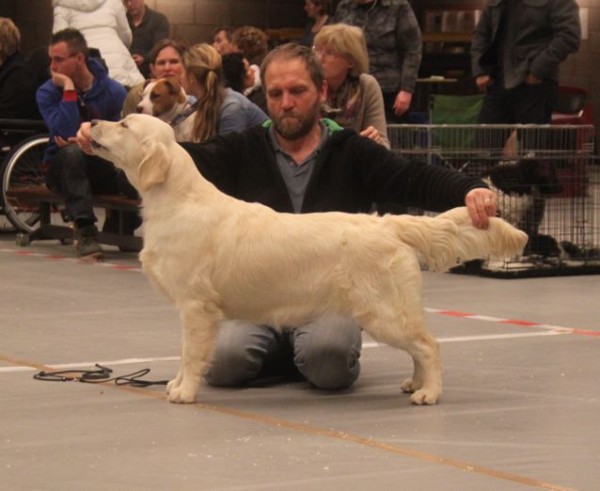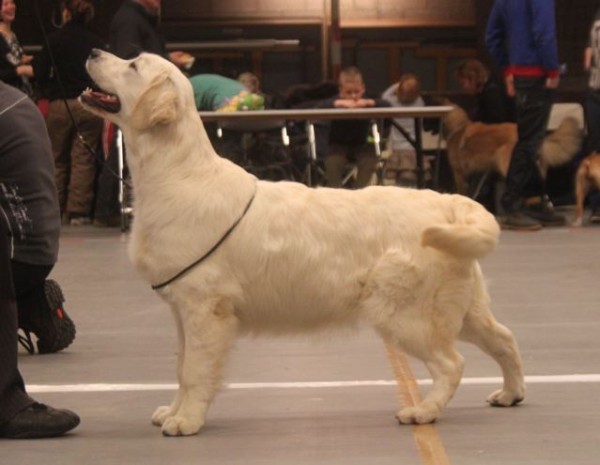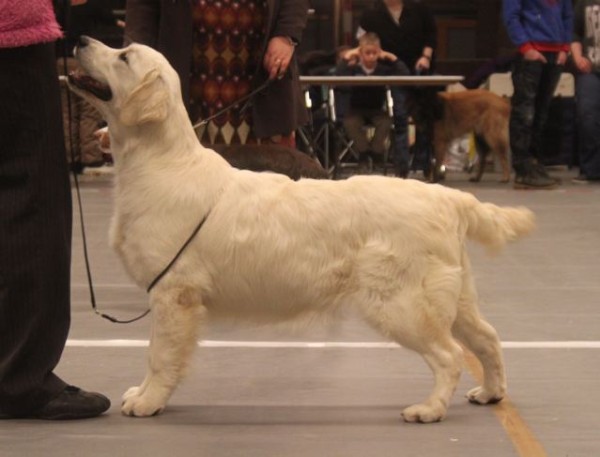 Photos of our two Ludwig daughters Luicy ( Ramchaine Bootylicious ) stacked with Bart above and Lisza (Lisanna of the Hellacious Acres) freestood below both now 7 months of age, on a training day to gain experience and improve their ringcraft skills.

February in Australia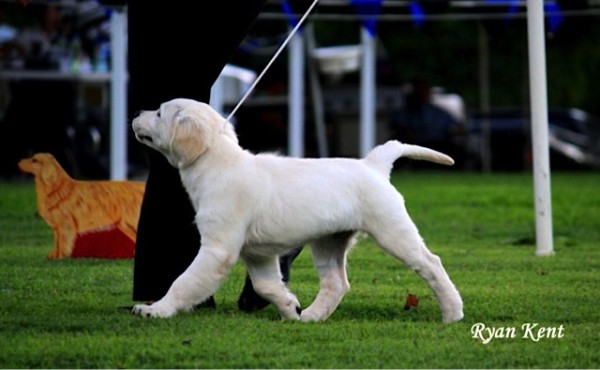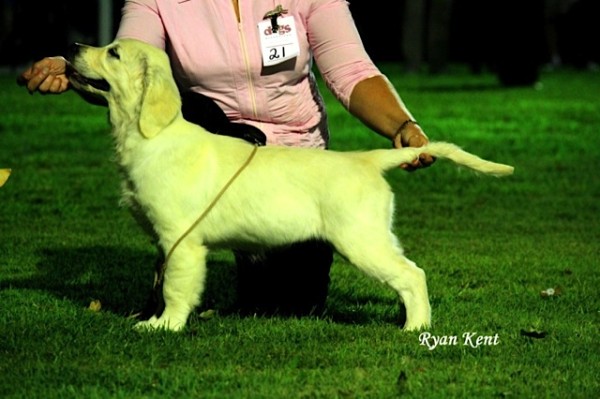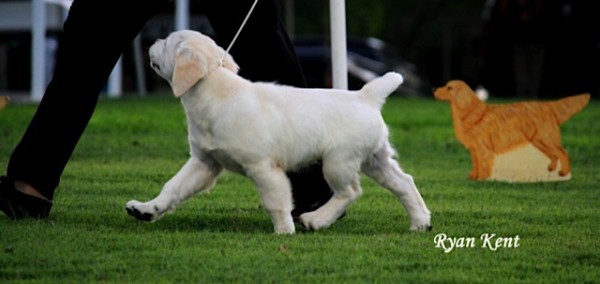 Ludwig's 3 month old offspring in Australia owned and bred by Liz Molnar via AI from her lovely 'Lulu'- CH. Dobro Dellauna had their first show event at an evening competition and Dobro Dolce Vitae went Best Puppy in Show & Dobro Dolce Dante Reserve Best Puppy in Show !!!

Sunday 17th February in England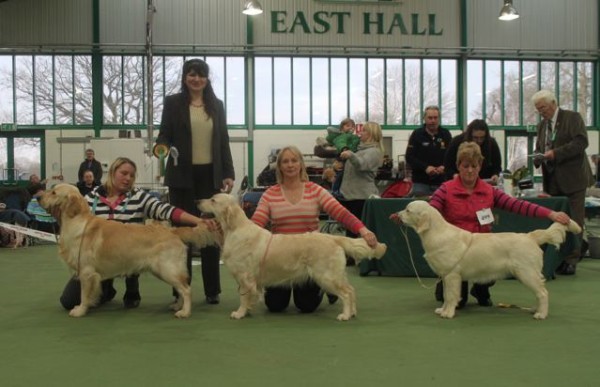 Charmaine judged at the Cheltenham & DCS Open Show at The Kennel Club building in Stoneleigh Park . Picture shows Charmaine with her Best Dog, Best Bitch and Best Puppy .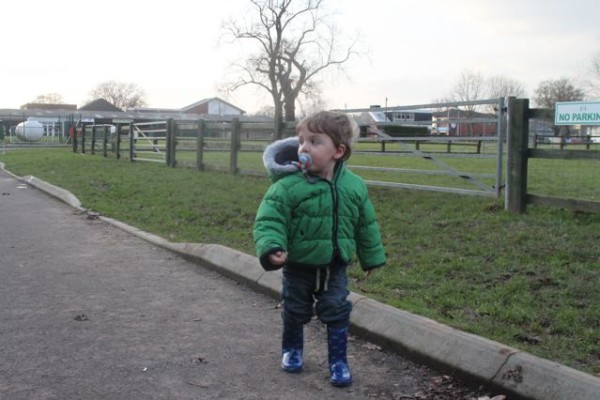 Sebastian now 16 months had great fun too running all over the enormous grounds!