Home - History - Champions - Showwinners - Our dogs - Litters - News - Judging - Grooming ( Trimmen )- Other breed- Contact - Links
Click here for previous news of Hellacious Acres Golden Retrievers 2008 and before: 2005-2006-2007-2008- & previous showinners
Click here for the previous news of Ramchaine Golden Retrievers 2008 and before: ***
Click here for news of the combined Ramchaine and Hellacious Acres Golden Retrievers: 2009 - 2010 - 2011 - 2012 - 2013
NEWS 2014
January/February - March/April - May/June - July/August - September/October - November/December

Saturday 5th July – The German GRC Specialty Show, Bernburg, Germany


Dog Judge - Dr. Helen Almey (Arbutus) UK


Bitch Judge - Monsieur Bruno Facq ( du Bois de la Rayere ) – France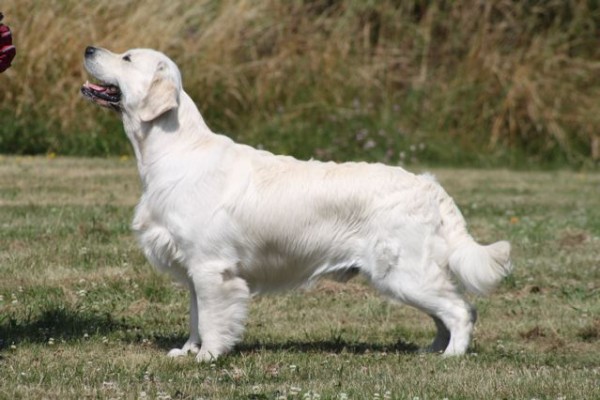 Ramchaine Moment of Truth wins the RCAC & RVDH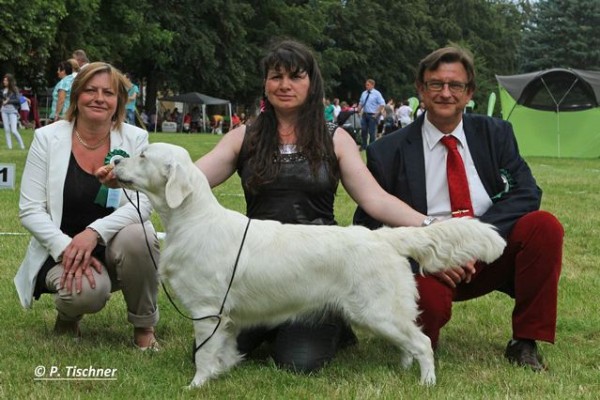 Cleopatra of the Hellacious Acres wins 1st Excellent in her Junior bitch class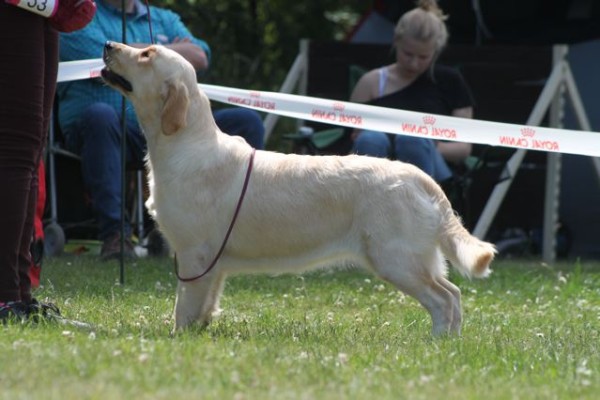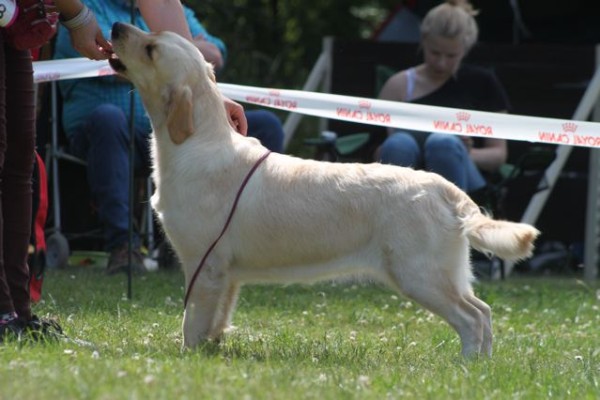 Our waggy Rosie ' Ramchaine Rosalia' is now 15 months of age and has her 1st Intermediate class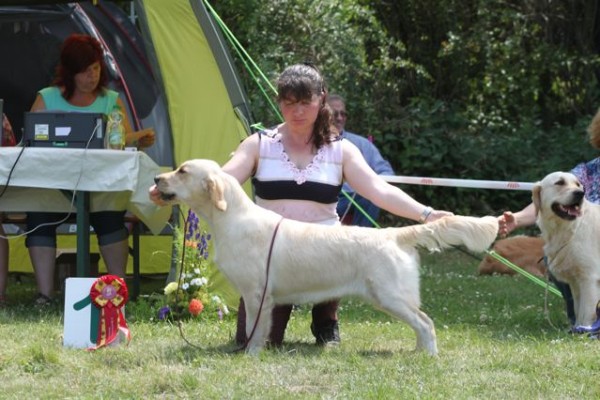 Ramchaine Rosalia wins 1st Excellent with the CAC & VDH awards.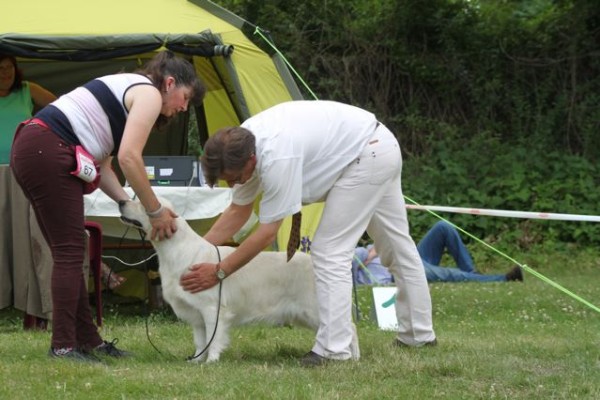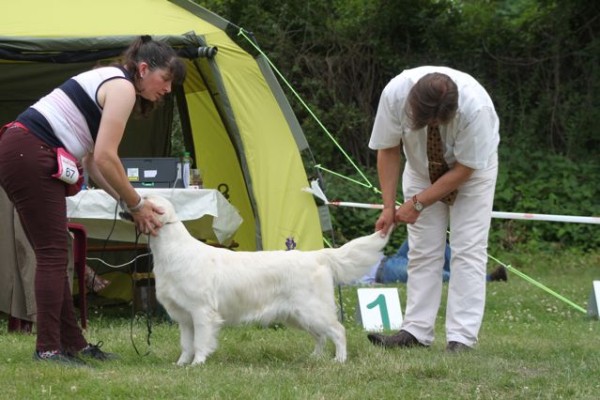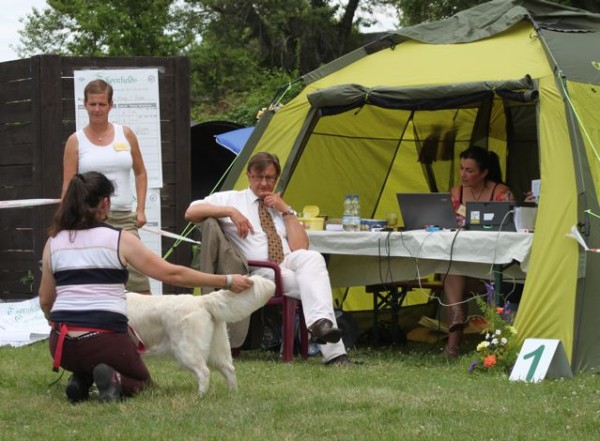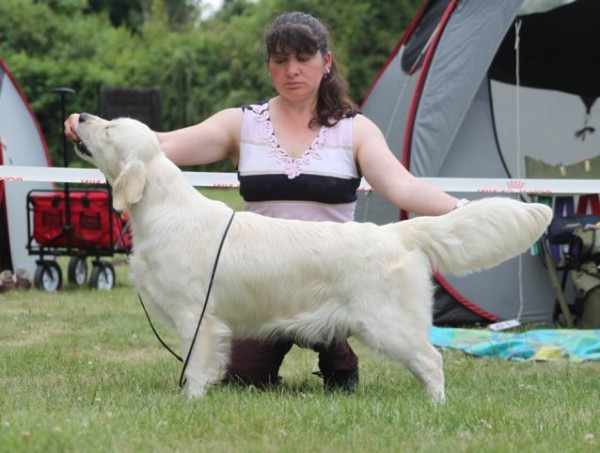 Our Luicy 'RamchaineBootylicious' is now 24 months of age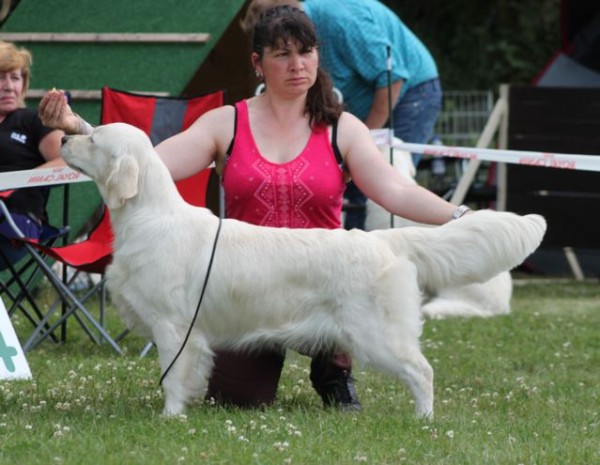 Ramchaine Bootylicious wins the RCAC & RVDH from Open Class

Sunday 6th July – Schloss Meisdorf Championship Show, Germany


Dog Judge – Monsieur Bruno Facq ( du Bois de la Rayere ) – France


Bitch Judge – Dr. Helen Almey (Arbutus) UK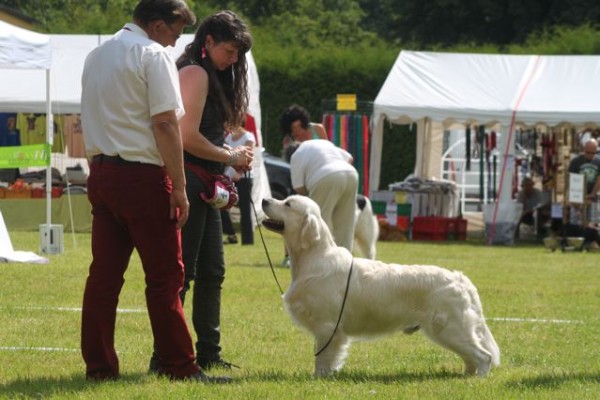 Ramchaine Moment of Truth wins the RCAC & RVDH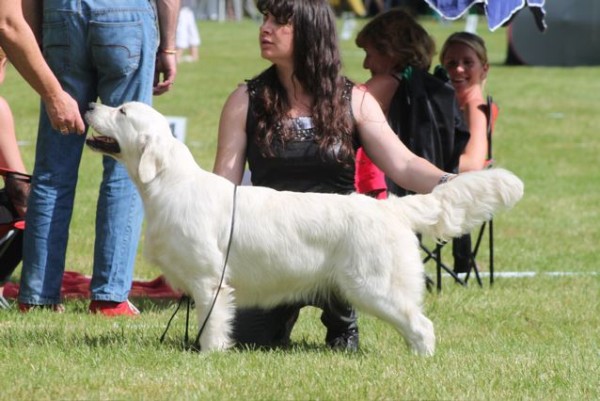 Our 15 month old Cleopatra of the Hellacious Acres wins 1st Excellent in her Junior bitch class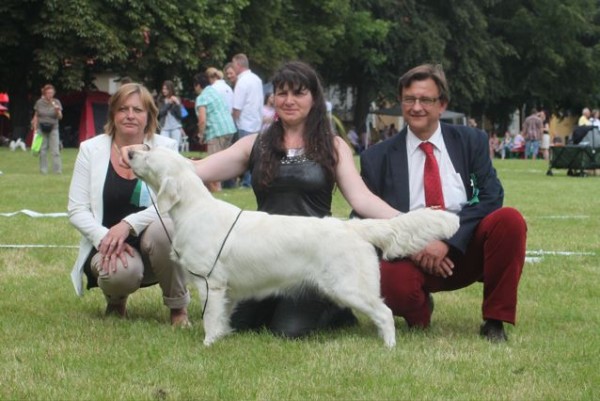 Cleo is declared BESTER JUNGHUND/BEST JUNIOR by both judges.
Cleo has won the JCAC and 1st Excellent at ALL of her German shows and is now a "GERMAN JUNIOR CHAMPION"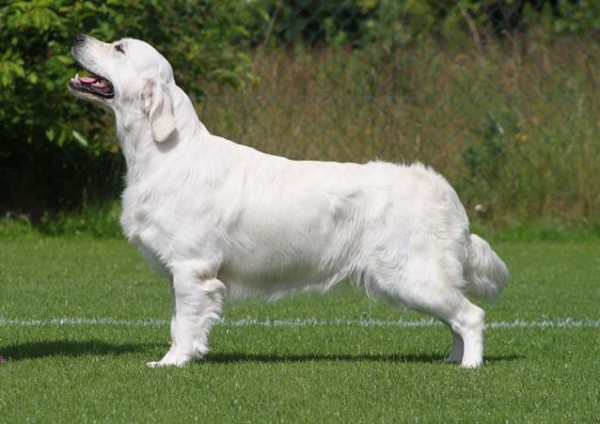 Below are some impressions of our wonderful trip away to Adelaide, Brisbane and the Gold Coast in Australia , and Auckland in New Zealand – see our 'JUDGING' page for more photos of Bart's judging at the Specialty Championship Show of the Golden Retriever Club of South Australia in Adelaide and the New Zealand Golden Retriever Club Inc. Specialty Championship Show In Auckland.
The Australian Specialityshow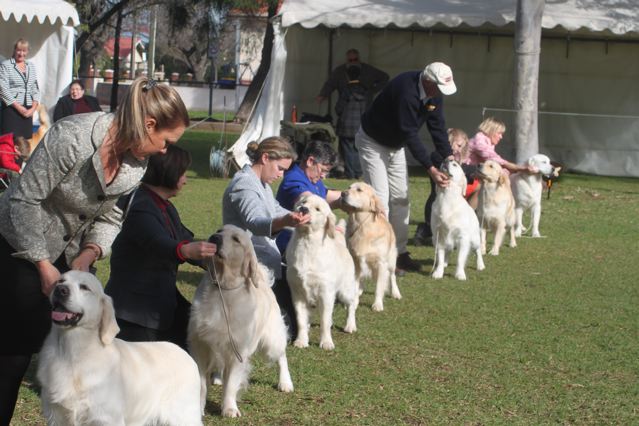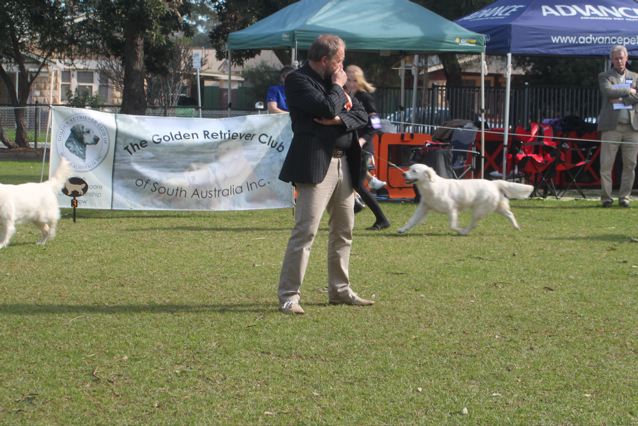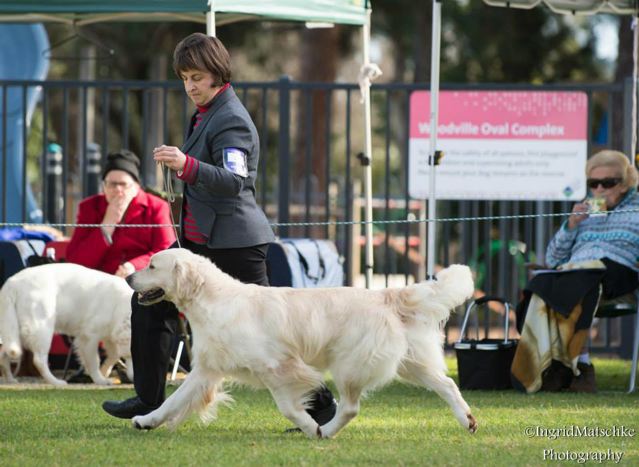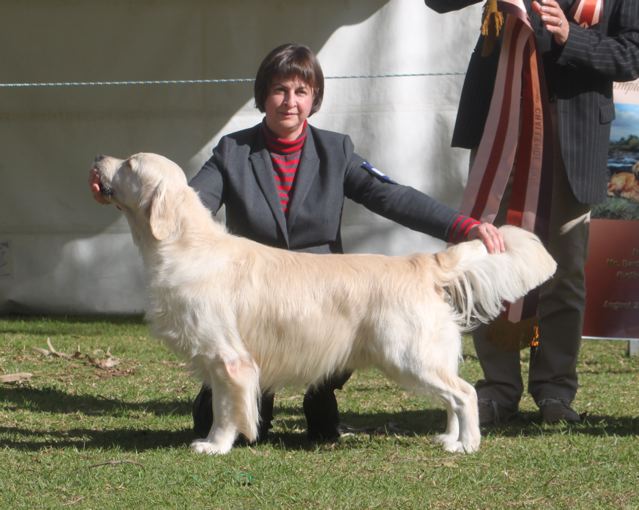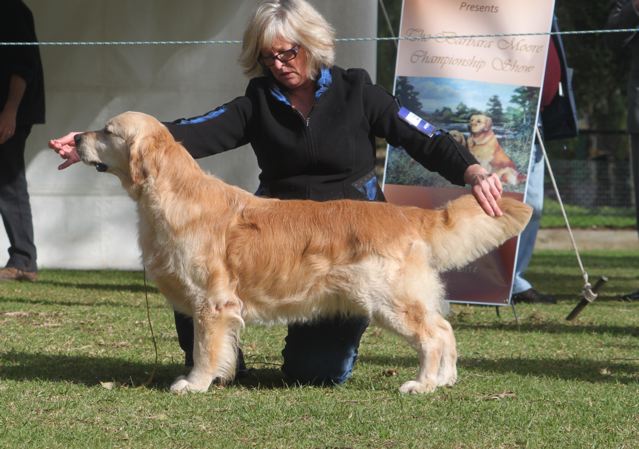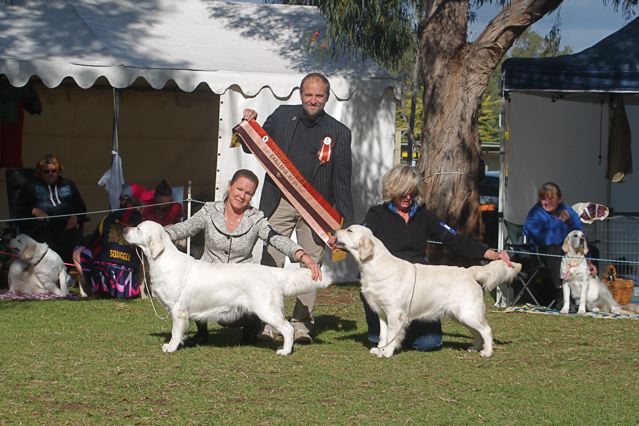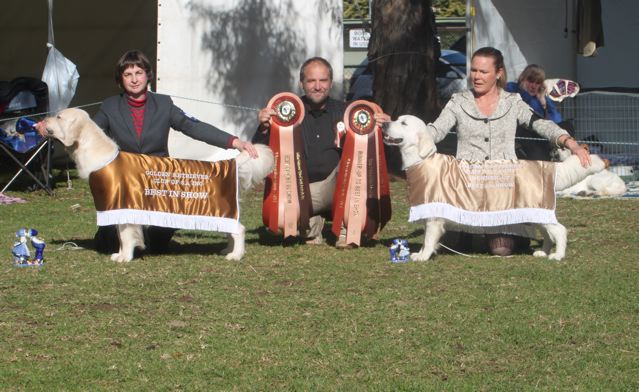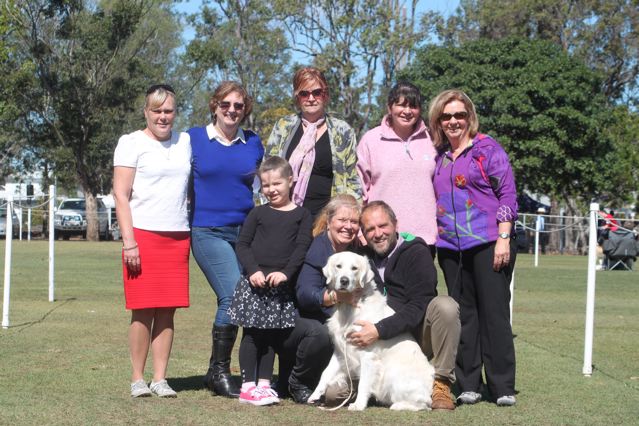 Barts New Zealand Winners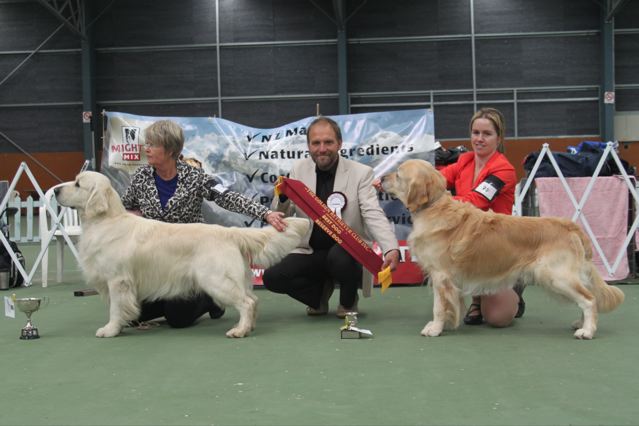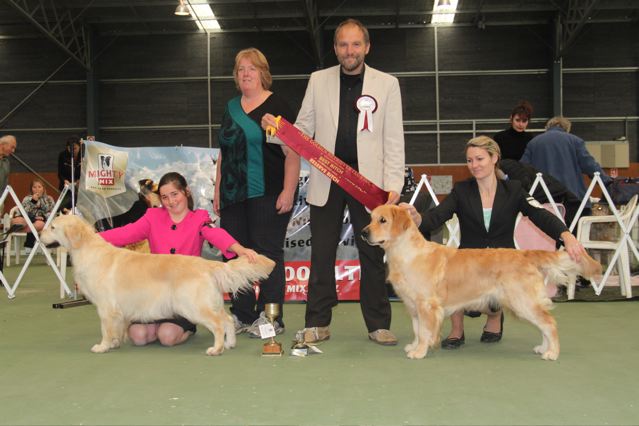 While we were on Holiday this summer on our long trip away to Australia and New Zealand and then back to England, we had some great news of the progeny we have bred achieving some SUPERB wins around the globe :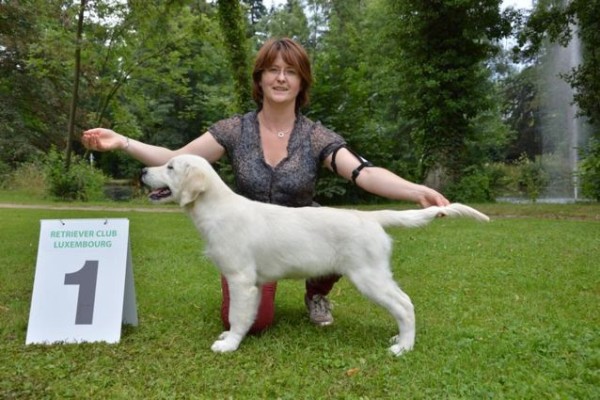 At the Luxemburg Retriever Club Championship Show on Sunday the 20th of July Tania Wampach's young Vogue daughter Ramchaine ReEchoing became Best Baby in show under judge Fiona Thurm (Beldonburn) UK.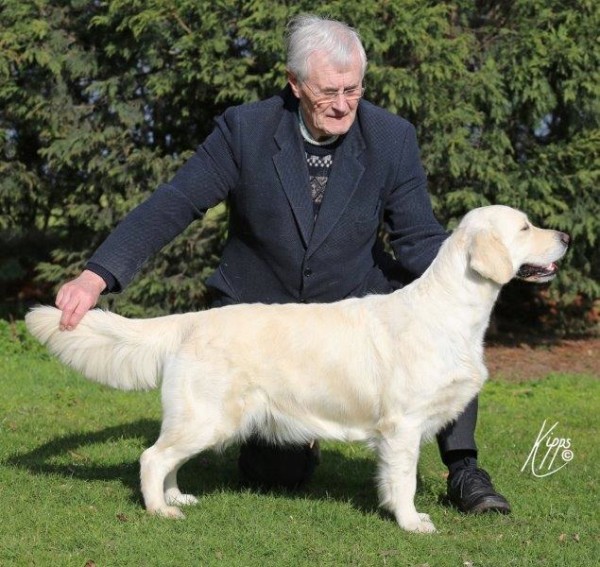 Fabulous news from England ar the Blackpool All Breed Championship Show(UK) on Saturday the 21st of June, under judge Jim Richardson (Darrachona) UK, where Lyn Anderson and Alan Curry's Ramchaine Bubbalicious ( Multi Ch Beethoven of the H/A ex Multi Ch Velvenya Vogue of Ramchaine JW) ...... won her 1st CC !!!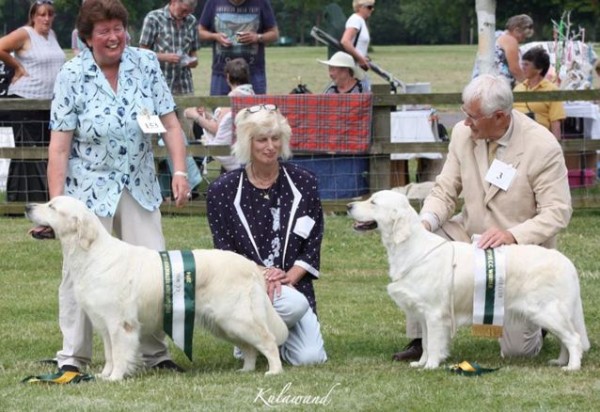 At The presigious GRC Championship Show in Stoneleigh, England, Ramchaine Bubbalicious belonging to Lyn Anderson and Alan Curry did GREAT again winning the Reserve Challenge Certificate under judge Fiona Coward-Scholes ( Rossgilde) – Huge Congratulations to all x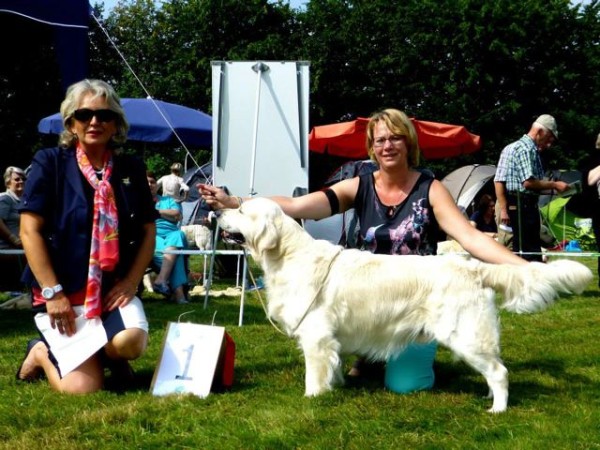 On Saturday 26th of July Rosita Putters " Ramchaine Motif" ( Multi Ch Barnum of the H/A ex Multi Ch Ramchaine Eseential JW) became 1st in Open and then Best dog on the DRC Specialty Championship show in Hoisdorf (Germany), under judge Natascha Davidovic (Golden Duck)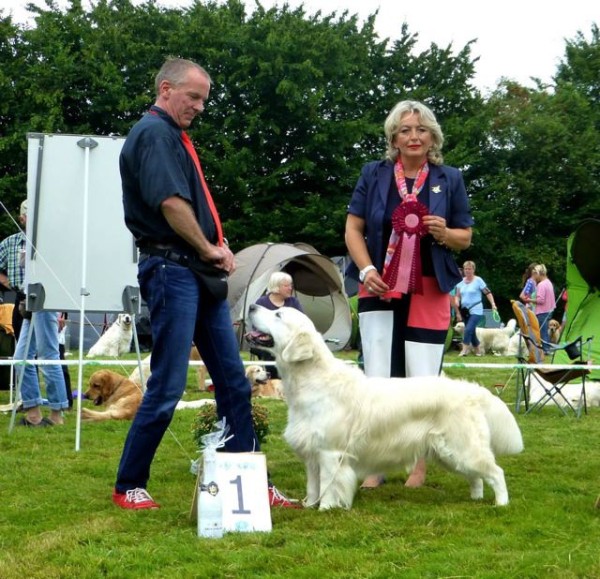 At the same show Svenn & Alexandra Budde's Haydn of the Hellacious Acres won 1st in the Champions Class.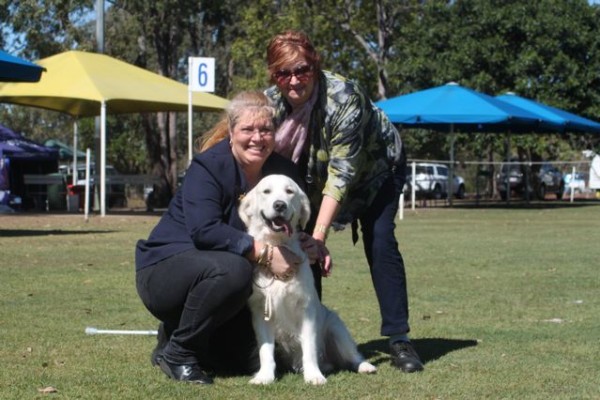 While we were in Australia we also visited on Sunday the 17th of August the Gundog & Heavy Breeds Club of Queensland Championship Show, where Leonardo of the Hellacious Acres won the Intermediate Dog Class and the Reserve CC under judge Ms. S. Phillips(Aus), Leo is by Multi Ch beethoven of the Hellacious Acres ex Ch Jacquetta of the Hellacious Acres and is pictured above with his owners Danielle Hall and Rosemary Easton.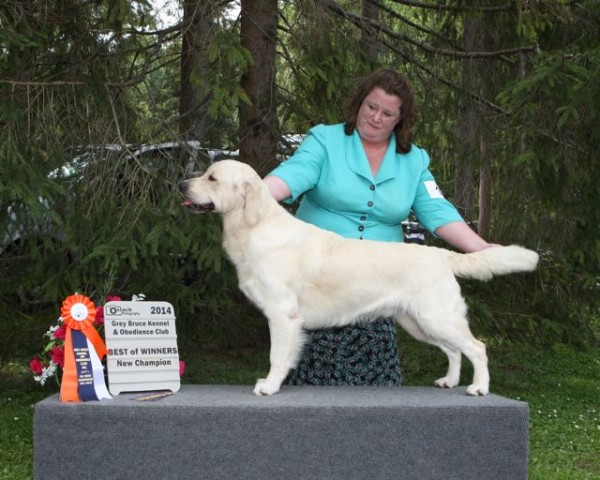 We also got great news from Canada were "Apollo" - Wilbert of the Hellacious Acres ( Multi Ch Noah of the Hellacious Acres ex Morwenna of the Hellacious Acres) - got his Canadian Championtitle at only 14 months of age and is from now on called Can. Ch. Wilbert of the Hellacious Acres - well done to his proud owner Teresa Deslauriers.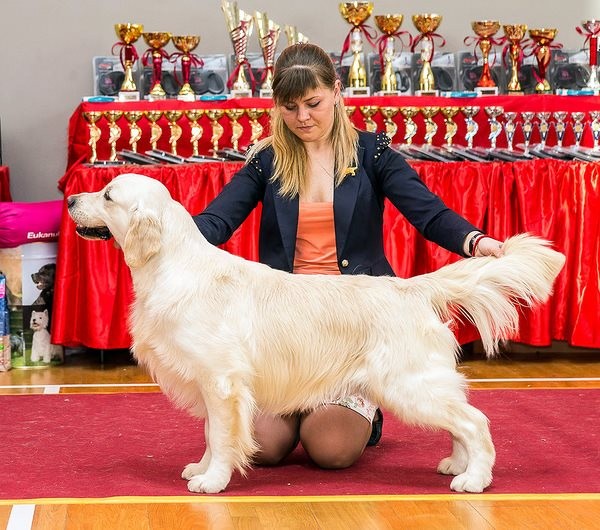 News from Russia, a new Ramchaine Champion: Russian Ch. Ramchaine Fantissimo ( Multi Ch Beethoven of the Hellacious Acres ex Multi Ch Velvenya Vogue of Ramchaine JW) owned by Evgeniya Sytnikova, he already is a Russian Junior Champion!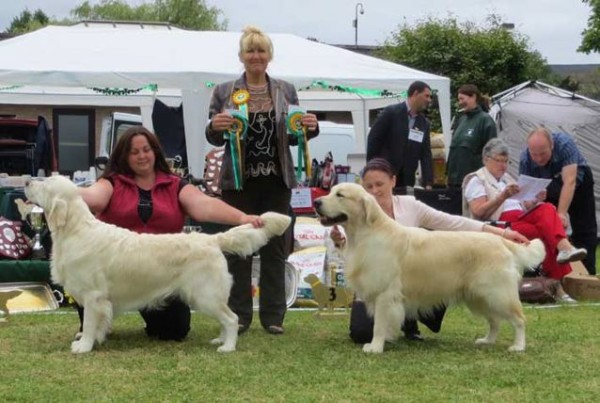 And our own Multi Ch Noah of the Hellacious Acres staying in Ireland with Kerrie Kelly ... who won Best Dog and the Green Star at The All Ireland Golden Retriever Club Specialty Show under breed specialist judge Ans van Leeuwen ( Morning Valley)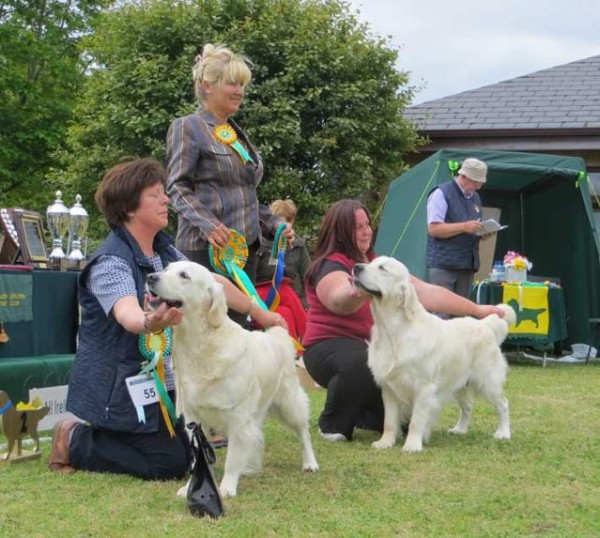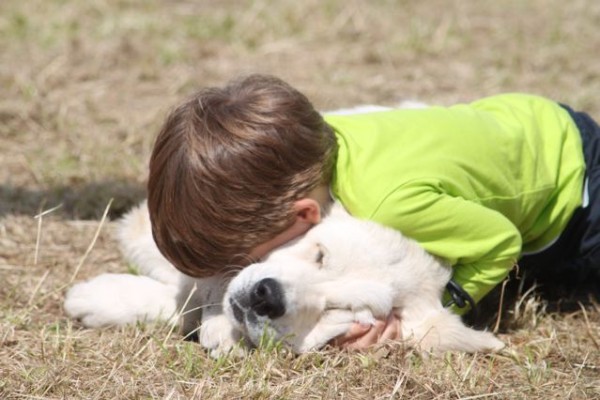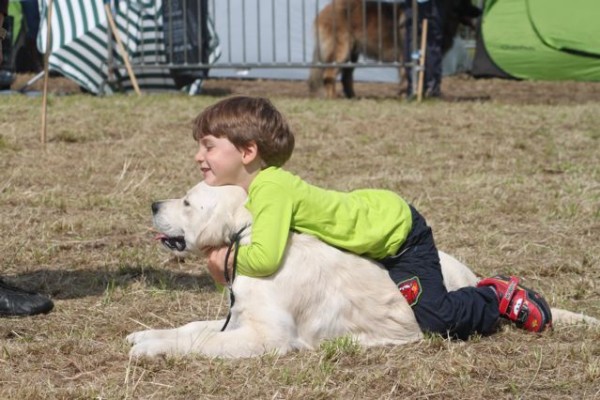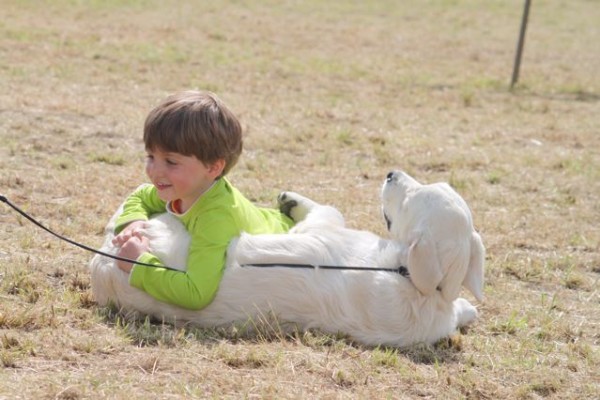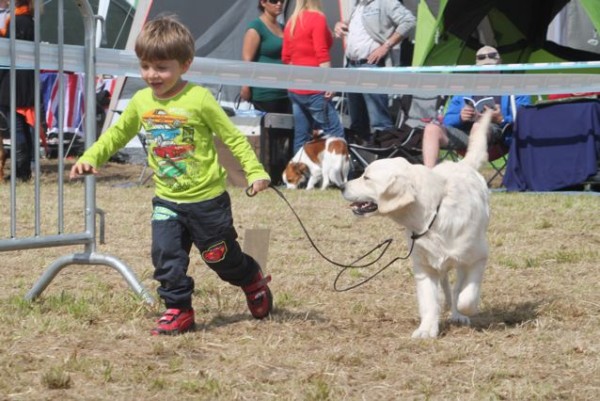 Back home Sebastian ( 2.5 years) was glad to be reunited with his puppy 'Scarlett" now 5 months old. Our daughter from Vogue and Archie. "Ramchaine Parrot Fashion"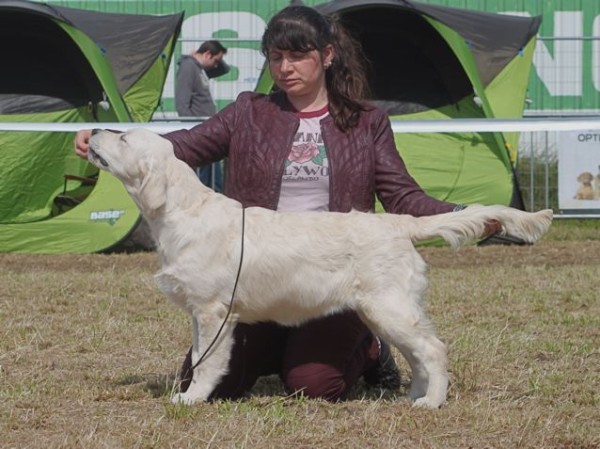 Sunday 24th August – Mechelen International Championship Show , Belgium,


Judge: Kathy Braekman ( Glitters)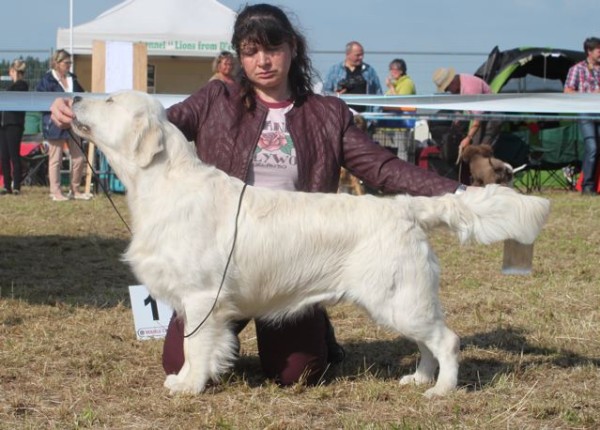 Trevor - JCH Ramchaine Moment of Truth won 1st Excellent in Intermediate Dog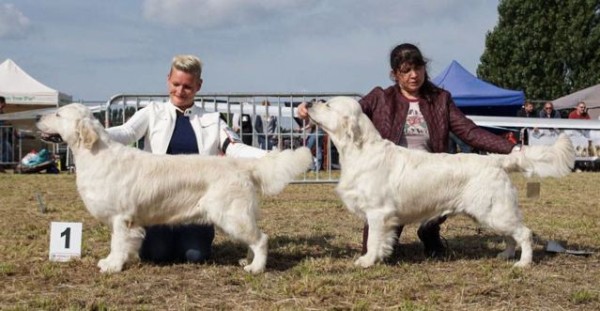 Trevor became Reserve Best Dog behind his father Multi CH Majik Truth or Dare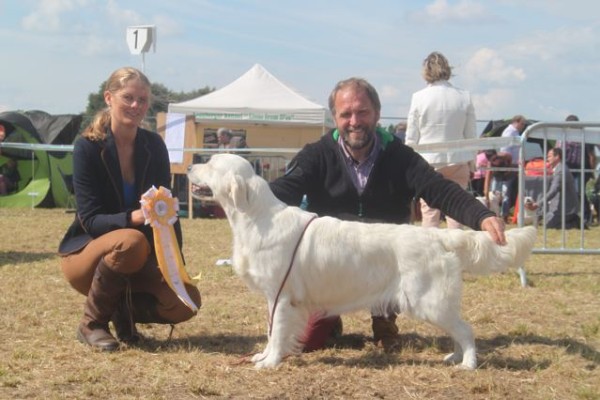 JCH Lizanna of the Hellacious Acres won 1st Excellent in Open Bitch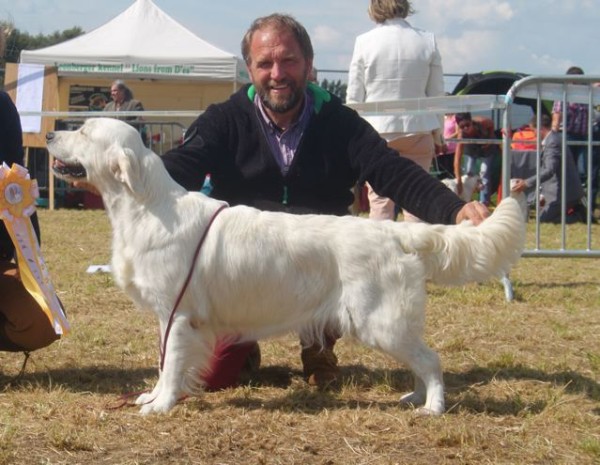 Lisza won BEST BITCH with the CAC and CACIB awards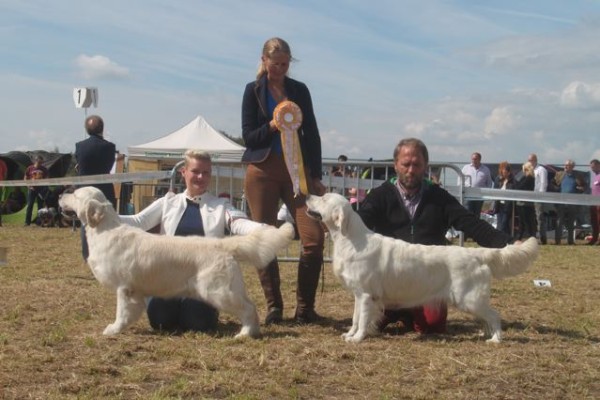 The Judge with her Best of Breed and and Reserve Best of Breed

Saturday the 30th of August At the GRC Championship Speciality show in Hammoor, Germany , judge Dawn Rose (Gaytonwood) UK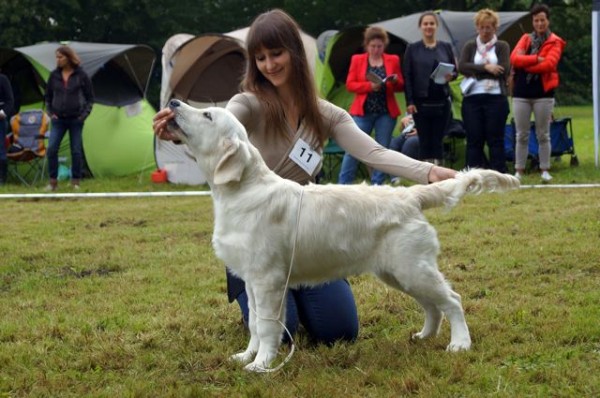 5 month old Ramchaine Reverberation belonging to Steffi Lehmann had his first ever show and was 2nd in Baby Dog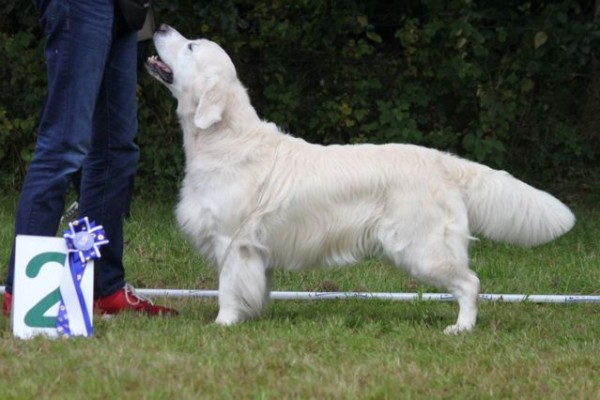 Sven & Alexandra Budde's Haydn of the Hellacious Acres was 2nd in the Champion Class

Also on Saturday the 30th of August at the DRC Championship Speciality Show in Lich (Germany)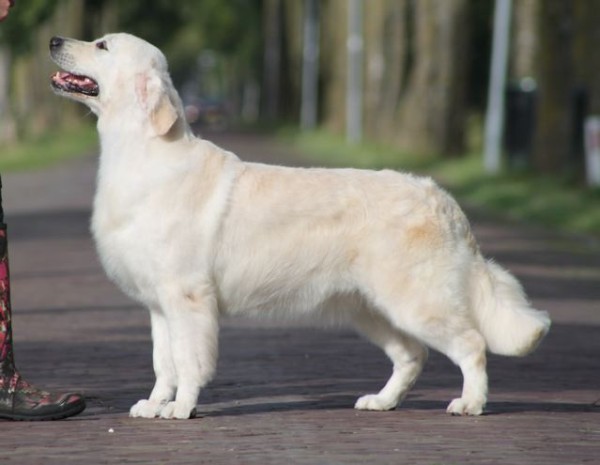 Our Ramchaine Moonstruck "Fuzzy" ( Multi Ch Barnum of the Hellacious Acres ex Multi Ch Ramchaine Essential JW) became second in Open (out of a class of 15) with res. CAC and res. VDH awards under judge Tony Hird (Wyebank)