Home - History - Champions - Showwinners - Our dogs - Litters - News - Judging - Grooming ( Trimmen )- Other breeds- Contact - Links
CATS & OTHER BREEDS
Our WEBSITE has not been updated for NEWS for quite a few months now
while we wait to update to a new programme ….
PLEASE see our new FACEBOOK PAGE for more information
about our beloved Goldens & Maine Coons and click HERE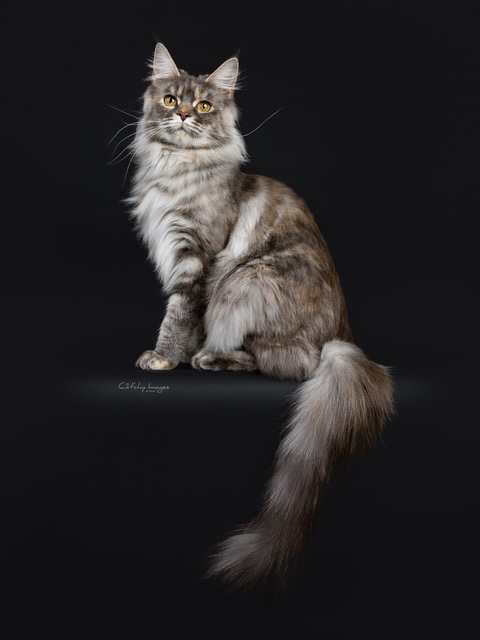 OUR CATS
Along with the Dogs , Cats have always been an important and constant part of home life for Charmaine to make it complete!
~ Can't go to sleep without a cat on the bed to snuggle and cuddle!!
So while growing up in England the first Cats to enjoy as a young child in the 70's were:
*Candy* , *Cuddles* , *Samson* & *Delilah*
~ all x4 were Black & White British Domestic Shorthairs.
During my secondary school years in the 80's came *Cynthia* a Tortoisehell Burmese and her Blue/Cream kitten daughter we called *Kym* or Kymble Harriot Origarmi* as she had a passion for playong with paper!! They were both from Croydon Cat Rescue .
My first home of my own meant I could have more cats !! ~ so :~
*Simone* was next a Blue/Cream Tortie & White BDSH, followed by
*Ceafur* a Blue & White BDSH neutered male ( C for Cat!!)
*Kafur* a solid Blue Burmese female (K for Kitten)
*Shelley* another Blue/Cream & White Britsh Domestic Shorthair &
*Coco Pops* a Chocolate Point Colourpoint Persian.
After the birth of my own sons in the 90's we had
*Abbey* a Blue Agouti Abbysinian &
*Crystal* a Blue Agouti & White Abbysinian X
*Cambridge* a Seal Point Siamese &
*Cupid* a Chocolate Point Birman
.... which were then followed by the "WHITES" with the first arriving in 1993
*Clarance* ~ an Odd Eyed White BDSH
*Chevy* ~ a yellow eyed White BDSH
*Clive* ~ an Odd Eyed White BDSH &
*Cedric* ~ an Odd Eyed White Britsh Domestic Shorthair
in 2004 *Cluedo* ~ "Gayemaudi Carrot Cake" a Red Tabby Point Birman joined our family.
Bart and I got together in 2008, so at first a relationship across the sea!
In 2009 the four cats we had " Cupid, Chevy, Cedric & Cluedo" moved from their England home to live in Holland with Bart and were soon followed by me and the dogs xXx
So Bart 'inherited' my two Birmans and two All White Britsh Domestic Shorthairs!!
Chevy lived on till 15 years, Cupid also 15 , died one week after his best friend and cuddle compaion Chevy.
Not wanting to end up 'Catless' and having only the two getting older at home Bart and I looked into getting a new kitten .... a completely new venture for Bart so together we looked into having another Birman or starting together with a new breed ~ well suited to mixing with all of the dogs and our young 3 year old son . We wanted a beautiful to see,, interactive, affectionate, cuddly semi- longhaired cat .... we looked at Birmans .... but then fell in love with a photo of a Solid Blue Maine Coon Kitten on Facebook !! ..... and so arrived **Colin** and our start in Maine Coons !! The most PUUUURRRRFECT Breed to fit in with our busy family life.
After Colin "Relaxing Tigers Octopus" , came our second Maine Coon Koekie "Relaxing Tigers Zoe Jane" and we became hooked on this wonderful breed of cat !!
They were as cuddly, affectionate, friendly, playful and as appealing as a Golden Retriever!! We were eager to learn more about these big friendly fabulous furry felines ....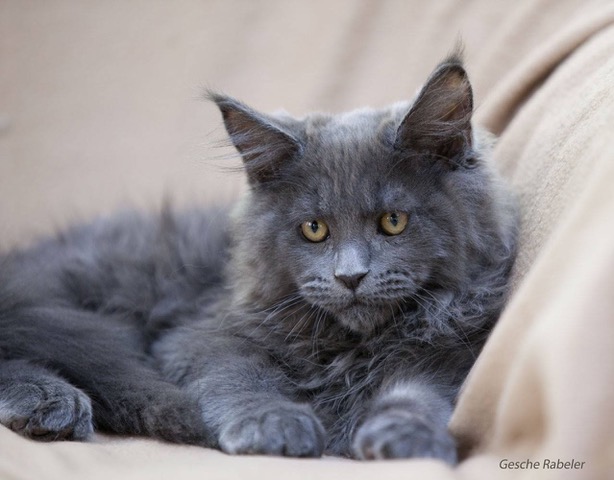 OTHER BREEDS

As well as our passion for our Golden Retrievers :~

Bart has owned English Setters and is an approved FCI judge for the English Setter & the Flat Coated Retriever aswell as the Golden Retriever.

Charmaine has owned 2x German Shepherd Dogs (Alsations)

"Ramchaine Kute Kyra" born in 1985 followed by :Kaine " ( Keigwin Kriele) in 1997. Having worked over 30 years as a dog Groomer aswell at 3 different Boarding establishments for the "Hearn' Cairn Terrier Breeder Patricia Breach, the Karaham Beagles, and the Ardenberg German Shepherds , there is also develpoed deep interest and love for a wider variety of breeds.

Chamaine has also help choose, Groom and Campaign the Dandie Dinmont Terrier Ch Senacre Hooghly owned by Sheila Bullock & Paul Keevil , through a fabulous puppy carerer and to his UK JW , multiple BOBs, Group placings & Champion Title.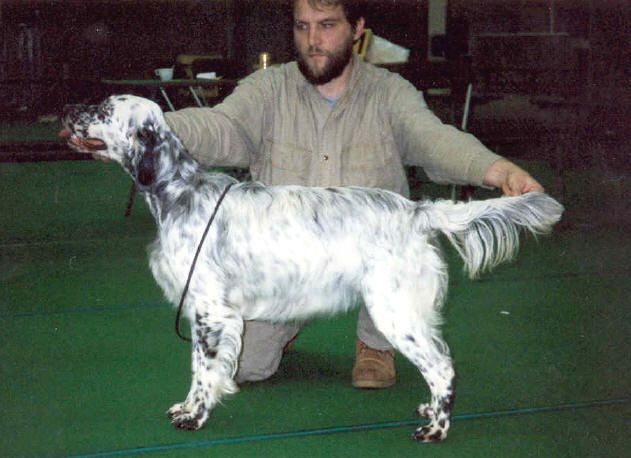 Tattersett To Be Fair JW'94
Born: 29-01-1994
Bred by : Mrs. Fran Grimsdell (UK)
Sh.Ch. Tattersett Dutch Courage
Sh.Ch. Latest Dance at Bournehouse
Sh.Ch.Bournehouse Dancing Master
Sh.Ch. Monksriding Ernford Flamingo
Sh.Ch. Bournehouse Ballerina
Sh.Ch. Limestone Liberty
Suntop Day Star
Gorsebrook Pennyweight
Sh.Ch. Tattersett was I Right?
Tattersett Star Turn
Suntop Wandering Star
Sh.Ch. Tattersett Eyecatcher
Bournehouse Norfolk Dancer
Sh.Ch. Bournehouse Dancing Master
Marus Sea Holly
Sh.Ch. Tattersett Aim for the Top
Hurwyn Paper Pilot
Hurwyn Flight Master
Sh.Ch. Suntop Winter Breeze
Hurwyn Dawn Chorus
Sh.Ch. Hurwyn Paper Doll
Hurwyn Day Boy
Hurwyn Ernford Fairybird
Tattersett Hard to Beat
Tattersett Star Turn
Suntop Wandering Star
Sh. Ch. Tattersett Eyecatcher
Sh.Ch. Tattersett Hidden Value
Hurwyn Day Boy

Sh. Ch. Ashpenda Golden Pheasant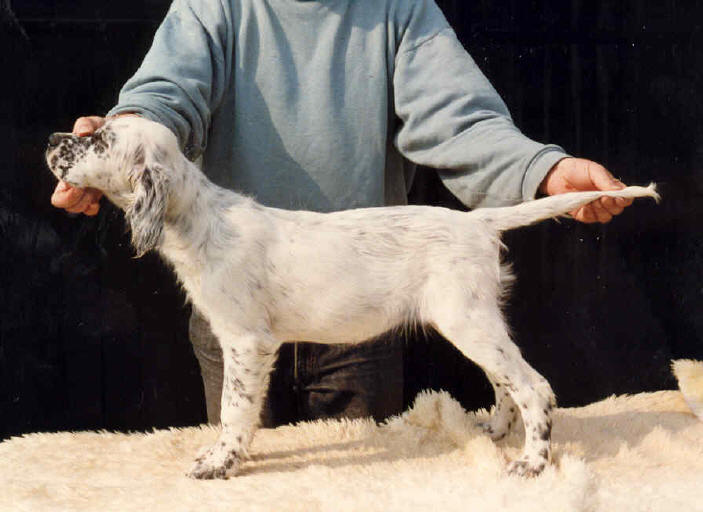 Franny 3 months old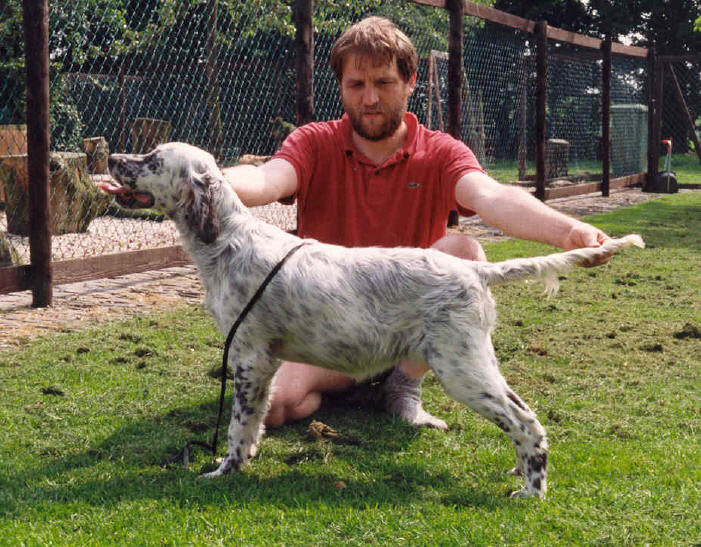 Franny 5 months old.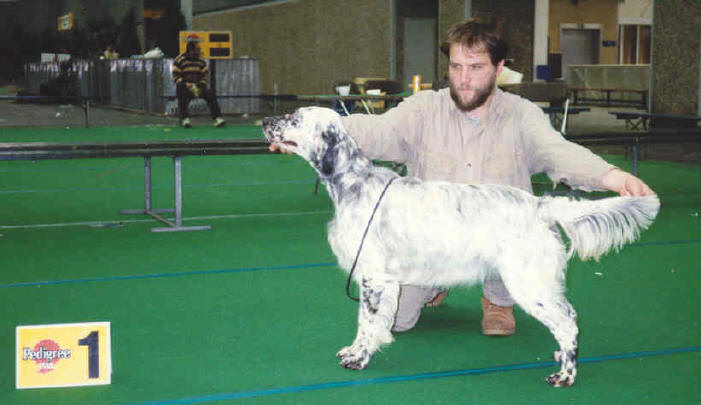 1994 Franny winning her Amsterdam Junior Winner title.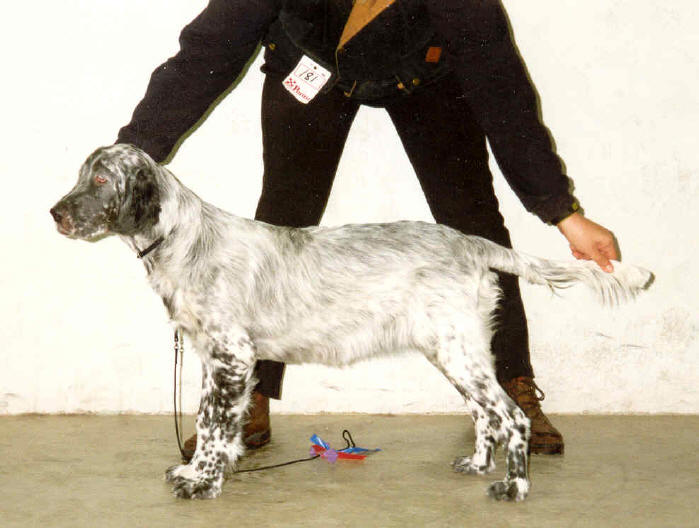 Guinevere of the Hellacious Acres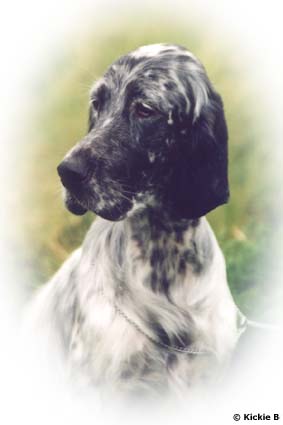 Headstuddy Guinevere of the Hellacious Acres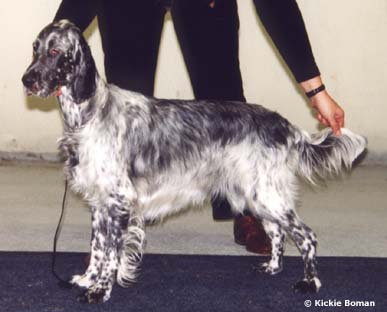 Guinevere of the Hellacious Acres
( Ch. Hawnklawn Sheer Vanity x JW'94 Tattersett To Be Fair)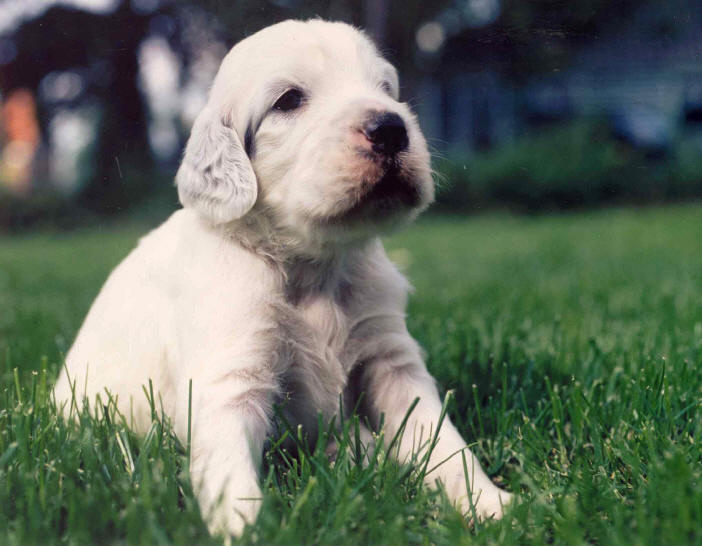 Saxon of the Hellacious Acres as a puppy of 5 weeks old.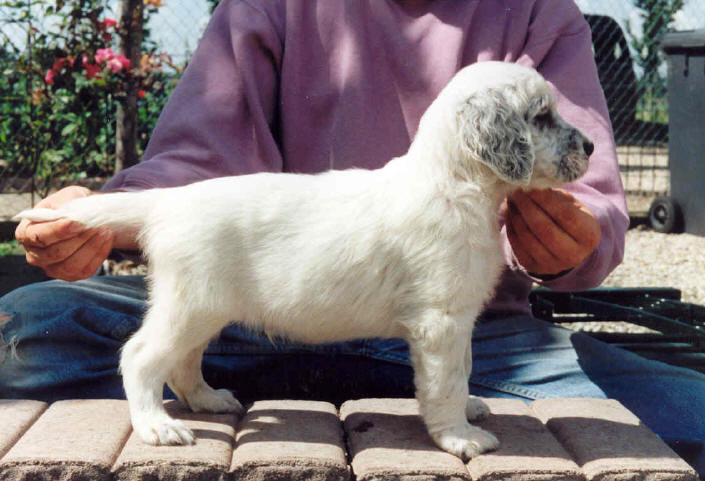 Saxon 7 weeks old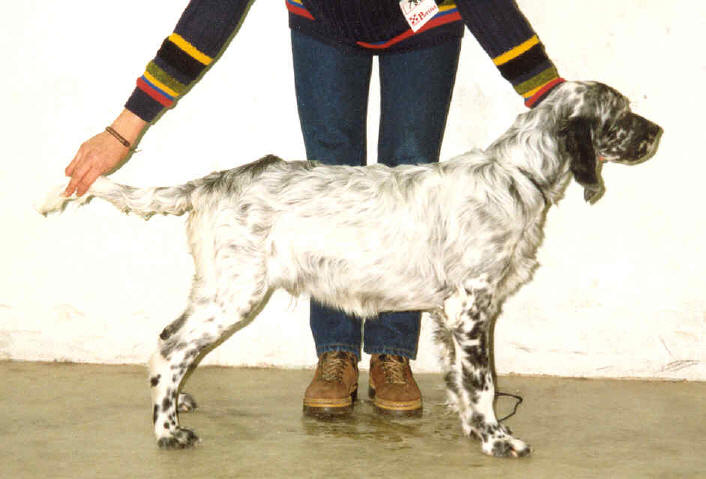 Saxon of the Hellacious Acres 6 months old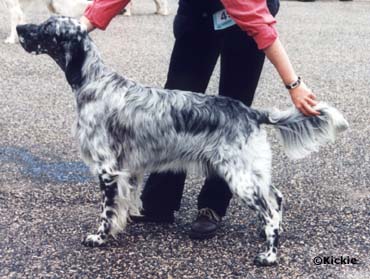 Saxon of the Hellacious Acres ( 2CC's)
( Ch. Hawnklawn Sheer Vanity x JW'94 Tattersett To Be Fair)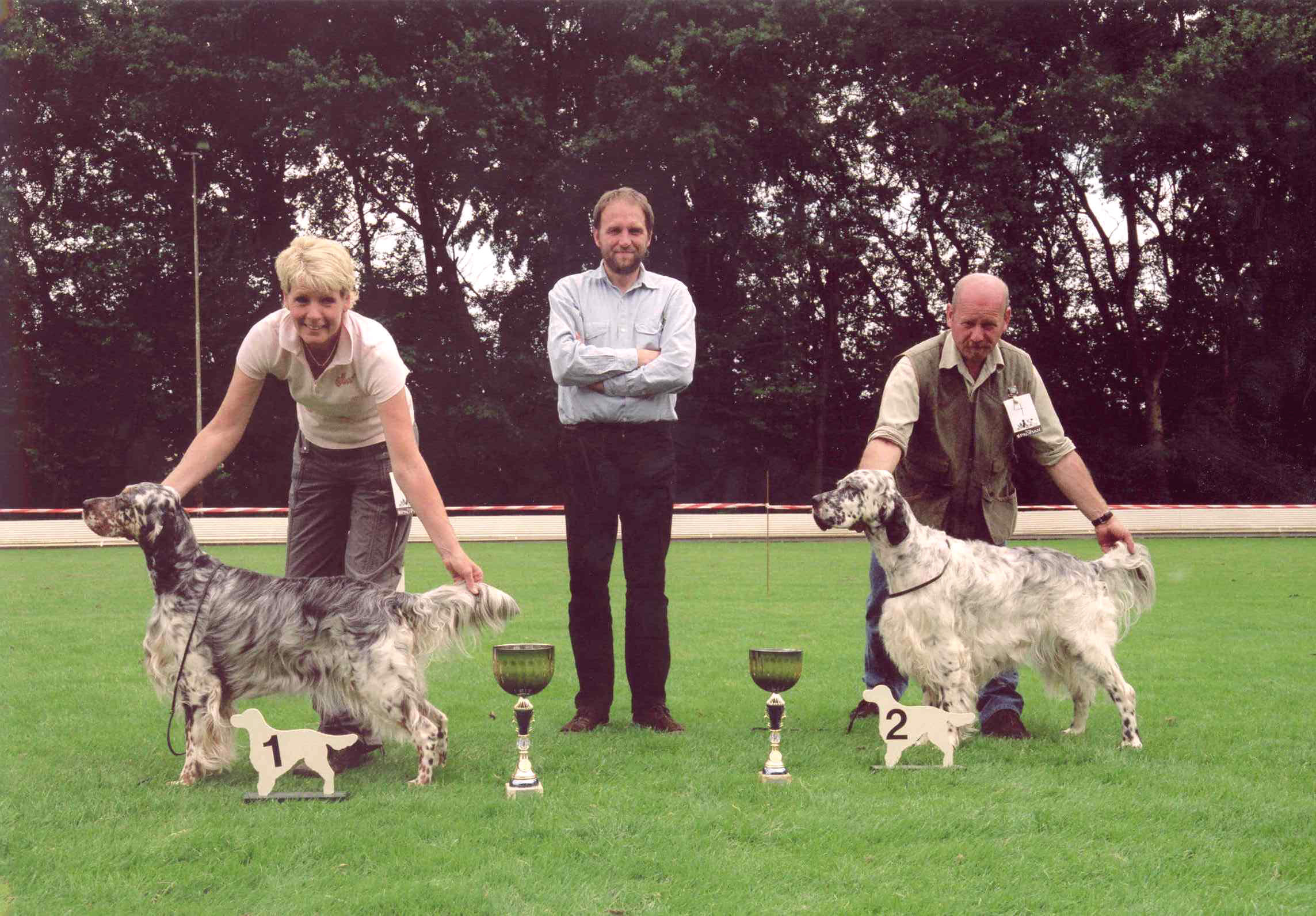 Bart judging the Dutch English Setter Championship Show 2004.