Home - History - Champions - Showwinners - Our dogs - Litters - News - Judging - Grooming ( Trimmen )- Other breed- Contact - Links
Click here for news of the combined Ramchaine and Hellacious Acres Golden Retrievers: 2009 - 2010 - 2011 - 2012
NEWS 2013
January/February - March/April - May/June - July/August - September/October - November/December

Saturday 7th September – The Deutscher Retriever Club Specialty Championship Show , Lich, Germany.
Judges: Dogs – Mr J.R. Sauge (Norway) : Bitches – Mrs E. Mjelde (Norway)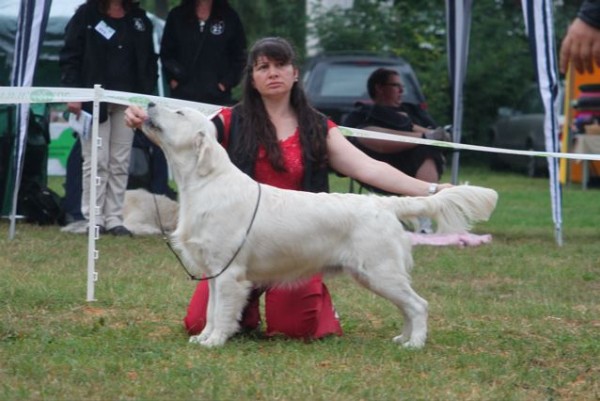 A special show for Trevor as today was his 1st birthday!!!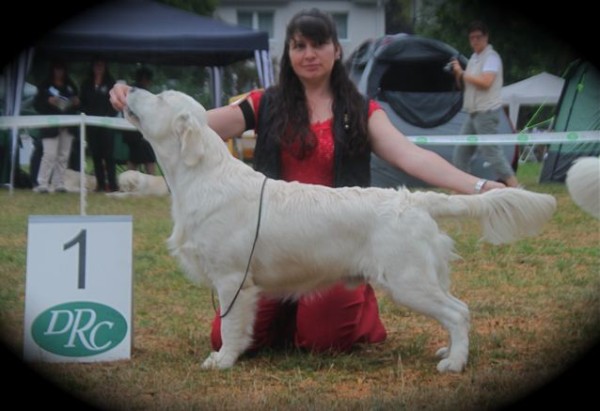 Trevor – Ramchaine Moment of Truth - wins 1st Excellent in Junior Dog with the JCAC & JVDH awards from an entry of 13 males.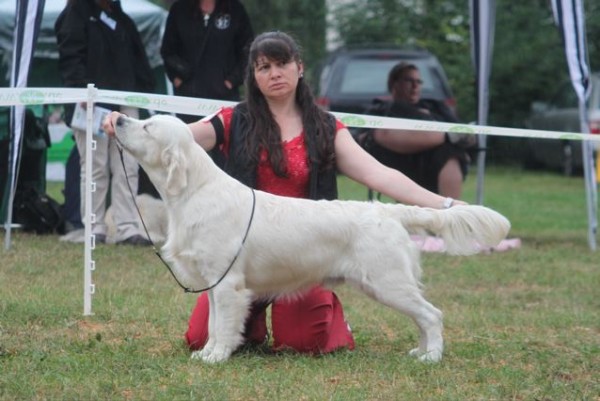 Trevor has now won the necessary points to become a German Junior Champion !!!
A great achievement at only 12 months of age .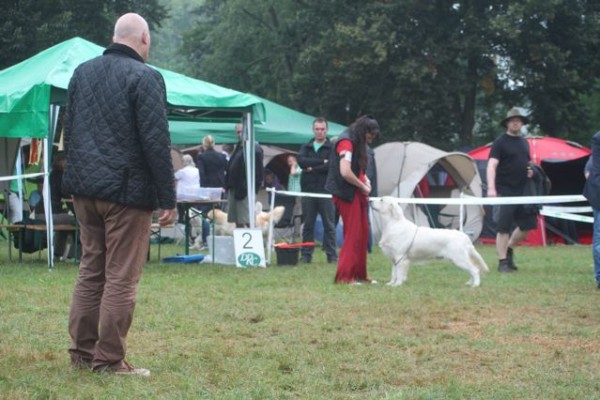 In the line up of class winners in the challenge for Best Dog, the judge really liked our young boy and deeply considered Trevor for becoming Best Dog but decided in the end he was still a bit too much of a baby for the top honours ..... wanting a bit more coat and maturity .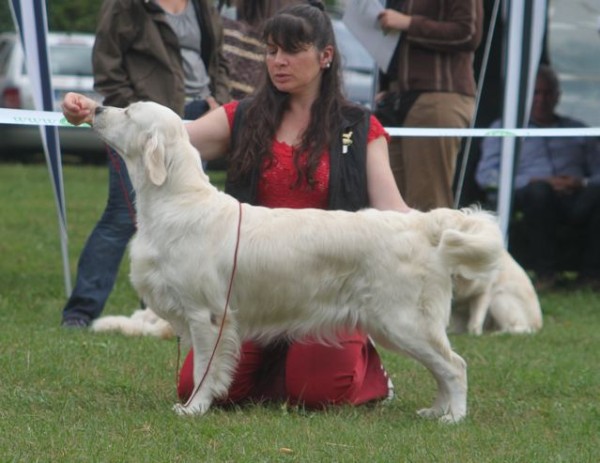 Trevors mum "Jina' - Ramchaine MonkeyNut – became 2nd Excellent in Open Bitch with the RCAC & RVDH awards from a quality entry of 15 bitches., wagging her tail lots as usual !!

Sunday 15th September - Darlington Championship Show, England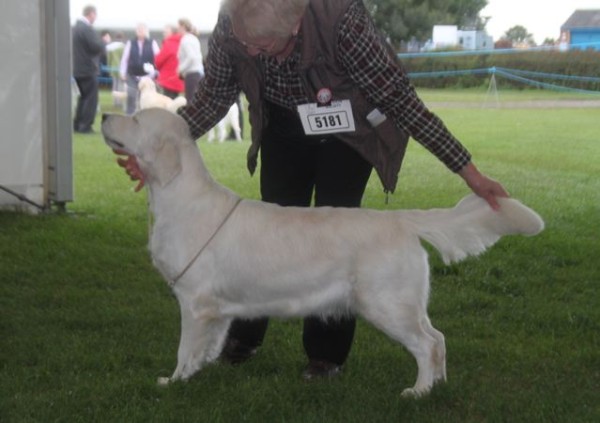 Ramchaine Bubbalicious ( Multi Ch Beethoven of the Hellacious Acres ex Multi Ch Velvenya Vogue of Ramchaine JW) was 2nd in her Junior Bitch class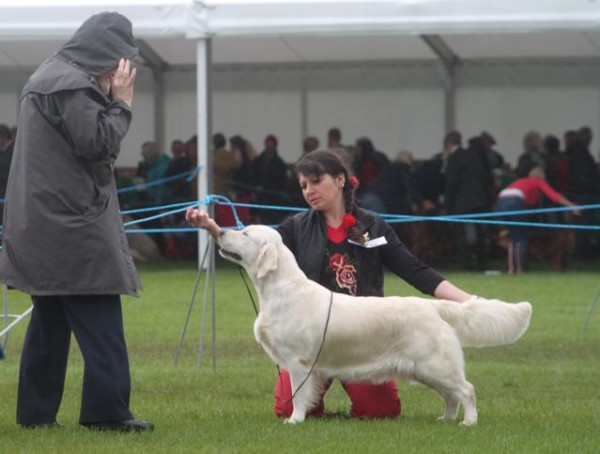 Multi Ch Velvenya Vogue of Ramchaine in the Open class being looked at by the bitch judge June Young (Pyngold) in the pouring rain!!
Vogue ( by Sh Ch Chisleay Crusader for Rossgilde ex Ramchaine Enchanting for Velvenya ) wins 1st in Open Bitch .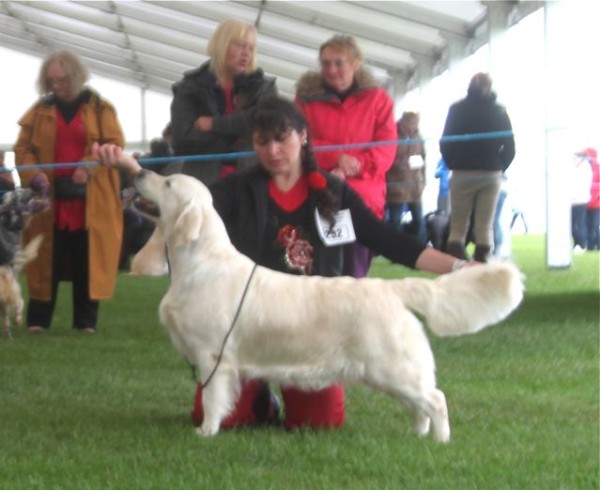 Whaaahooooo!!! Vogue wins the bitch CC in the challenge for the Best Bitch!!!
This is Vogue's 3rd K.C. Challenge Certificate which makes her up into a UK Show Champion too!!! A proud moment for us and her breeders Sue & Peter Francis who were there to share in this special achievement !!!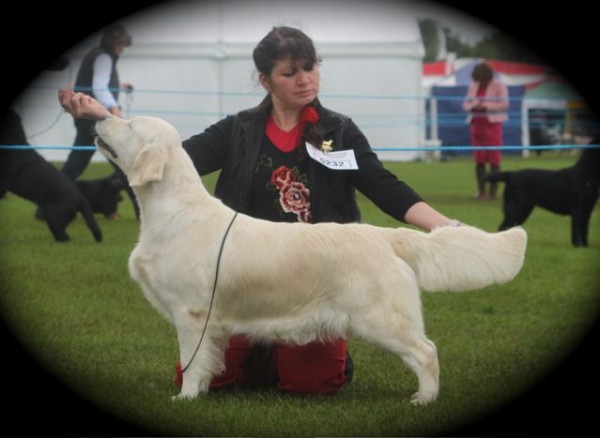 Our special superstar & amazing showgirl - UK Show Champion / International Show Champion / Dutch Ch / Luxembourg Ch / German Ch / VDH Ch & European Winner - Velvenya Vogue of Ramchaine JW –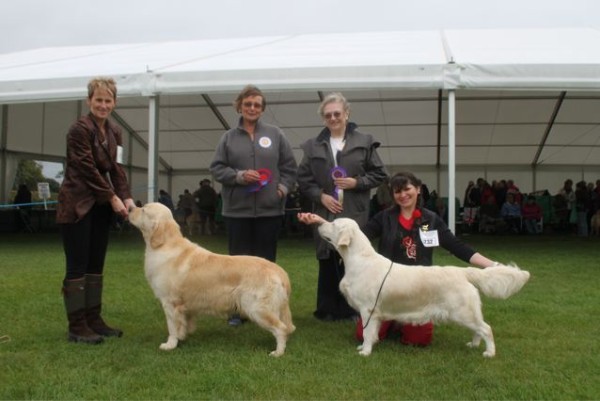 The judges Carol Carter ( Canaleigh) and June Young ( Pyngold) with their Best Dog & Best Bitch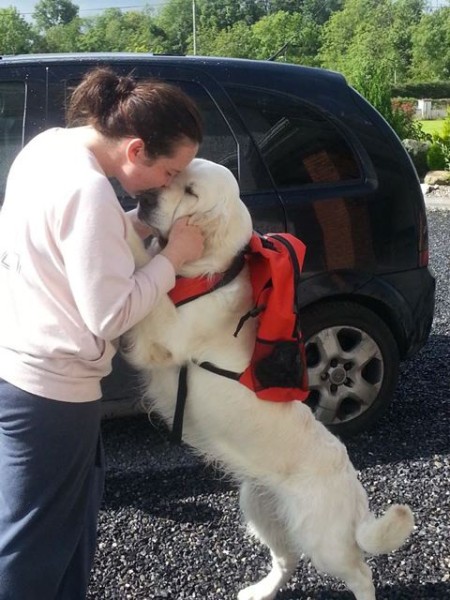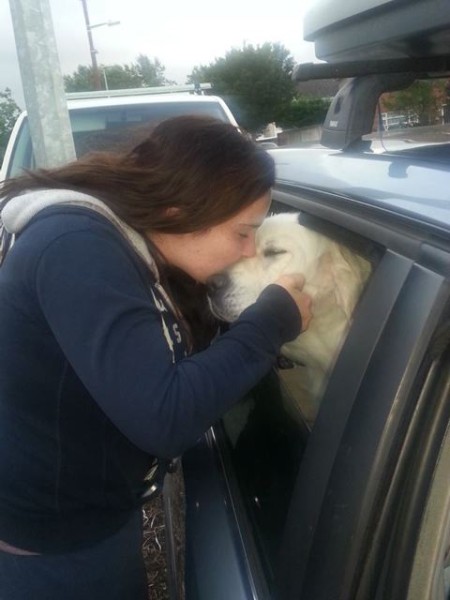 Noah says 'Goodbye' to Ireland , Katie, Kerry , Anne, his newborn litter of Irish babies and all at Zenevieva and heads back to England before returning to Holland. It was hard to part with our boy, and entrust him to someone else, but we knowNoah has had a great time, and been kissed, cuddled and cared for like one of their own, . Thank you immensely - for showing him so well and giving him his every need plus more in care, love and attention during his 'Irish' holiday. We know you are all sad to see him go x- but we are glad to have him back at home and Sebastian especially enjoys having his huggable pal back with Trevor to climb on and roll over ... !!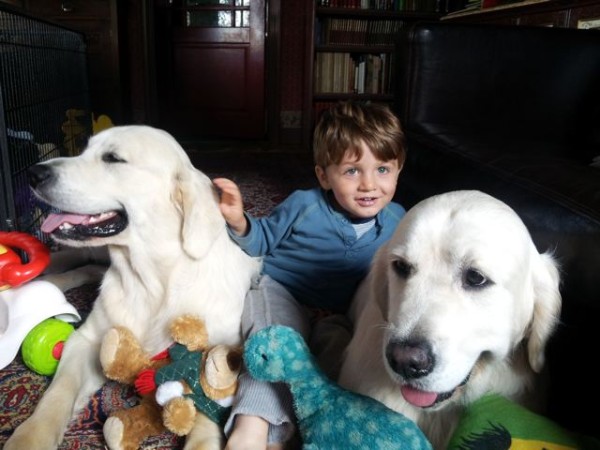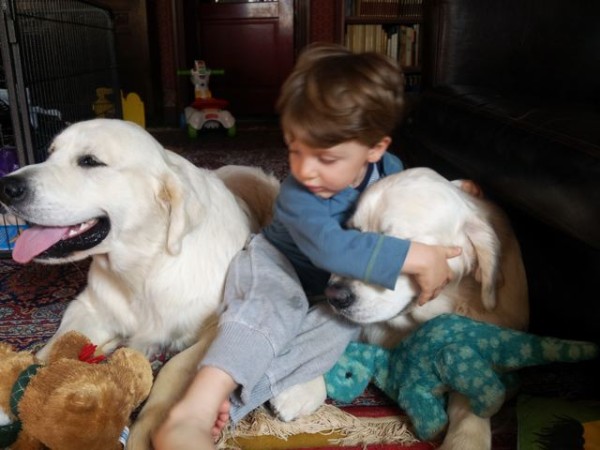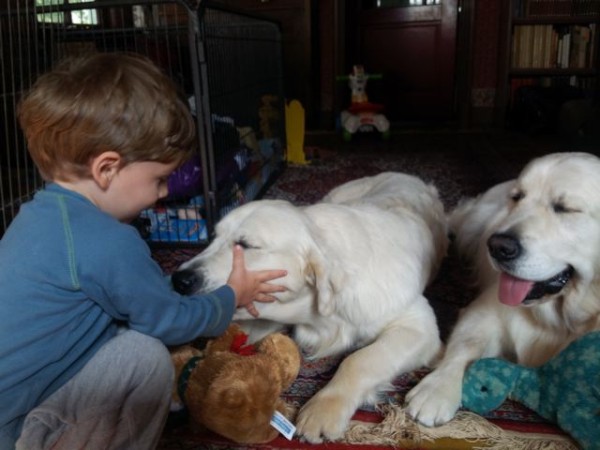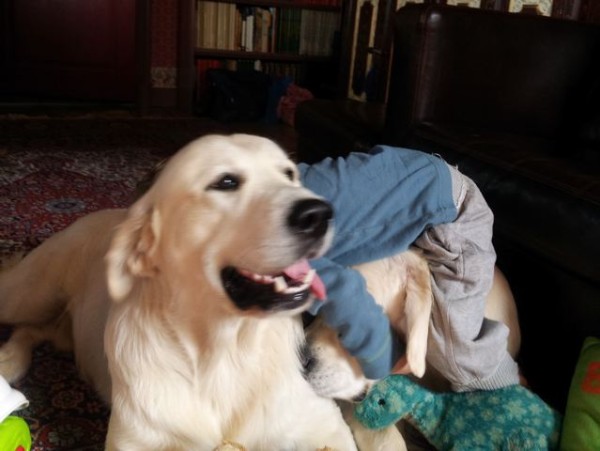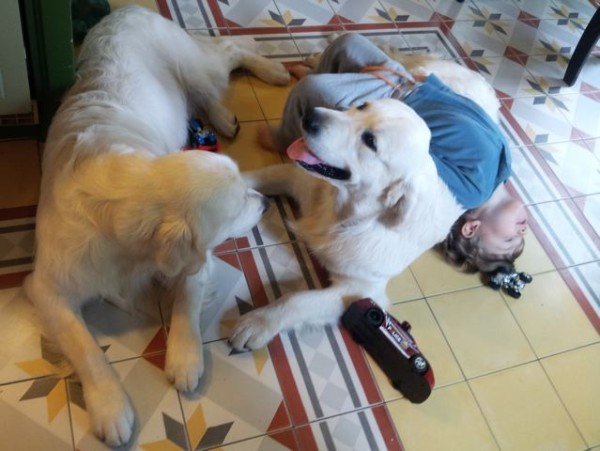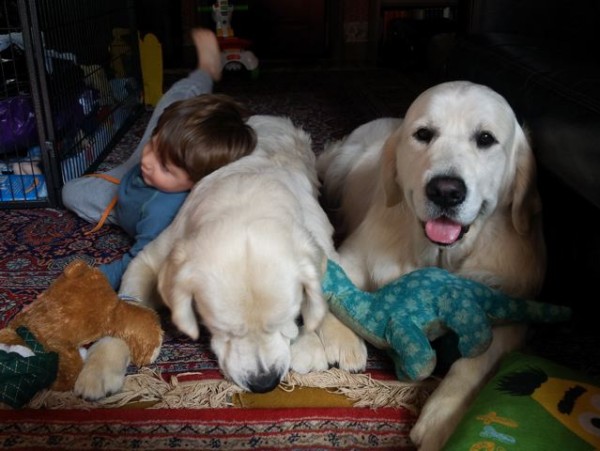 Friday 20th September – Driffield All Breed Championship Show – England
Judge – Lyn Anderson (Linchael)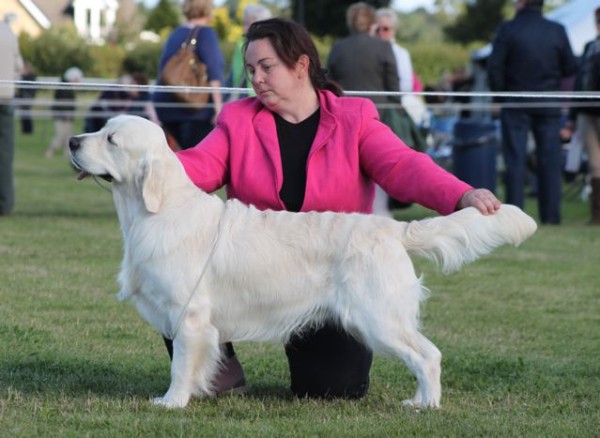 Our 2.5 year old Noah of the Hellacious Acres ( Swe/Belgian & VDH Ch Dewmist Servantes ex Ch Philomena of the Hellacious Acres ) , handled by Kerry Kelly is 4th in a strong Limit class from an entry of 15 males.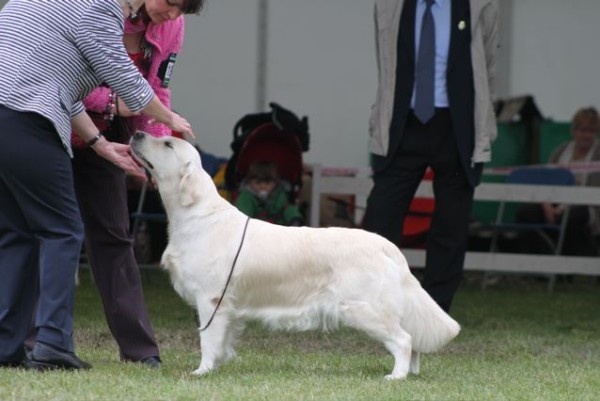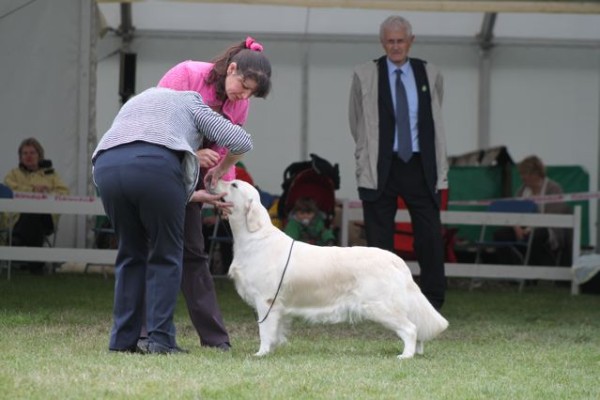 Our newly crowned UK Sh Ch being assessed by the judge , breed specialist Lyn Anderson (Linchael)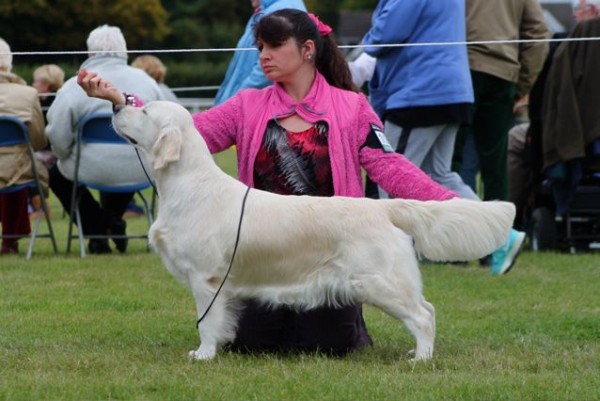 We are truely thrilled when our Multi Ch Velvenya Vogue of Ramchaine JW becomes BEST BITCH and wins her 4th Challenge Certificate!!!!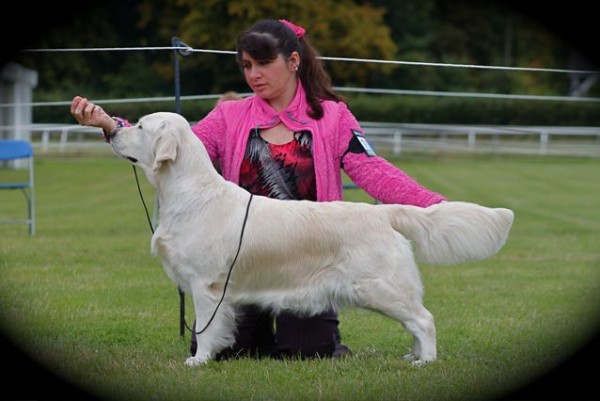 Vogue becomes Best of breed too!!!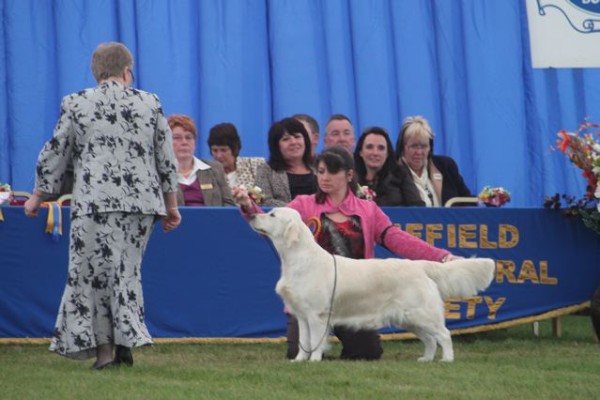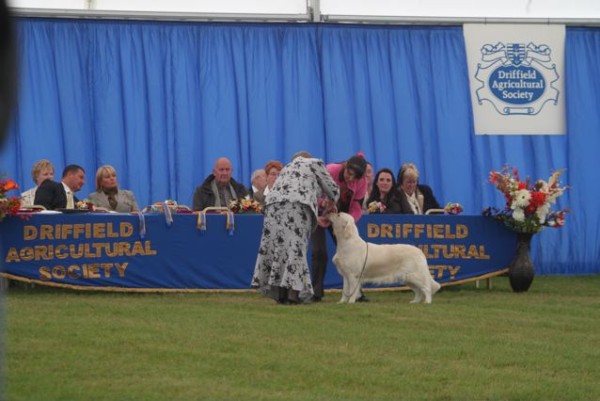 Vogue goes into the main ring to ccompete with the other BOB winners in the Gundog Group under judge Mrs Ann Moss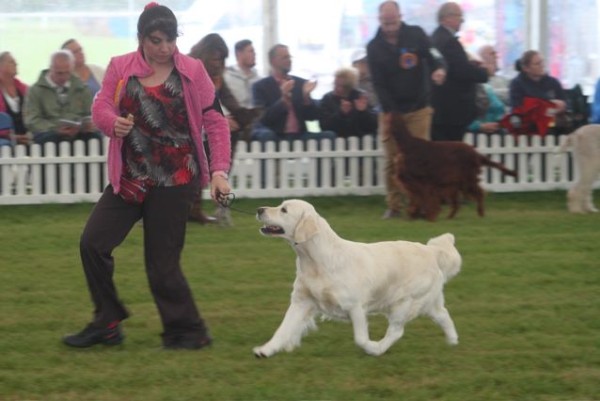 Vogue is in top form and strides around the ring with great show attitude and presence. Like a true supermodel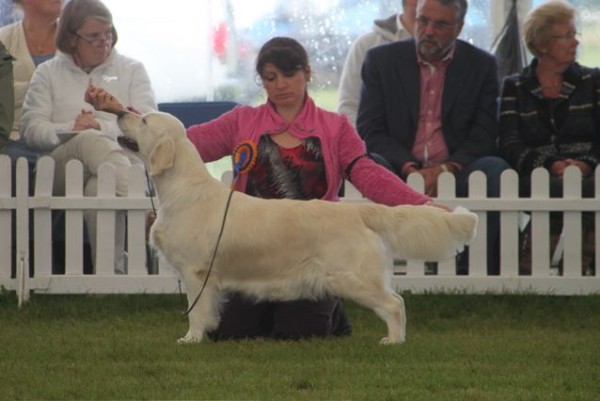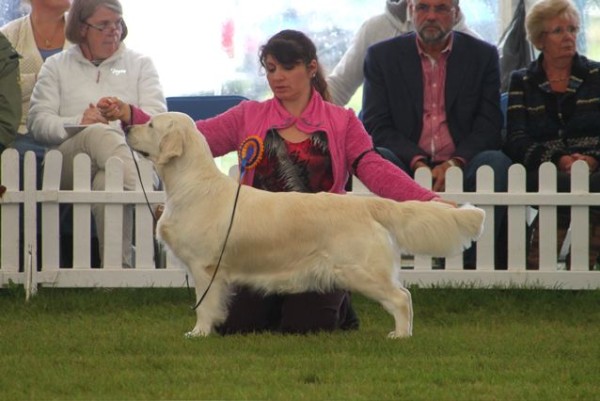 Vogue, Vogue ..... strike a pose ......
Wow!!! We are ecstattic !!! The Golden Retriever is called out as the Winner of the Gundog Group – our Vogue! Not a common place occurance for our beloved breed!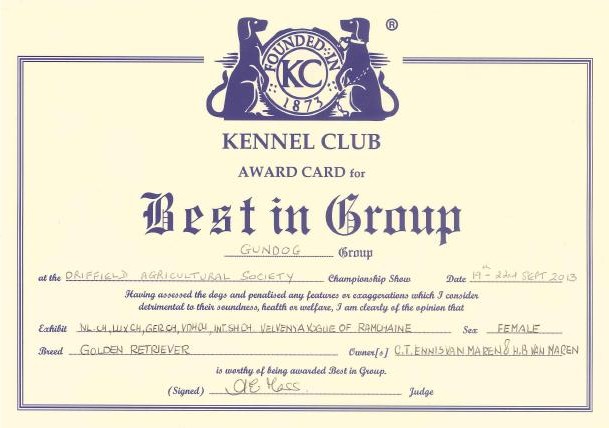 The judge wrote the following about her judgement of the Gundog Group:
"My thanks go to the Officers and Committee of Driffield Agricultural Society for inviting me to judge the Gundog Group at their Championship Show and for the hospitality that they showed to me.
In addition to my four placings, I shortlisted the English Setter, German Wirehaired Pointer, Irish Setter, Clumber Spaniel and Irish Water Spaniel.
Group 1. The Golden Retriever, NL Ch Lux Ch Ger VDH Int Ch Velvenya Vogue of Ramchaine JW. Bitch with a lovely feminine head, good outline and angulation, short coupled body, in lovely coat and condition. Really filled the eye, looking the part both standing and moving.
Group 2. The German Shorthaired Pointer, Sh Ch Barleyarch Paxo JW. Well proportioned head, deep body, stifles well let down, really covered the ground when moving.
Group 3. The Welsh Springer Spaniel, Sh Ch Ferndel Aeron Magregor. The last time I judged the Group I gave it to this dog and his great balance throughout, good head and eye and sound movement still make him the quality dog that he is.
Group 4. The English Springer Spaniel, Trimere Tough Cookie. A young bitch I recently considered for top honours when judging the Breed, with lovely work in her head, good neck, shoulders and topline, and true movement."
Ann Moss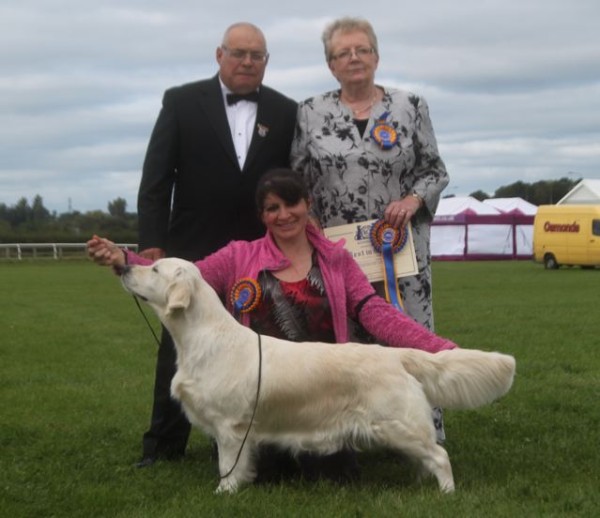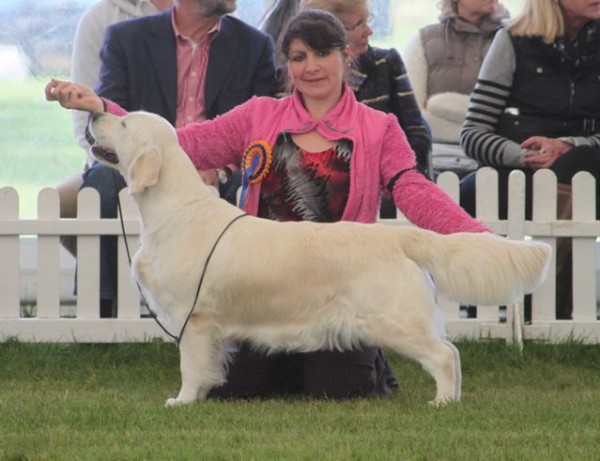 ***Multi Ch Velvenya Vogue of Ramchaine JW ***
4th CC, BOB and Gundog Group Winner Driffield 2013 !!!!

Our Ludwig is VERY proud of his offspring and their successes around the world, with stunning winning youngsters already in Austrailia, England, Switzerland, & Russia as well as with us here in the Netherlands . His newest progeny have now made their debut into the showring with superb results – congratulations!!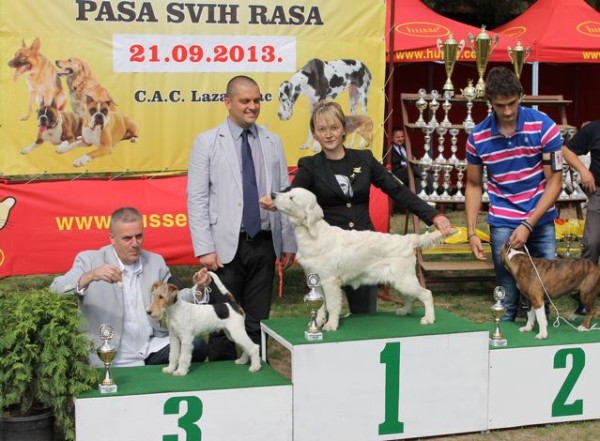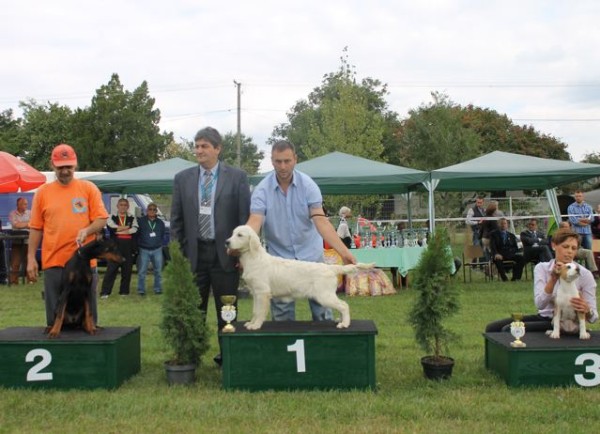 - in Serbia - Ana & Zoran won 1st Baby, Best Baby in Breed & BEST BABY IN SHOW at her first 2 shows with Cinderella of the Hellacious Acres ( Multi Ch Beethoven of the Hellacious Acres ex Sophia of the Hellacious Acres)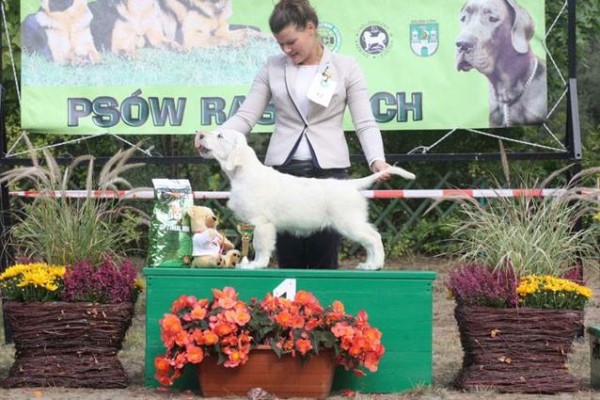 - in Poland – Ania & Pawel won 1st Baby , Best Baby in Breed & BEST BABY IN SHOW at his first show debut with Badenova Black Drop ( Multi Ch Beethoven of the Hellacious Acres ex Ch. Xena of the Hellacious Acres)

Maastricht All Breed International Championship Dog Show, 28/29th September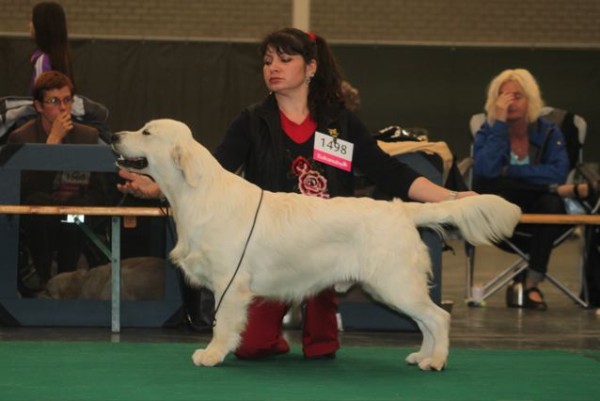 Ramchaine Moment of Truth is 3rd Excellent in the Junior Dog class under Judge William Orzel (Braxton) UK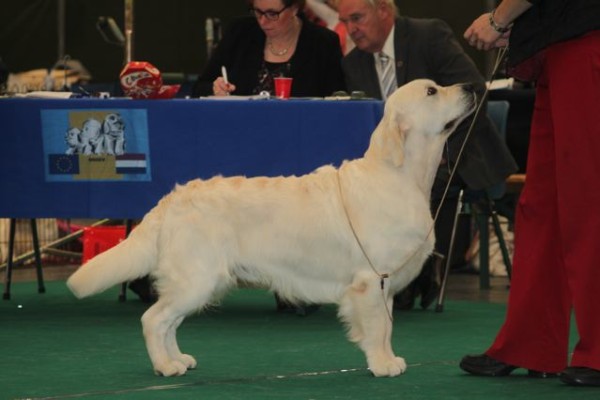 Noah of the Hellacious Acres is 1st Excellent in the Open Dog Class under Judge William Orzel (Braxton) UK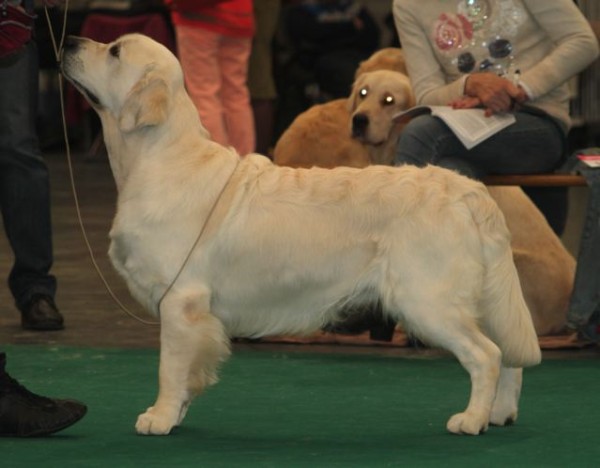 Noah goes on to win the RCAC & RCACIB awards too!!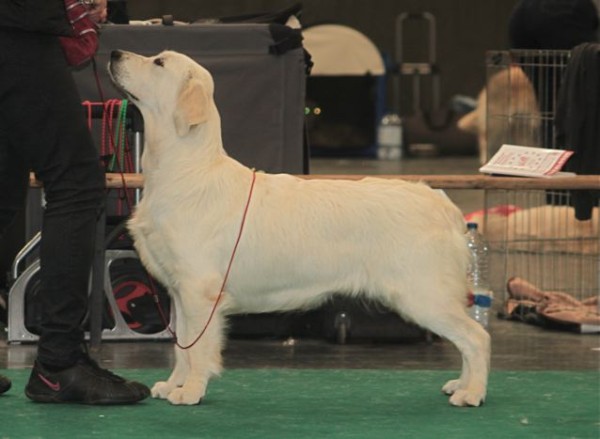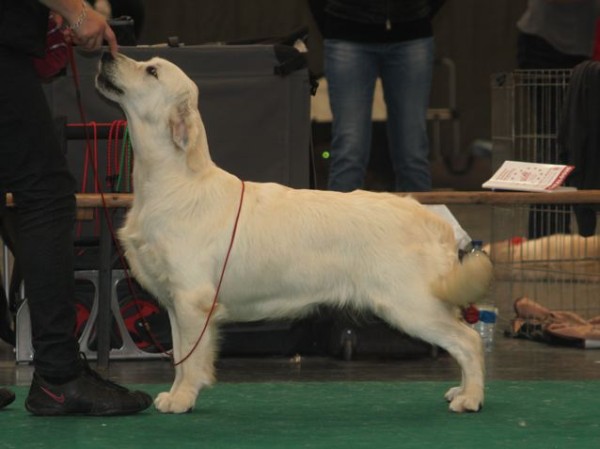 Ramchaine Truely True wins 1st in Junior Bitch with the JCAC under Judge Ruth Weightman (Cornborough) UK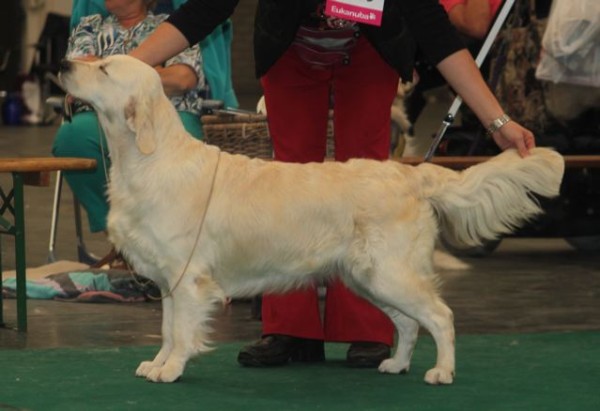 Ramchaine Moonbeam wins 1st Excellent in the Intermediate Bitch class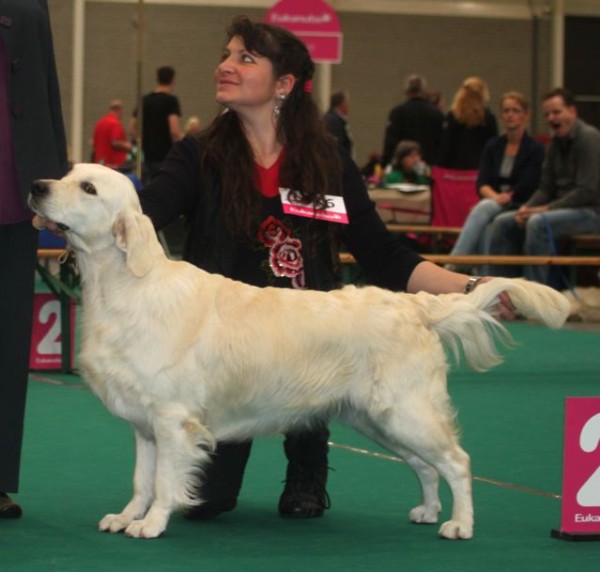 Ramchaine Moonbeam wins the RCAC & RCACIB under Judge Ruth Weightman (Cornborough) UK

Summertime Sun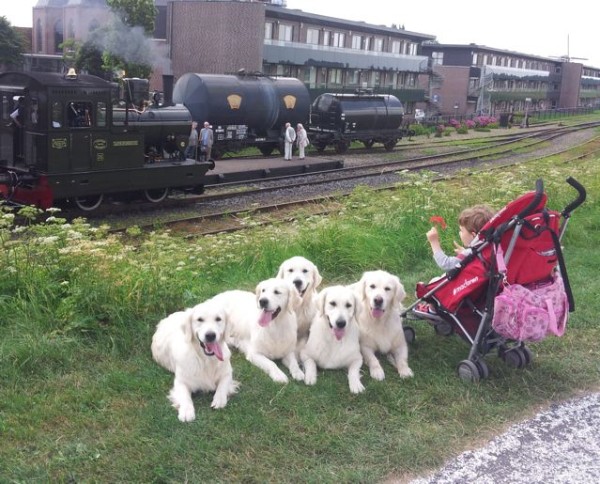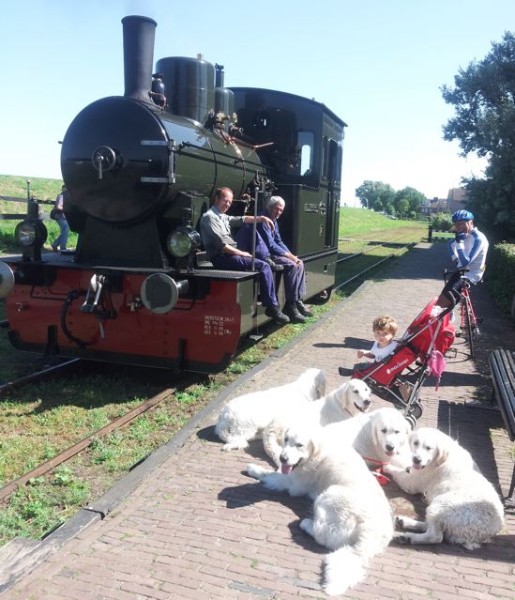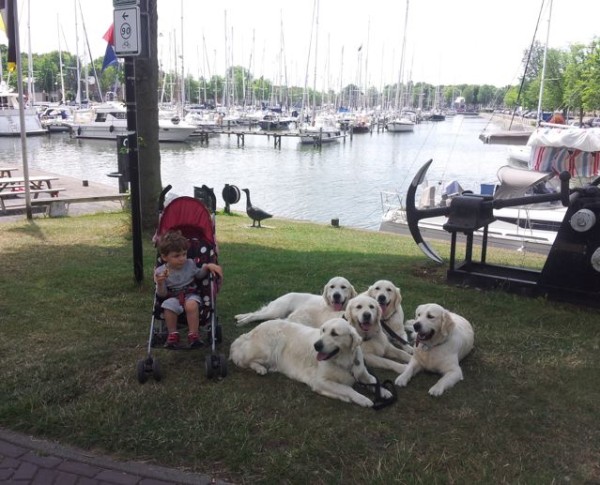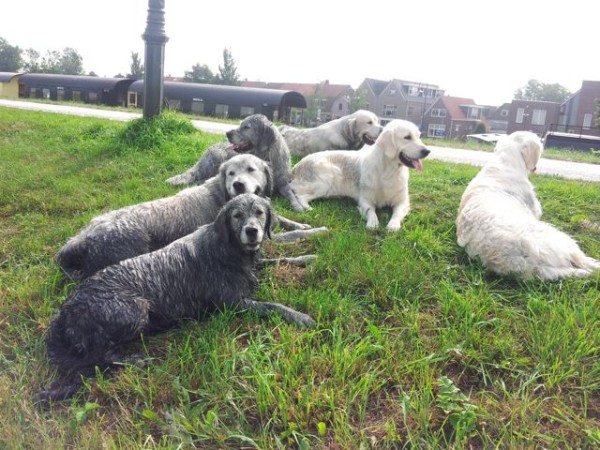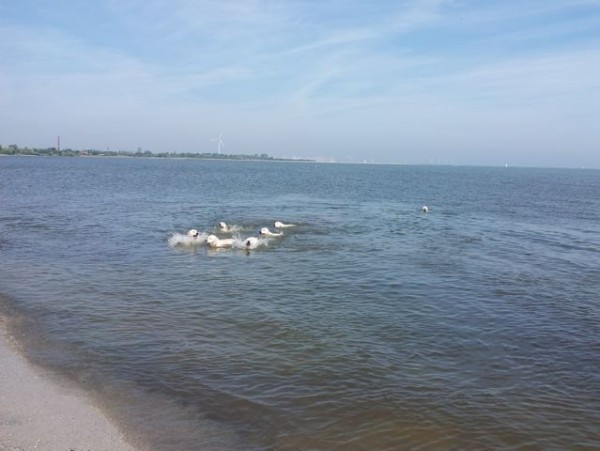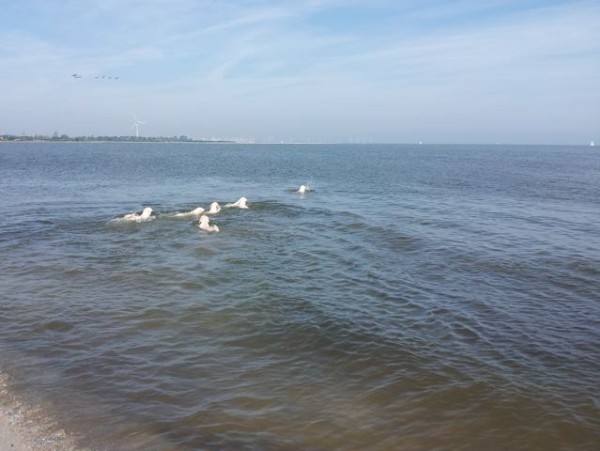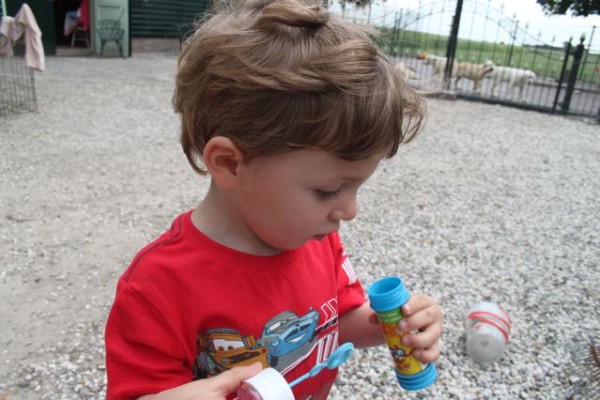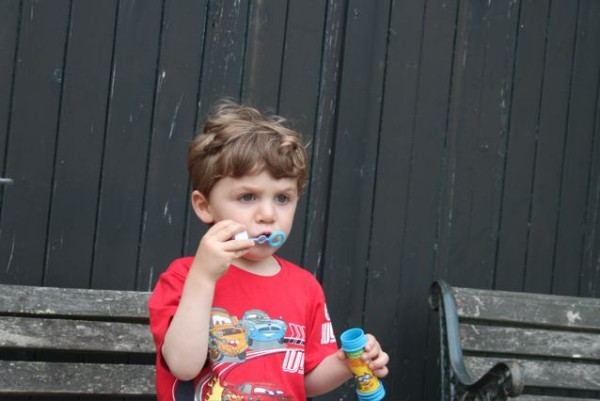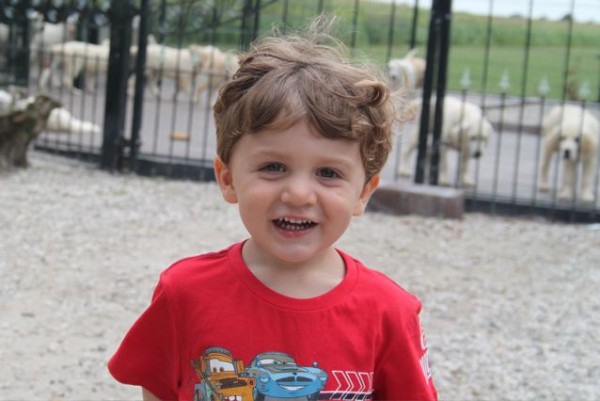 Sebastian and the dogs enjoy making the most of sunny days and lovely weather before September comes to an end and the wind, cold, rain and darkness of the autumn months set in – pictured watching steam trains, walking by Medemblik Harbour, having fun in mud swamps, swimming in the sea.... and blowing bubbles !!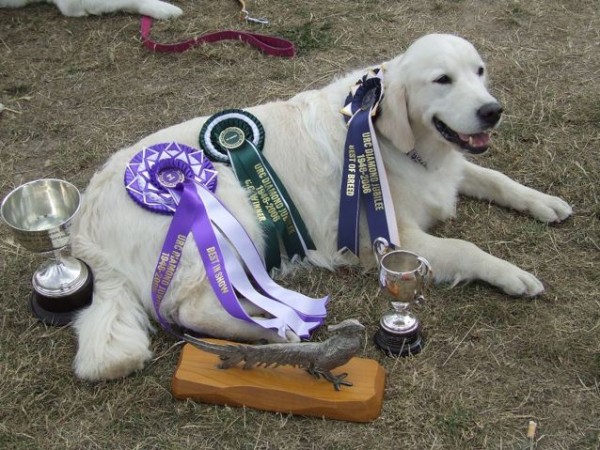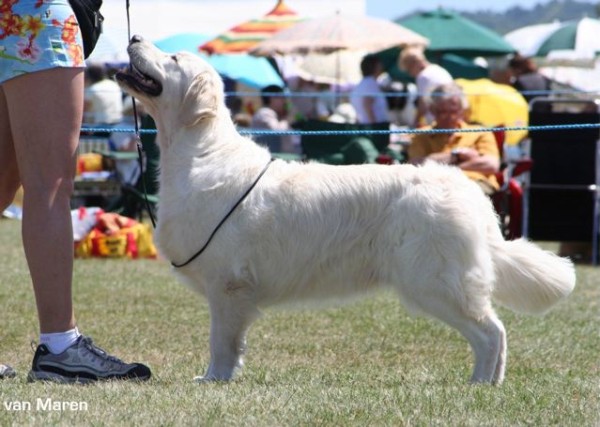 On a sader note this month we said goodbye to our beloved "Jiorjia"
Sh Ch Ramchaine Rubellite JW – she spent her last 4 years deaf and lopsided following a stroke in April 2009 leading to a vestibular problem, she was the first homebred "Ramchaine" UK Show Champion winning her KC Junior Warrant, 4 x CCs & BIS at the United Retriever Club Championship Show, and above all was our great friend and special family member: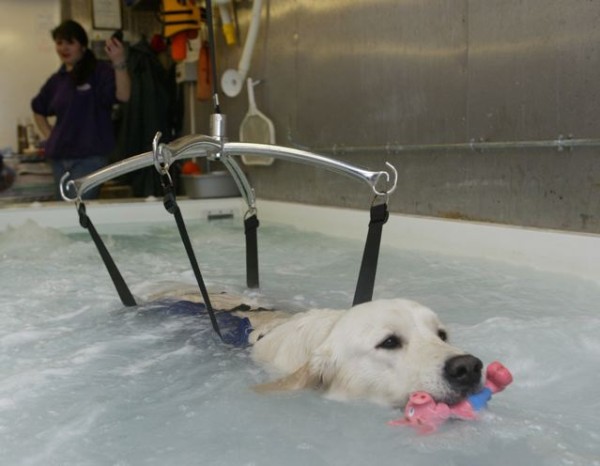 Jiorj was lucky to grow up spending most days swimming in a heated hydrotherapy pool while Charmaine worked at 'Trim & Swim'.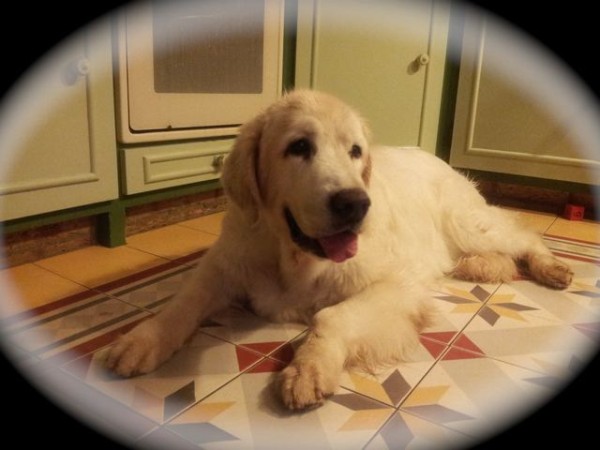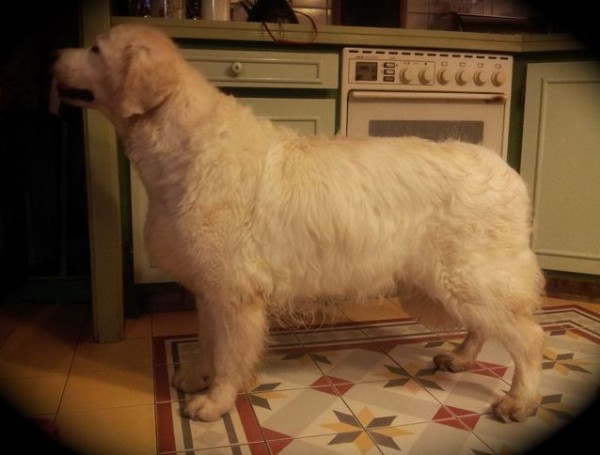 Jiorj pictured at the beginning of September 2013 aged 12.5years
"Jiorjie Peorgie Pudding and Pie
Left this world and made us Cry
Our Ray of Sun has said Goodbye
And Joined her Friends up in the Sky
She Kissed the Hearts of All who knew her
Her Memories now holding Dear to Treasure
In my arms she slipped away
In my Heart Forever to Stay"

Our Summer Project is Completed – the 3 x dog runs are revamped with new fencing and re-surfacing.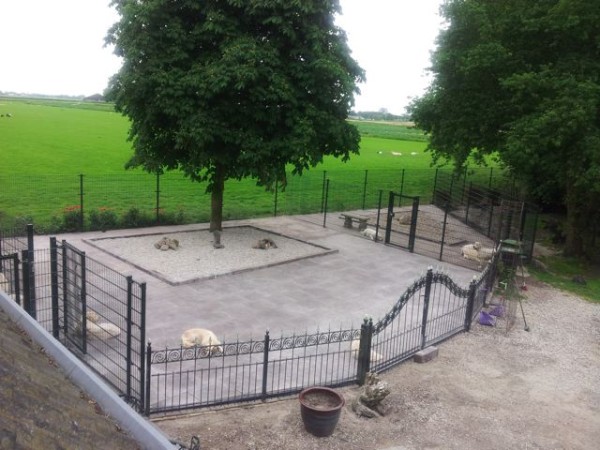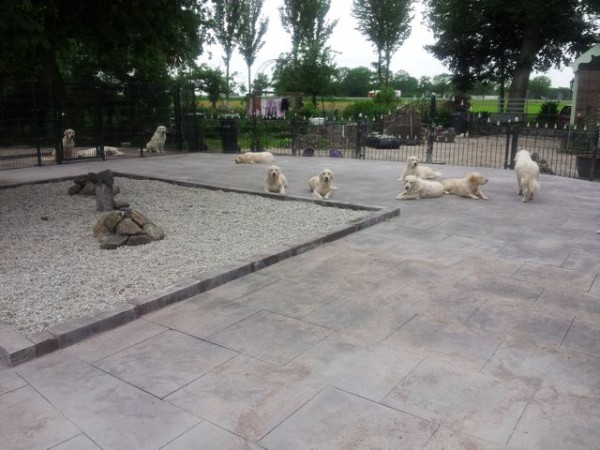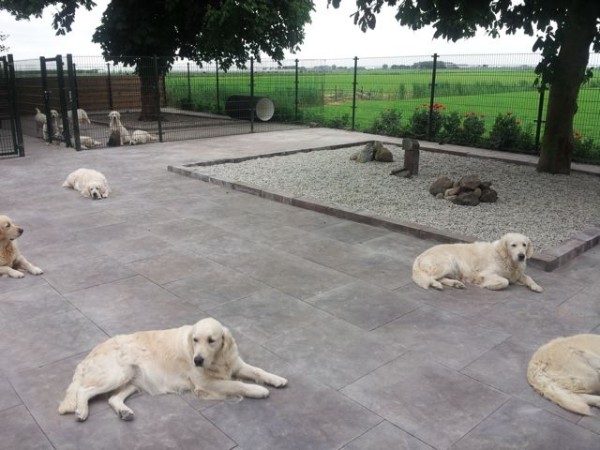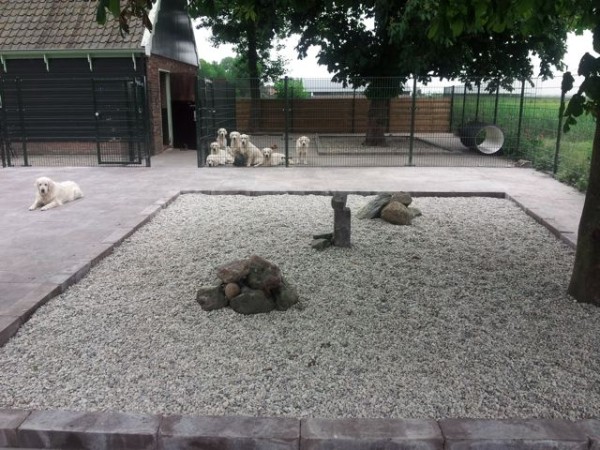 Sunday 6th October IJsselshow Zwolle , The Netherlands
Judges: Mrs Webster(UK) Dogs & Mr Webster (UK) Bitches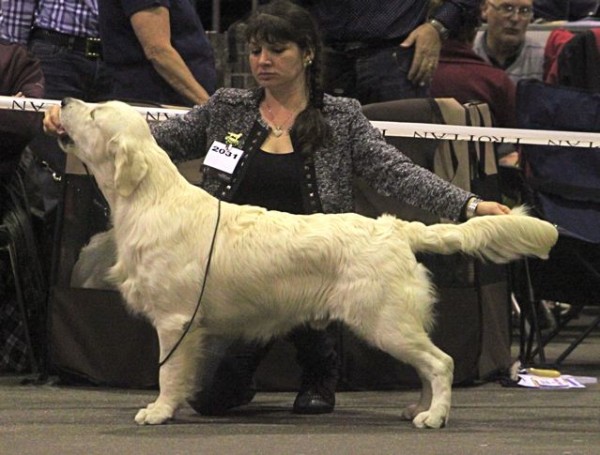 Ramchaine Moment of Truth ( Multi Ch Majik Truth or Dare ex Ramchaine Monkeynut) was 1st Excellent in Junior Dog winning the JCAC.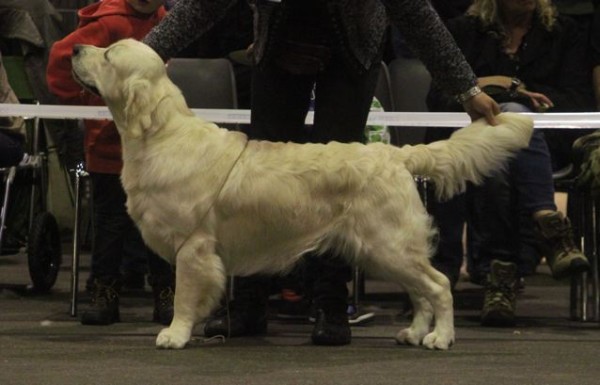 Noah of the Hellacious Acres NJK ( Multi Ch Dewmist Servantes ex CH Philomena of the Hellacious Acres ) was 1st Excellent in Open Dog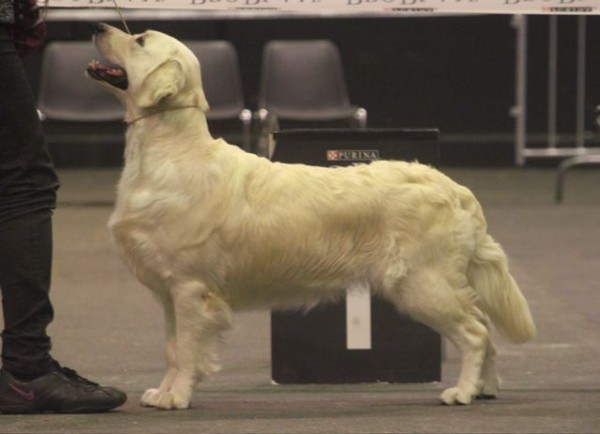 Ramchaine Moonbeam (Multi CH Beethoven of the Hellacious Acres ex Ramchaine Moonstruck) was 1st Excellent in Intermediate Bitch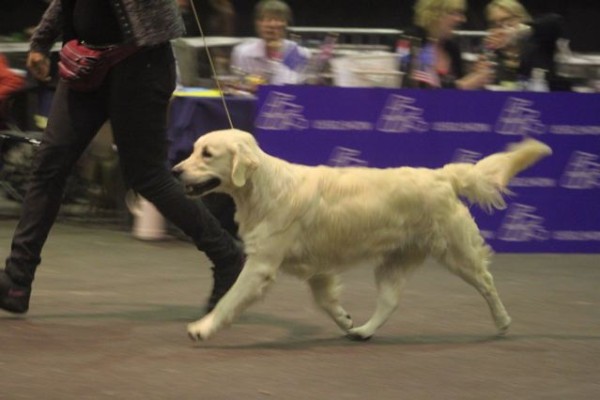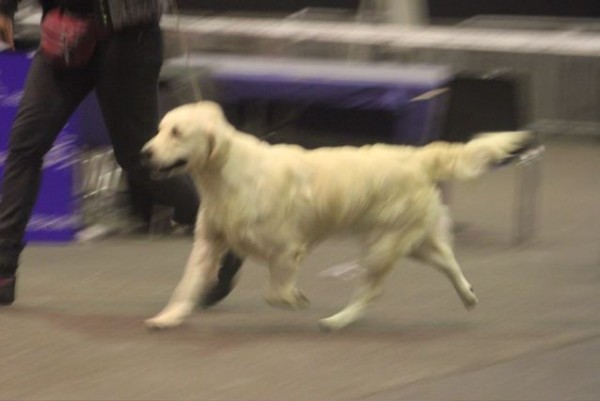 Our 'Fern' – Ramchaine Moonbeam striding out around the ring showing her super reach and extension, and fabulous topline, tail and head carriage on the move .

Sunday 13th October – The South Western Golden Retriever Club Single Breed Open Show, Taunten, Somerset, England.
Judge: Charmaine Ennis van Maren (Ramchaine)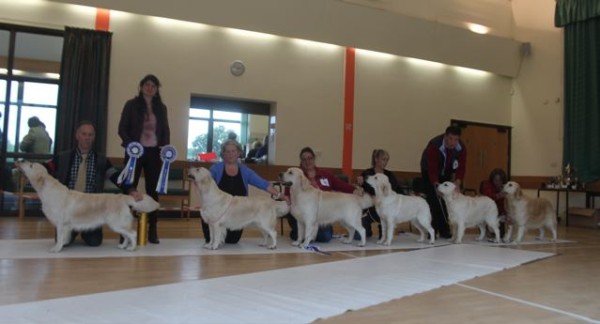 Charmaine had the great pleasure to judge at the SWGRC Open Show pictured here with her overall winners from lefyt to right - BIS, RBIS, BOS, BPB, BPD, & BV

Saturday 19th October, The Golden Retriever Club Two Day Field Trial Open Stake , at Knowle Game Farm, Kent, England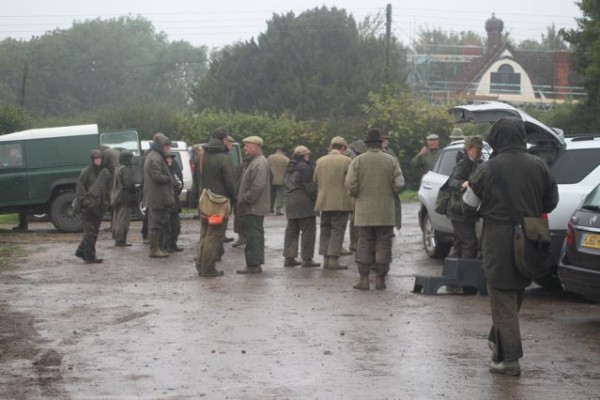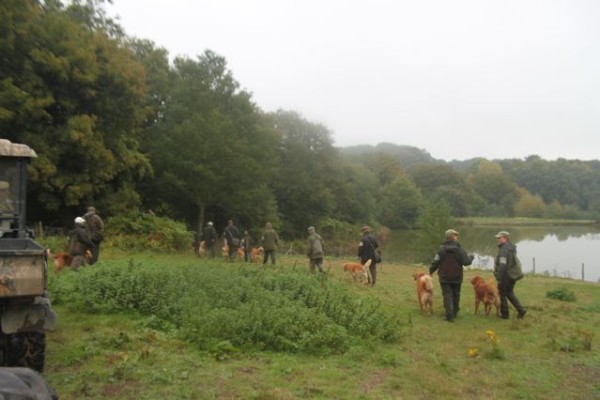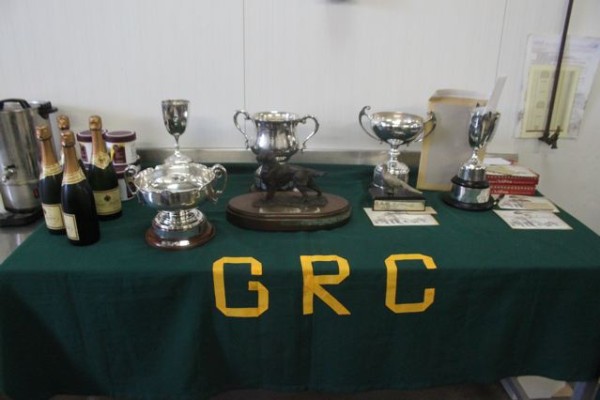 Charmaine and Bart spent an enjoyable day watching some great working Goldens thoroughly enjoy themselves doing what they were originally designed and intendend; utalizing their inbred talents and strong desire to retrieve and please - along with the skill of their handlers - to pick up game and tackle the various challanges faced on the field trial to aim win the competition - and the prestigious long standing cups and trophies of the GRC.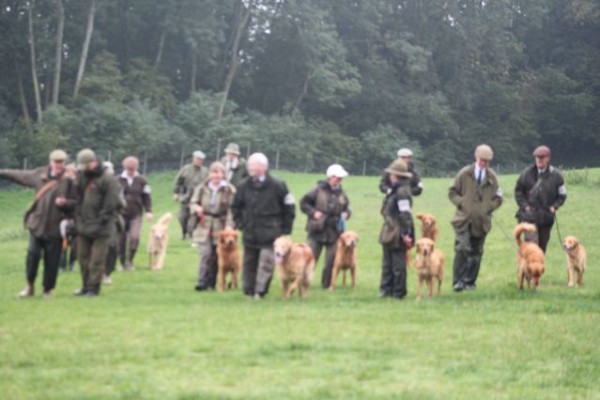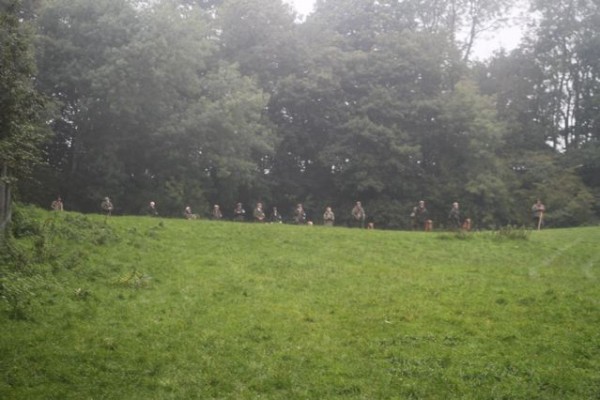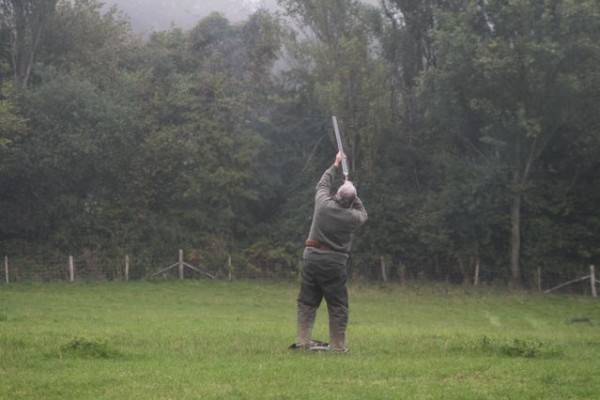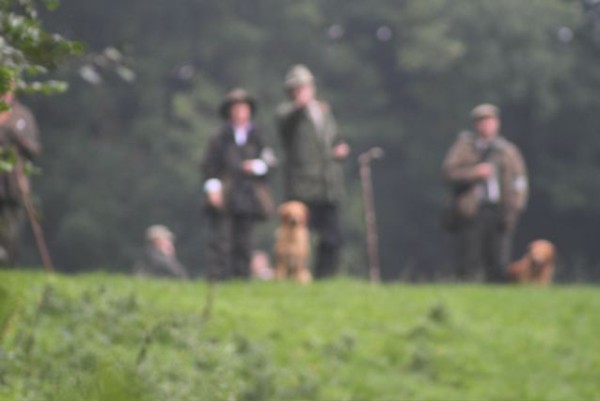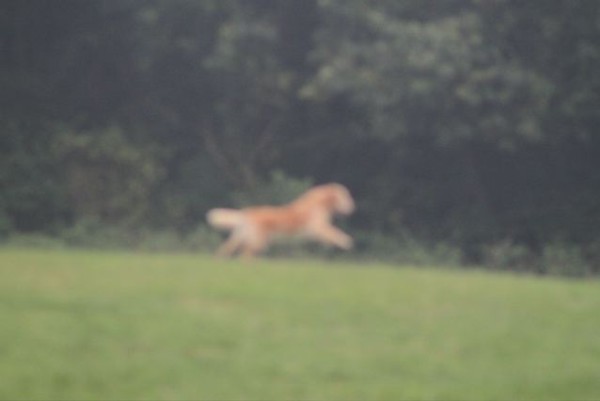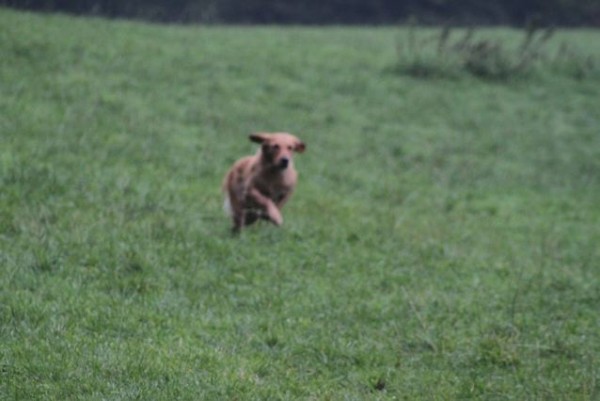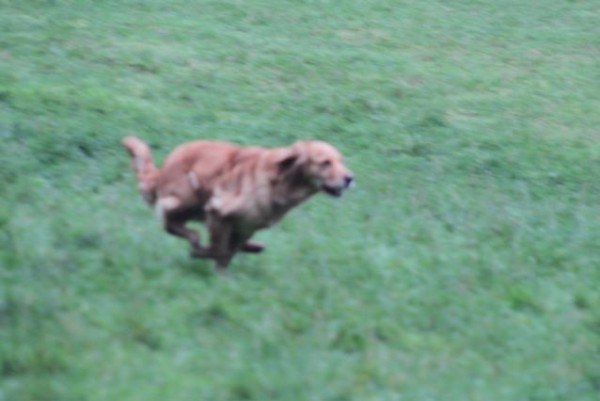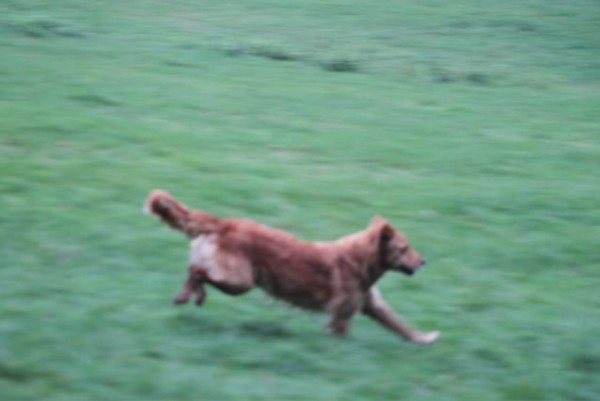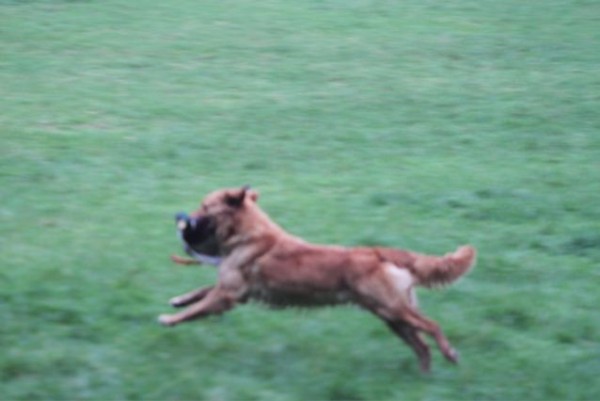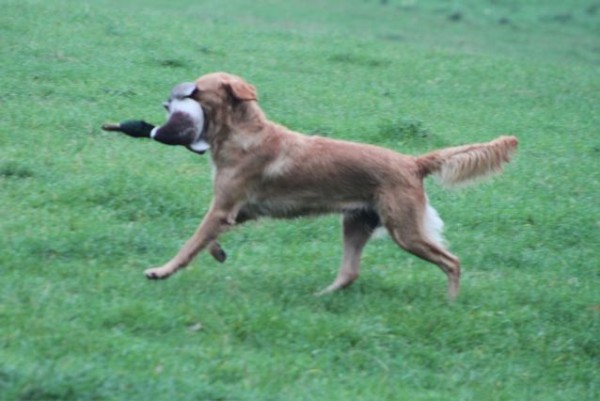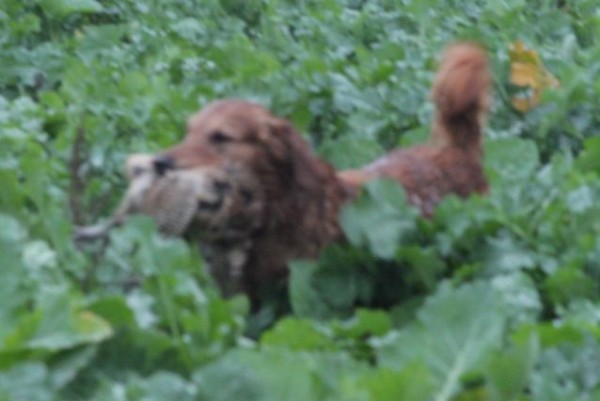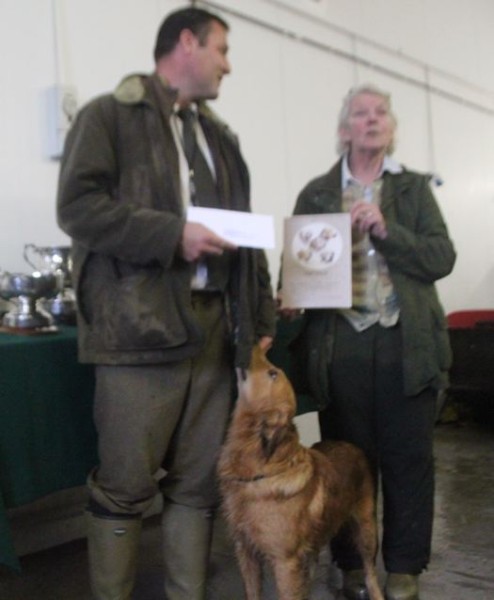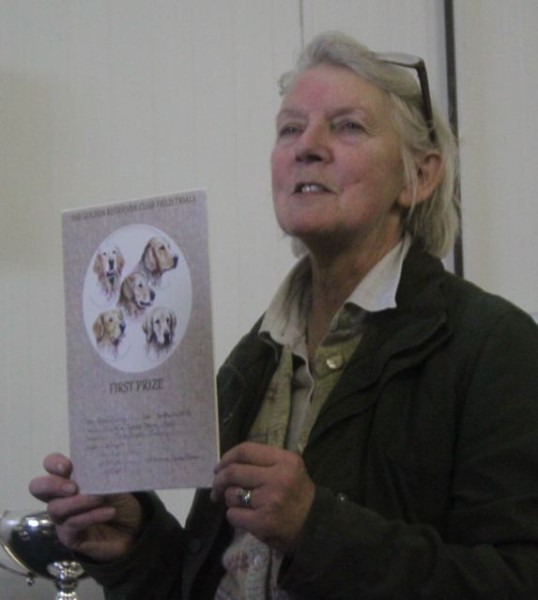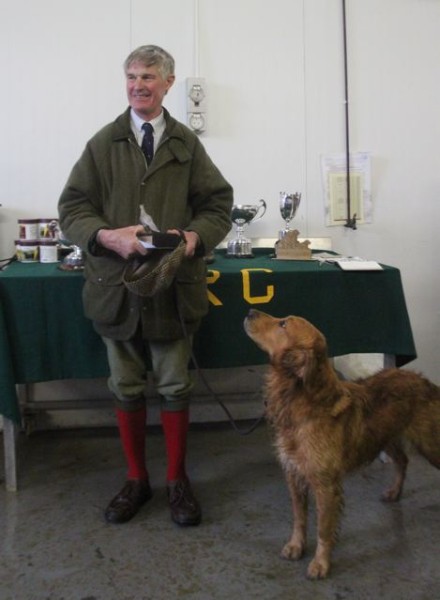 More photos of the day and the overall winner 'Mistybrook Tuscan' with his owner Bruno from France pictured with the GRC Field Trial Secretary Gwen Knox, second place was won by the son of the well known June Atkinson from the great 'Holway' line and his dog 'Holway Cider'.

Sunday 20th October, The GRCN Breeders Day , The Netherlands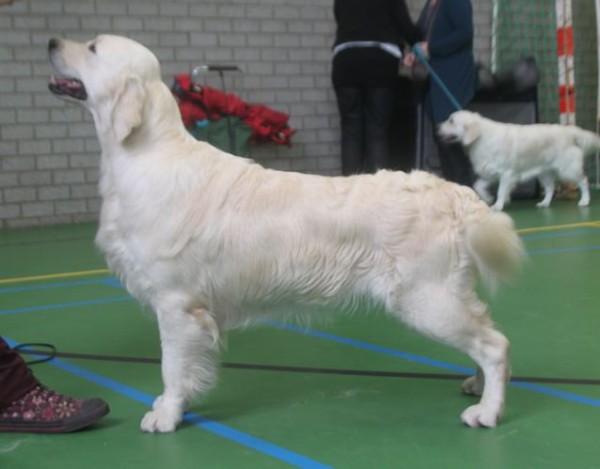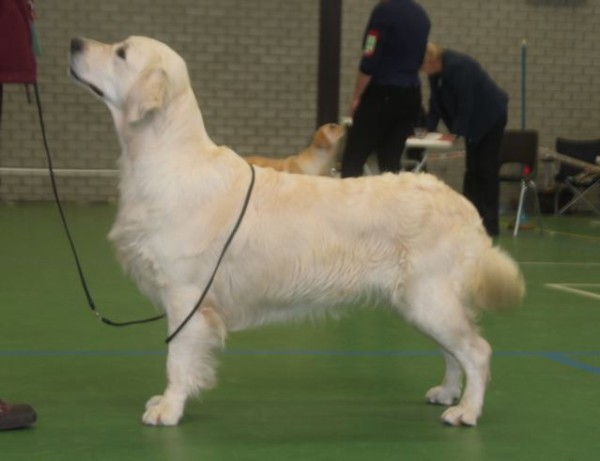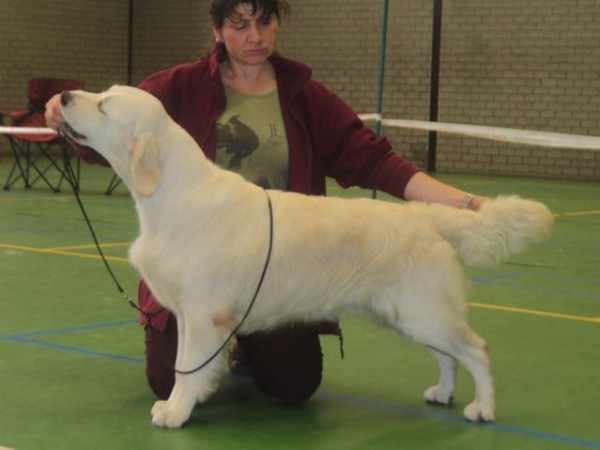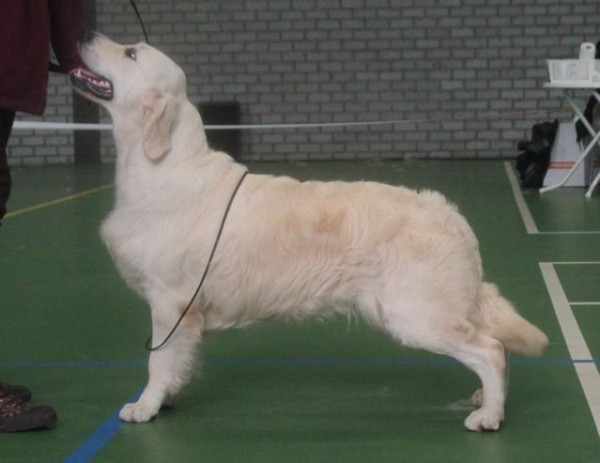 Ramchaine Belly Dancer & Ramchaine Moonbeam both A hips, 0:0 elbows and clear eye certs - attended the compulsary Breeders Day run by the GRC of the Netherlands to be assesed and graded on their confirmation, movement, temperament, breed type, and steadyness to gunfire. Both excelled themselves with a string of 'excellents/uitmuntend for each factor.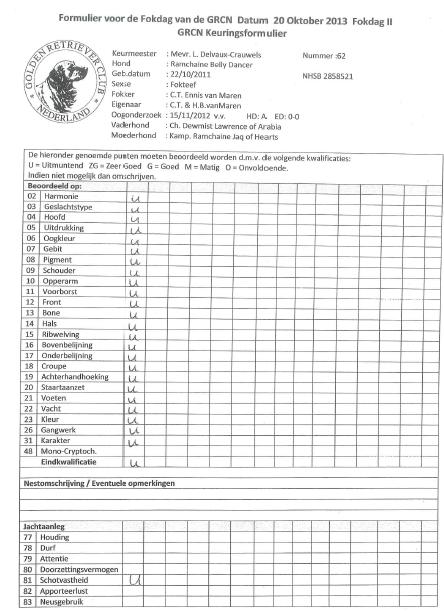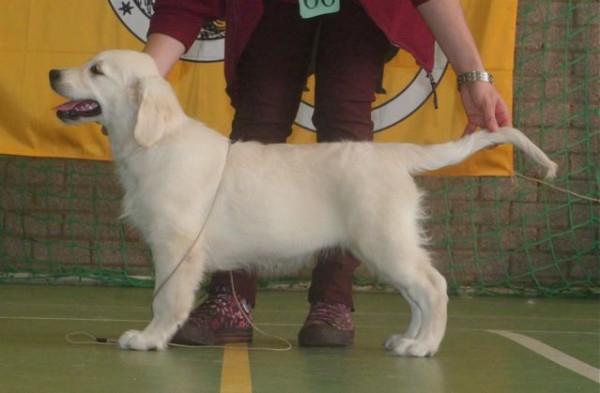 Our youngest baby of 3.5 months "Winona of the Hellacious Acres" ( Noah of the Hellacious Acres ex Morwenna of the Hellacious Acres) came along for the day too, to gain some new experiences and practice standing and moving in the rings.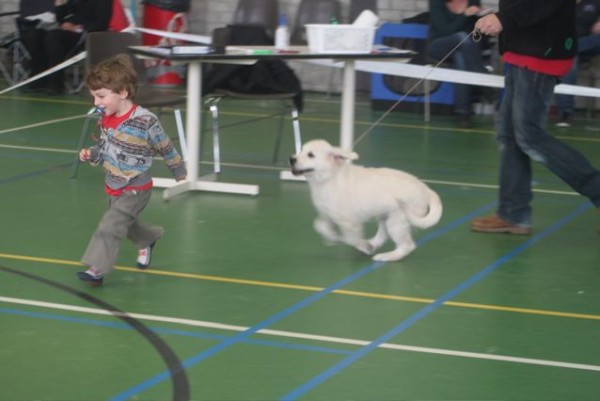 Not sure if Seb has the right idea of teaching puppy 'Winnie' how to run around the ring – but they have fun!!