The Beginnings of The Hellacious Acres Golden Retrievers :
Bart had already gained much experience with breeding and showing as a teenager – starting with pigeons, ducks, chickens and various other animals.
When thinking of which particular kind of dog he wanted to have, Bart had always thought about owning an Irish Setter – liking them in character as well as their rich red colour very much and also because as a breed they had the image of being very naughty.
Now married, Bart thought of a dog to add to the family…… a friend had bred a litter of really dark gold Golden Retrievers , so Bart went to take a look ….. and if you're going to look at a litter then you are very tempted to take one because they are so cute …… and so Bart got his first Golden Retriever in 1979.
"Avra" as her name was, was bought primarily as a family pet, however from his previous hobbies there was the temptation to show and hopefully from breed her too – she turned out to be a very lovely bitch …..with unfortunately one setback; she was undershot and was therefore only shown once.
A second golden Retriever "Lizzy" arrived – sadly also another disappointment as she was diagnosed with bad hips.
Bart was now very keen on the breed and decided to try his luck elsewhere. He felt he had to learn more about the breed first if he was going to be successful and aim to get a good one. He did some research & investigating & looked into known respected breeders to find out where best to buy his next "good" bitch from.
In that time Thea Berts (v.d.Drunenborgh) was a leading Kennel in the Netherlands and because Bart's motto is "the best comes from the best" he decided to go there and that resulted in Danish Guinevere v.d. Drunenborgh coming to Twisk.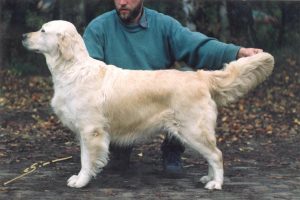 In 1981 Bart had his first litter and that was the beginning "of the Hellacious Acres" Kennel in Holland.
His second idea was having one from England, so he approached the 'Camrose' kennel of Joan Tudor and the 'Westley' kennel from Joan Gill and Daphne & Mervyn Philpott.
Sometimes you need a little luck in life, sadly things didn't work out at that time in getting a puppy with the Camrose kennel …. but joy was to be had with getting a pup from the Westley kennel.
In November 1982 Westley Beedee was born and came to Holland as Bart's FIRST imported Golden Retriever.
Both bitches turned out to be great specimens of the breed and started the show scene for Bart.
Guinevere developed into a most wonderful bitch and also became a good brood bitch – producing Barts first champion in Ch.Chessina of the Hellacious Acres W'88.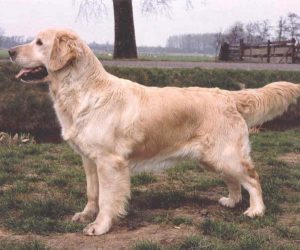 Beedee wanted not to do it for less and became a Dutch, VDH & German Champion ( ending up winning a total of 12 CACs; 3 RCACs; 5 CACIBs & 2 RCACIBs ) and produced the second homebred champion Ch.Bashfull of the Hellacious Acres.
From that point onward it went fast because a lot of the combinations turned out to be very good and produced several other champions also with other owners than himself. Showing became a passion and a time consuming hobby for Bart ; in between his work and family life.
Because of the wonderful relationship and special connection he developed with Joan Gill and Daphne and Mervyn Philpott, Bart also imported Ch.Noravon Amos and the very lovely Ch.Westley Cathrina who was a stunning bitch herself ; she excelled in the show ring but did even better as a brood bitch and you can still find her name back in the pedigree of many Dutch born Golden Retrievers – a truly outstanding bitch.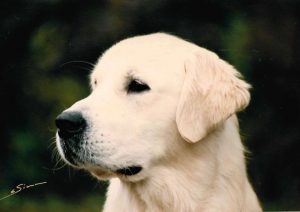 Her son – World Champion Mack Lobell of the Hellacious Acres was an "once in a lifetime dog" –
a super show dog   who was extremely happy being with you in the ring, he always performed well
and in that aspect he was a natural showman.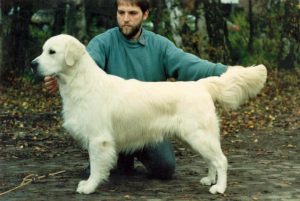 A cornerstone of his breeding, the Westley kennel of beautiful, very lovely bred Golden Retrievers
has been and still is the root of Bart's ideals in a Golden Retriever
Photos showing  a Hellacious Acres group  & a Westley group
Alongside his deep love of the Golden Retriever was that niggling first love of the Setters …. So eventually an English Setter was added too….
Also imported from England 'Tattersett To Be Fair'.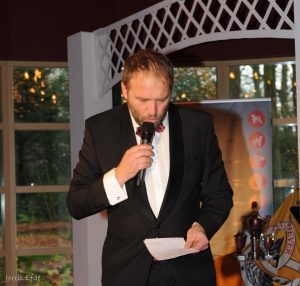 Bart for a while was the Chairman of both the English Setter Club of the Netherlands and also for the Golden Retriever Club of the Netherlands.
Bart spent many years studying dogs in general and trained to pass all the required exams needed to become an official FCI judge.
He has fulfilled multiple judging appointments for both the English Setter and Golden Retriever in the UK and in various countries around the world,
including the Netherlands, Germany, Austria, Denmark, Norway, Sweden, Finland, Estonia, Poland, Switzerland, Hungary, Croatia, Czech Republic, Serbia, Russia, Australia & New Zealand and has also acquired the KC approval to award Challenge Certificates in the United Kingdom.