THE STORY OF HOW IT ALL STARTED :
Once Upon A Time …………..
……this is how many fairytales start …….. so ……….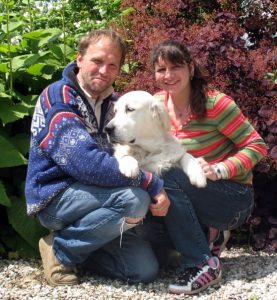 Once upon a time a Dutchman was looking to buy in a special Golden puppy to add to his already very successful Golden Retrievers which had been his passion and hobby to breed & show to top level since 1981
Reading a Golden Retriever club yearbook to research where he should get this new puppy from – he came across an advert which almost exactly described how he himself had started in Golden Retrievers ….. there were a lot of uncanny similarities –
this particular lady also started in the early 80's – after falling in love with Champion Westley Martha and Champion Westley Mabella and starting with a long correspondence with Daphne Philpott of the infamous 'Westley' kennel – before buying her first Golden puppy – a daughter of Ch. Westley Samuel ex Noravon Melissa …who went back on the super "STYAL" bitch lines.
To quote from Bart's first email to Charmaine in June 2005 ….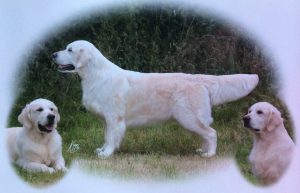 "… we too started by going to Joan Gill and Daphne Philpott and I did recognize a lot of the things you told of in your advertisement , similarities in our way of thinking and the dogs and the doggyfriends that we did end up with. We too have had a Noravon puppy from Mary Johnson by Samuel and Melissa; I do think a full brother of your bitch. And again , we too have had a son of Ch.Elswood the Highlander , where you have had some daughters of him. It was nice to see that countries apart, how things can go in the same sort of direction. …… Having a sort of STYAL bred bitch in the past but having lost that line, I am looking for a bitch out of that line again and found your JAZMIN – which in my opinion has the perfect pedigree and a lovely type which would fit in with our dogs perfectly…"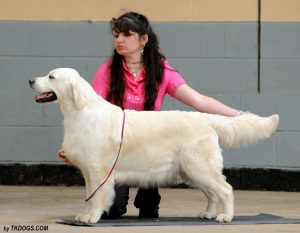 In the email Bart asked if Jazmin was going to be mated and if he could possibly have a bitch puppy from her , etc etc etc… ending "looking forward to your answer"…..
However, at that time in 2005, Charmaine was not very competent with technology and computers so all her personal emails correspondence and administration for her busy grooming salon and hydrotherapy centre 'Trim & Swim' was undertaken by the always helpful and very wonderful Lorraine. Lorraine would print out all Charmaine's emails & bring them into the shop for her response …. alas for poor – Bart his email was put on the pile to be ignored until sufficient time arose …. which as usual – never ever did!!
But, still keen on having a puppy, and with no joy on having a reply to his email, Bart telephoned to leave a message on the answer phone , and persistent in nature , followed up the call with another to finally get to speak to this English breeder direct and ask about the chances of having a puppy from Jazmin. He was told he would be about number 23 on the waiting list!!
Well, to cut a long story short, the persistent Bart managed somehow – not quite sure how however – to end up with the 2nd pick of bitches from Jazmin's next litter and 'Ramchaine Green Glitter' born in the August of 2005 made the journey to Holland to live with the rest of the 'Hellacious Acres' Golden Retrievers.
Oddly too, for 3 years running by great coincidence, Bart and Charmaine somehow managed to bump into each other along with their own accompaniment of travelling companions at the NEC West car park entrance to Hall 3…. allowing Bart and a friend or two to get in with Charmaine's multiple dog entry passes.
( … for those of you who know the route into the NEC , with the long motorway queues , choice of the multiple car parks , entrances and doors – this is a rather weird coincidence to have happened on one occasion ……let alone three times !!!)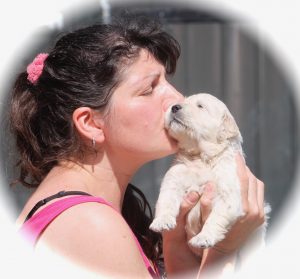 Charmaine had a break from showing from 1991 – 1998 when her sons were young and Bart also had a break from the showring from 1999 till 2005 – so their paths missed each other for a while – both still bred the occasional litter to keep their lines going during this time.
By the beginning of 2008 , Martha of the Hellacious Acres and Barnum of the Hellacious Acres had both gained their Dutch Champion titles to add to the previously gained German and VDH Champion titles. Both were young dogs , full of quality, so Bart began thinking of other possibilities to expose these super examples of their breed further ; and thought how it could be possible to campaign them elsewhere in Europe and even in the UK . Because of the costs of crossing the channel by boat or the eurotunnel, the strict border controls and all the regulations – Bart thought it wise to see if there would be somebody in the UK that was willing to help out and to have his dogs for him for a while – and maybe even show them too!
Bart knew that often the English were conservative in their attitude to 'foreign' dogs , and thought of who he could ask …. maybe Charmaine ? …..as someone he knew to be as a serious handler and breeder and also younger than the majority of established breeders/exhibitors, he hoped she would therefore be at least a little more 'open minded' to new ideas.
The first proposal of having/showing Martha & Barnum came at Crufts in 2008.
The answer was not a direct "NO" but also not a "YES" – lots of questions and particulars to discuss.
Charmaine was hesitant, but Bart as usual very persistent with his new idea.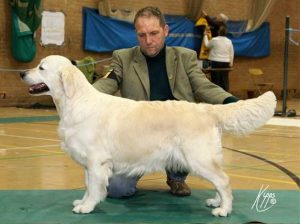 Still no "YES', so with the idea still playing on his mind, Bart decided to enter at a run of 4 UK shows anyway at the end of April / start of May – and just make the journey himself. Charmaine agreed to help with handling at the shows and they both teamed up for some of the travelling, taking it in turns to drive. The efforts were not unsuccessful – a CC & a RCC won by Martha– and KC Stud Book Number for Barnum – not bad at all.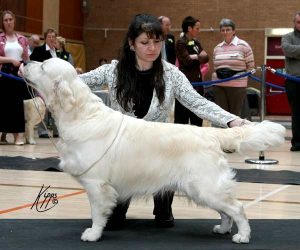 The UK show bug had bitten – Bart entered a further 4 shows and asked if Barnum & Martha could do a test run 'sleepover' for the night before Windsor as Charmaine had organised a celebratory meal at a restaurant to mark the achievement of being
"TOP GOLDEN RETRIEVER BREEDER 2007" & Jazmin being "TOP BROOD BITCH 2007" . – but the night did not go well as Martha barked the whole night through…….. Barnum however, was found to be a totally adorable, fun loving clown, easy going and affectionate, extremely biddable and friendly with everyone he met – human, canine or feline…… and so the emails started to organise him staying and going to shows with the 'Ramchaines' …….. which turned into a very successful expedition that gained him his UK SHOW CHAMPION TITLE in less than 6months from his first arrival into the UK .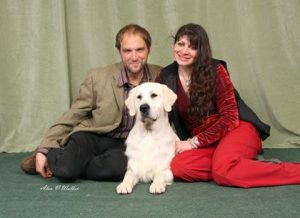 ….. Bart often travelling over to watch his successes and share in the moment………which led to the friendship that developed and blossomed into the relationship and the reason of why they are together today.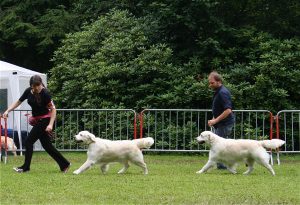 So a lot of successful show trips together in both the UK and Europe followed and in 2009 started the big move for Charmaine , her sons,  four cats and six Goldens  to move from their England home to live with Bart and his group of seven Goldens in the Netherlands …. which of course included the ultra sweet , beautiful Jade 'Ramchaine Green Glitter' !!!
Photo of Photo of Barnum & Jazmin winning Best Dog & Best Bitch in Luxembourg xXx
and Charmaine with "Jade' ~ Multi Ch Ramchaine Green Glitter !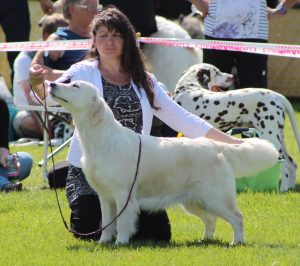 In August 2010 Charmaine & Bart got married ……… and unable to decide on England or Holland for the venue , they ended up choosing for Scotland!!!
The significance of the location:
Scotland was chosen as a very special place for us to be married in ; it was after a short visit to the Highlands for a few days at the end of August 2008 that we decided we really wanted to be together forever and somehow work out the barrier of being countries apart …… we chose for our wedding to be in Tomich – Cannich – Inverness-shire , as it is the place where the Golden Retriever originated & was developed as a breed by Lord Tweedmouth from 1868- 1890 at his Guisachan Estate ~ So if our beloved Goldens ~of which we are both so passionate over ~ began there …and our love blossomed there …..we thought it very apt for us to begin our married life there too!