TOP TO TAIL PROFESSIONAL TRIMSALON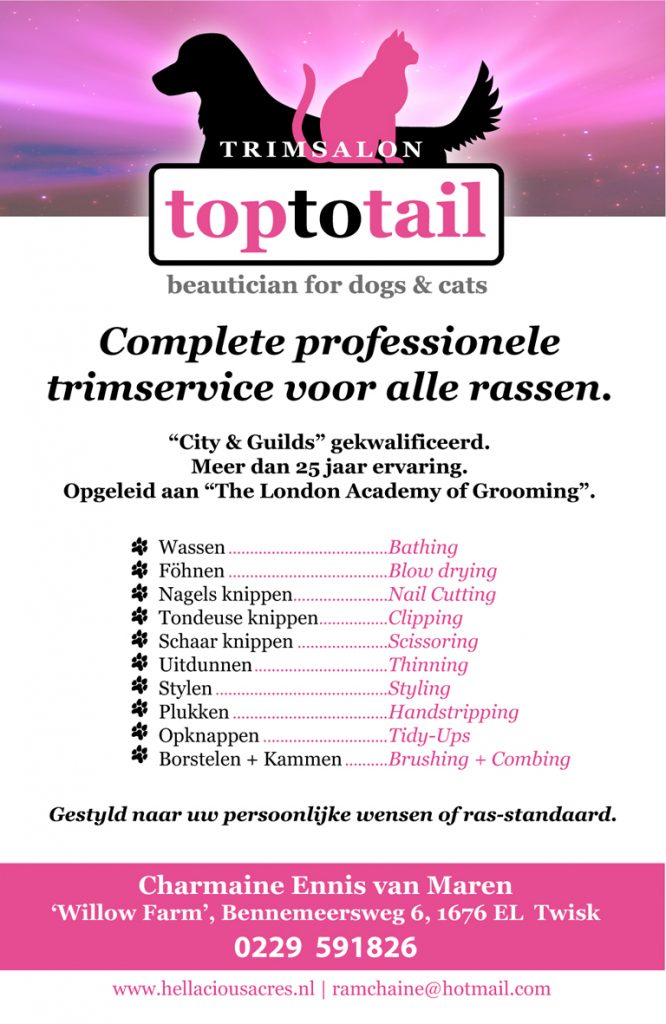 2016 sees OVER 30 years experience for myself as a
*Professional Canine & Feline Beautician*
Below is a little bit of history of my career in working with dogs & cats :
I am a CITY & GUILDS QUALIFIED DOG GROOMER ~ Having completed and passed the theory and all practical tests needed for the PET CARE TRUST/BRITISH DOG GROOMERS ASSOCIATION  'C&G 7750 Exam'.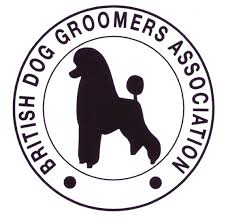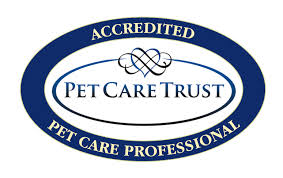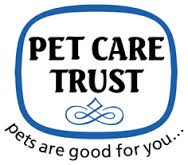 I also have the honour of being awarded a Special Certificate for being the "Student of the Year" with gaining the highest marks in the theory paper for ALL candidates throughout the UK & Ireland !!
While living in England I had the pleasure of running a thriving business in three different busy Salons in the Surrey area before my move to Holland in 2010. My cousin Sophie took over 'Top to Tail" in Surrey and together with her sister Emma has now also expanded to three busy Grooming Parlours …. as well as designing and promoting her own 'Top To Tail' stylish clothes range for Groomers! 
During my secondary school years , I had gained a lot of canine and feline knowledge working weekends and holidays at two different Boarding Kennel & Cattery establishments ….. the first was 'Windmill Farm' in Coulsdon owned by Mr & Mrs Brockis, and the next was 'The Mardens' owned by Patricia Breach of the "Hearn" Cairn Terrier fame, where I was able to learn the art of handstripping a terriers harsh coat …. and which sparked my interest for Grooming as a career.
In 1986 I finished my " Grooming Techniques" course at the "London Acadamy of Grooming" alongside working as the Manageress of  "Northover Kennels & Cattery" in Warninglid, West Sussex.
I started working as a Mobile Groomer in 1987 ~ driving to peoples houses and pampering peoples pets in their own home;
….. while also being employed as a Veterinary Nurse. I was a VN for two years at Ashton Veterinary Surgery in Addiscombe, Surrey,
and then at Aspen Veterinary Practice in Warlingham, Surrey. 
My next move was to Arden Grange Quarantine Kennels & Cattery in Sussex where I had a 'live in' position as their own Groomer for their Quarantine animals aswell as being one of the groomers for their public Grooming Salon.  Then came marriage and my three sons so my grooming career was put on hold until my youngest started Nursery school at 3 years of age. 
So In 1996 I ventured into opening my first 'Grooming Parlour' above a busy pet shop in Coulsdon Surrey, which flourished and steadily grew and grew in its client base.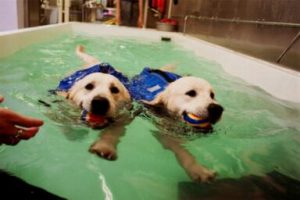 Missing the Veterinary side of my career, I then invested much time, energy and money in becoming a Canine Hydrotherapist and in 2002 changed shops to accomodate a bigger grooming salon and my own hydrotherapy pool ….. 'TRIM & SWIM' was an enjoyable and satisfying enterprise which grew over the next five years to employ 9 members of staff,  open 7 days a week , we completed about 60 – 80 grooming clients per week (all breeds of dog /cats/ rabbits) and had around 90 swim dogs per week.
Both Emma & Sophie who took over 'Top to Tail' England worked for me at Trim & Swim while still at school and got the bug for this rewarding challenging passion of an unpredictable day of dog hair & dogs  !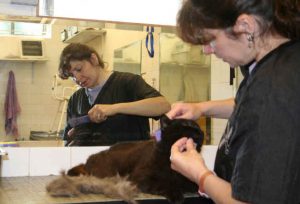 In 2007 my third shop was opened " TOP TO TAIL" in Purley, Surrey … which from the dedication and drive from my cousins Sophie and Emma is now part of a successful chain of Professional Grooming Salons in the Surrey area!
Over the years I have done many Grooming Demonstrations for Breed Clubs and organizations , as well as Teaching Days,
and taking part in the 'Grooming For A Living' Roadshows for DYZNADOG on "Techniques & Tips on how to Show & Pet Groom Your Golden Retriever"
I have now tutored students from all over the UK , as well as Canada, America, Germany and France to learn the art and skills of dog grooming
and many trainees now successfully run their own buisneses or feel accomplished to cater for their own dogs needs themselves.
In 2010 I moved from England to Holland and married Bart van Maren , and 'Top to Tail' Professional Grooming Services continued on a smaller scale in the Netherlands as well as flourishing in England.
One-Day or 3 Day Intensive Course : *** Grooming Your Golden For The Show Ring ***
Personal One-to-One instruction, with guidance and lots of hands-on practice to learn the various methods & techniques of how to bath, dry, enhance and present your
Golden Retriever for the show ring ( or to create a beautifully trimmed pet to be proud of ).
During the day you will receive : –
Lots of opportunity to work on different golden retrievers to learn to achieve a natural effect and competent scissoring as well as handling and control.
 Detailed step by step tuition on how to do ears/ necks/ shoulders/ chests/ fronts/ skirts/ leg feathering/ trousers/ tails/ pasterns/ feet and nails ….
With a brief description of basic anatomy and conformation to understand structure and balance needed to help aim to create the perfect dog!!
Guidance in how to do a quick routine health assessment and body condition check.
Learn skills in Brushing, Slickering, Combing, Handstripping &  use of a 'coat-king' / striping knife / glove / chalk to rid of dead or unwanted excessive undercoat, topcoat &  guard hairs.
Watch and then follow demonstrations on Thinning & Trimming procedures needed to enhance your Golden Retriever.
Practice on how to be competent in ear cleaning, teeth de-scaling & nail cutting.
All aspects of grooming your Golden aim to be covered.
Dogs will be provided to practice and learn on.
Tea and Coffee breaks inclusive during the day as needed.
Please bring your own packed lunch and cold drinks.
Time : ( 7 hours)  10.30am – 5pm with a half hour break for lunch.
You will also need to bring your own grooming equipment – and MUST have with you a comb, slicker brush, small feet scissors for fine detailed work; long straight scissors for tails;
single sided thinning scissors with 45/46 teeth ; double sided thinning scissors with 30/32 teeth , & nail clippers.
All other tools will be provided.
Grooming to a superior standard of perfection is an art and a skill !
Speed and competence increases with confidence and experience.
Having an "eye" for a dog and appreciation of shape can take time to acquire and develops over a period of time.
Please email   Charmaine  on  ramchaine@hotmail.co.uk  or  Telephone   0229 591 826
to book your training day at  'Top To Tail'  in Twisk.