An insight into our cat history and how our love for the Maine Coon breed began …..
Along with the Dogs , Cats have always been an important and
constant part of home life for Charmaine to make it complete!
Since moving to Holland with her 2 x Birmans & 2 x Whites in 2010 , Bart began
to see the attraction of the feline species and gradually become addicted too !!! 
~ Just can't go to sleep without a cat on the bed to snuggle and cuddle ~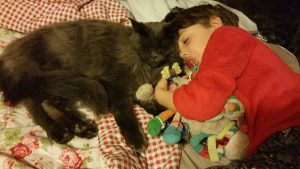 While growing up in England the first Cats to enjoy for Charmaine as a young child in the 70's were:
       *Candy*  , *Cuddles* ,  *Samson*  & *Delilah*
~ ALL x4 were Black & White British Domestic Shorthairs. 
During her secondary school years in the 80's came
*Cynthia* a Tortoisehell Burmese and her Blue/Cream kitten daughter  called
*Kym* or *Kymble Harriot Origarmi*  (as she had a passion for playing with paper!) 
A first home of her own meant Charmaine could have more cats  !!
~ so next was :~
*Simone* a Blue/Cream Tortie & White BDSH &
*Ceafur* a Blue & White BDSH neutered male ( C for Cat!) 
– both from Croydon Cat Rescue , they were followed by
*Kafur* a solid Blue Burmese female  (K for Kitten!)
*Shelley* another Blue/Cream & White Britsh Domestic Shorthair &
*Coco Pops* a Chocolate Point Colourpoint Persian.
After the birth of her own sons in the 90's Charmaine had
*Abbey* a Blue Agouti Abbysinian 
*Crystal* a Blue Agouti & White AbbysinianX
*Cambridge* a Seal Point Siamese & 
*Cupid* a Chocolate Point Birman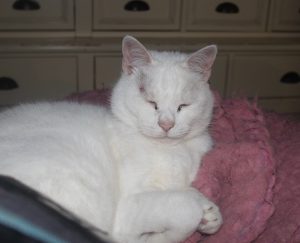 …. which were then followed by the "WHITES" :~ 
*Clarance*~ an Odd Eyed White BDSH
*Cache* ~ a yellow eyed White BDSH
*Chevy*~ a yellow eyed White BDSH
*Clive*~ an Odd Eyed White BDSH &
*Cedric*~ an Odd Eyed White Britsh Domestic Shorthair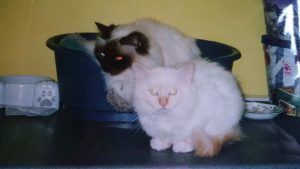 in 2004 *Cluedo* ~ "Gayemaudi Carrot Cake"
a Red Tabby Point Birman joined the family. 
Bart and I got together in 2008, so at first a relationship across the sea!
At the end of  2009 the four cats we had  " Cupid, Chevy, Cedric & Cluedo"  moved from their England home to live in
Holland with Bart and were soon followed by me and the dogs x
So Bart 'inherited' my two Birmans and the two All White Britsh Domestic Shorthairs!!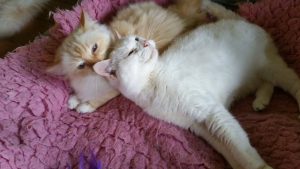 Chevy & Cupid were great friends and both lived on untill over 15 years of age , always inseparable,
Cupid stopped eating and died one week after his best friend and cuddle companion Chevy.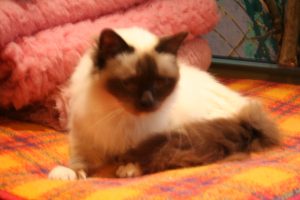 Cluedo loved everybody and liked attention and being combed !
He was great with our young son and also lived till 15 years of age!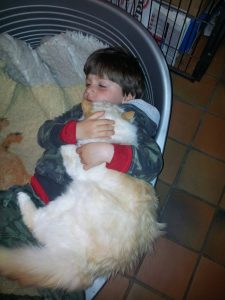 Dear old Cedric was the last remaining of the four from England and enjoyed his life with no ill health right up to his 18th year !!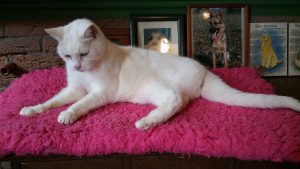 Not wanting to end up 'Catless' and  as the two neutered boys were getting older at home,
in 2015 Bart and I looked into getting a new kitten ….  a completely new venture for Bart –
together we looked into having another Birman
or starting together with a new breed ~ one well suited to mixing with all of the dogs and
our young 3 year old son .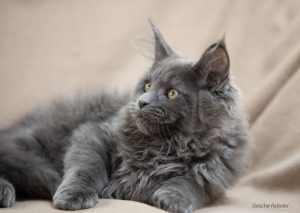 We wanted a beautiful to see, interactive, affectionate, cuddly, semi- longhaired cat ….
we looked at Birmans …. but then fell in love with a photo of a Solid Blue Maine Coon Kitten on Facebook !!
So first a little bit of research into the history and character and health of the breed …..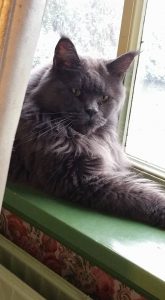 ….. and then arrived **Colin** and our start in Maine Coons !!
– The most PUUUURRRRFECT Breed to fit in with our busy family life and get along with the dogs too ! 
After Colin ~ "Relaxing Tigers Octopus" , came our second Maine Coon
~ Koekie ~ "Relaxing Tigers Zoe Jane"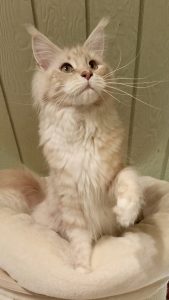 ……..  and we became hooked on this wonderful breed of cat !!
They were addictive ! 
They were as cuddly, affectionate, friendly, interactive , playful and as appealing as a Golden Retriever!!
We were eager to learn more about these big friendly fabulous furry felines ….
and so the Coon Obsession began ….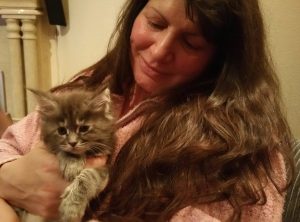 The next Maine Coon to arrive 'Tusa' brought us into a new hobby, new friends  and the world of cat shows!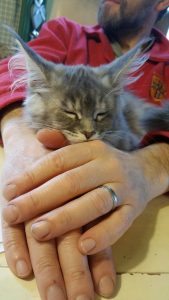 ….. she became our first  Show Cat  ……  and our first Champion cat too !!  …….
  **GIC Hiamovi Tusa Tashunka**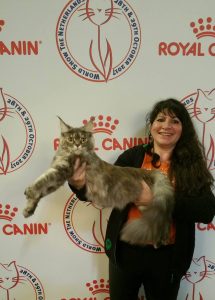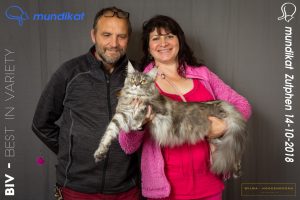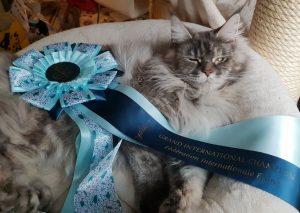 And so our lovable Maine Coon family began to grow ……