Home - History - Champions - Showwinners - Our dogs - Litters - News - Judging - Grooming ( Trimmen )- Other breed- Contact - Links
Achievements Jelly
5th May 2012, The German GRC Special Breed Championship Show , Bad Arolsen, Germany, judge Emma Archibald (Abinvale) – Ireland.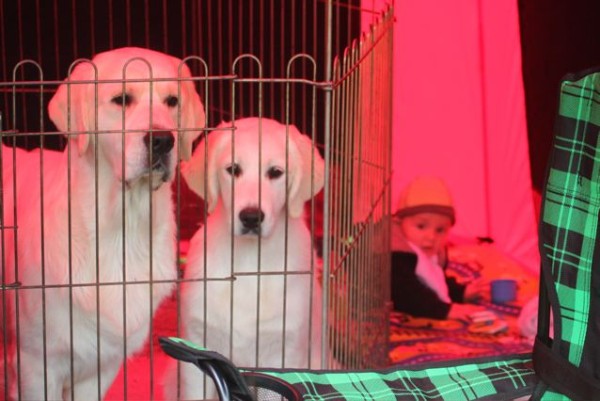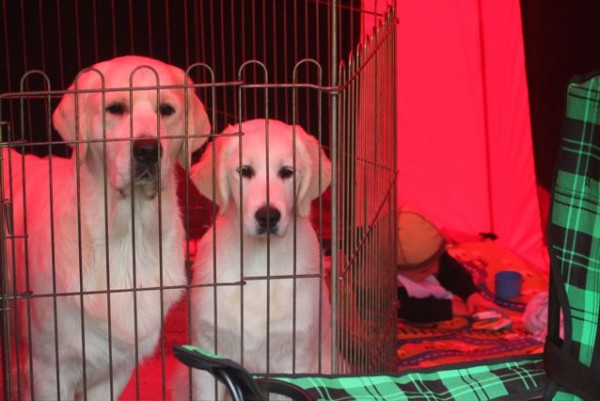 Our baby Jelly Belly has her first show experience pictured waiting to go in the ring - - with Noah & our Sebastian also 6 months old.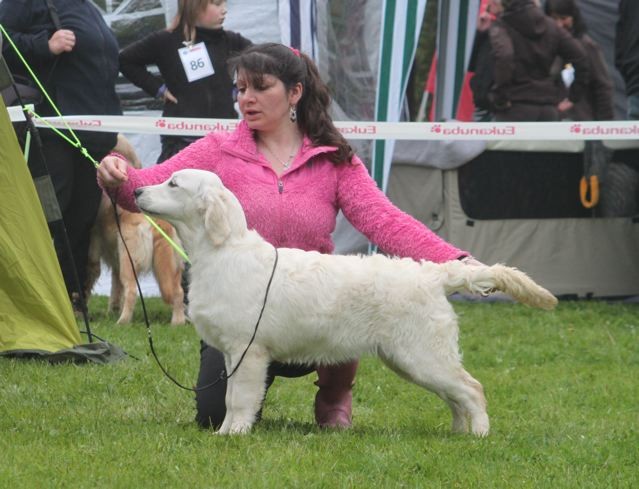 'Jelly' makes her ring debut at 6 months of age .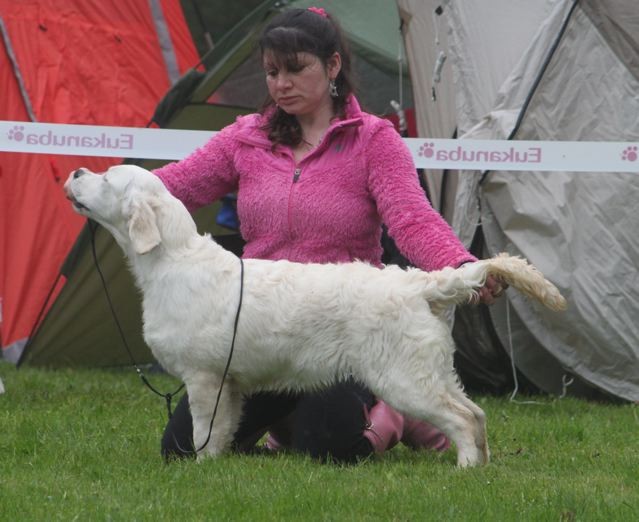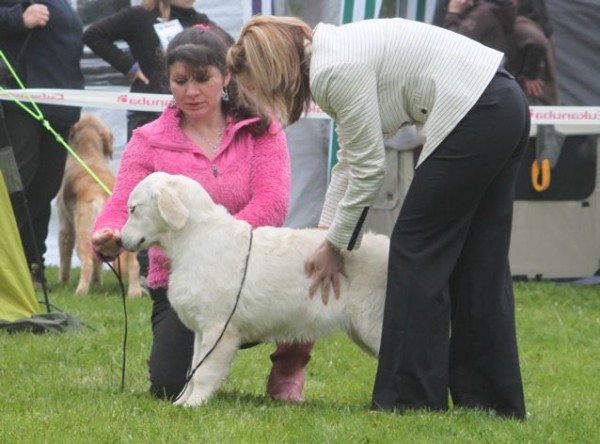 Jelly stands still beautifully while the judge goes over her and never even moves a foot!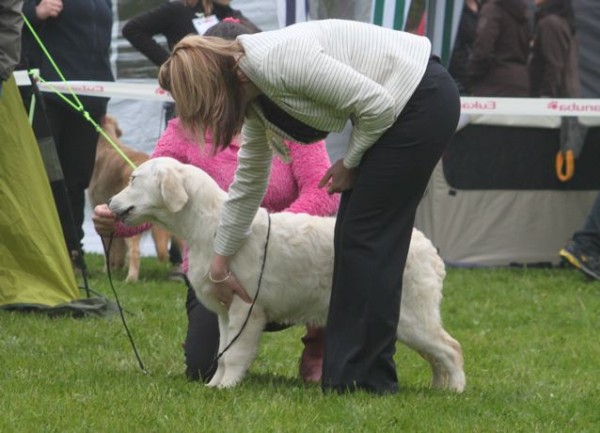 Our Jelly Belly has the most enormous deep, thick, dense, wavy puppy coat – we call her our 'mini sheep'!! Her critique from the judge said "Beautiful head and expression., dark eye and pigment. Good reach of neck. `well angulated front and rear. Good bone. Neat feet. Moved well."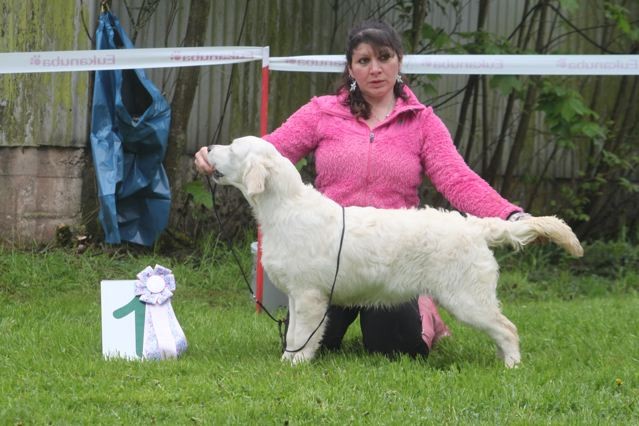 Jelly wins 1st 'Very Promising' in the Puppy Bitch Class!!
A great start for our baby girl!
17th May 2012 – The GRC of the Netherlands Championship Show.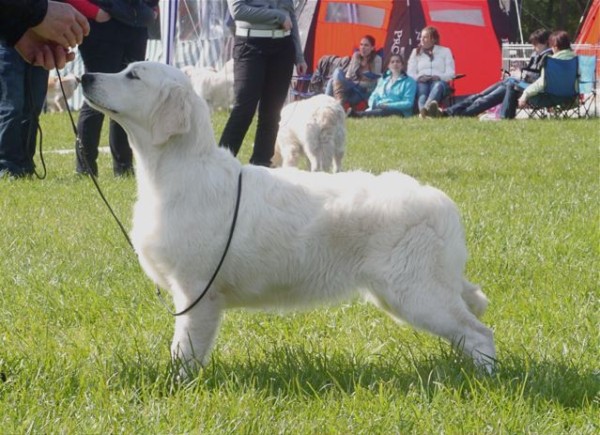 Jelly wins 2nd in the Puppy Bitch Class under judge Glenis Hewitson (Seruila) GB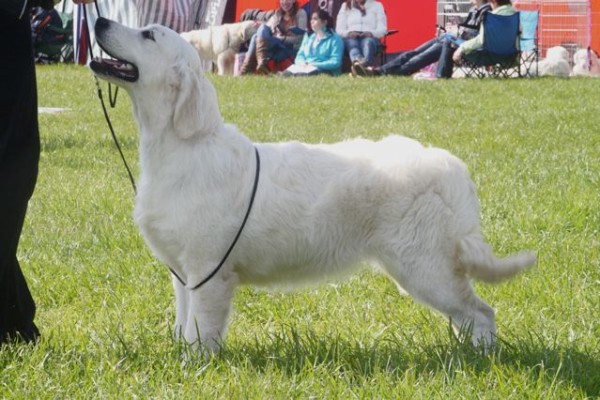 Her critque reads: "Very promising. Such a pretty baby with so much to like! Lovely head. Superb dark pigment. Excellent angulation. Level topline. Good tailset. Plenty of substance.Good turn of stifle. Strong hocks, which allowed her to drive with a strong action around the ring."
1st December 2012 – The German GRC Specialty 'Advents' Champioship Show, Cloppenburg,
Judge : Santiago Gadea-Castro (Thevenet) – Spain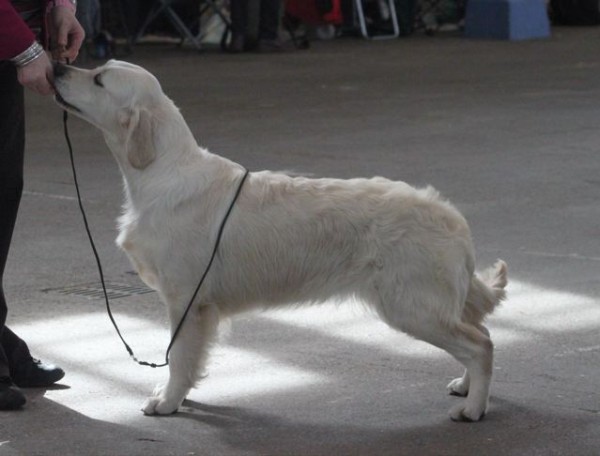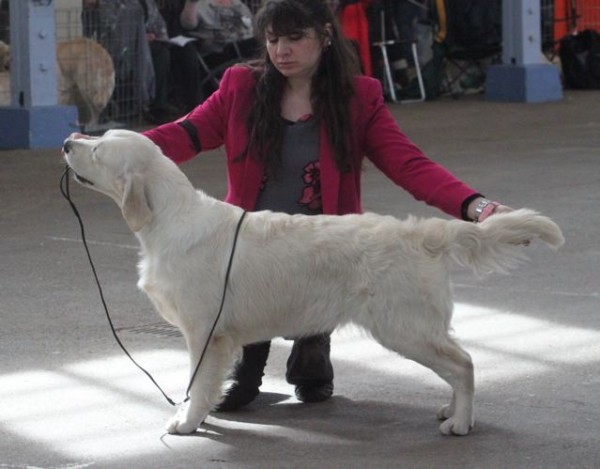 Jelly is graded excellent in the large Junior class of 21 bitches. Her critique read: 'Very well constructed pale lady of 14 months. Most excellent outline. Balanced angulations. Excellent proportions. Excellent reach of neck. Excellent head, with very beautiful eyes. Excellent closed and strong jaws. Excellent coat quality. Happy movement that needs more training to show her good construction.
23rd March 2013 – The German GRC Specialty Championship Show, Cloppenburg,
Judge Eileen Caisley (Standfast) UK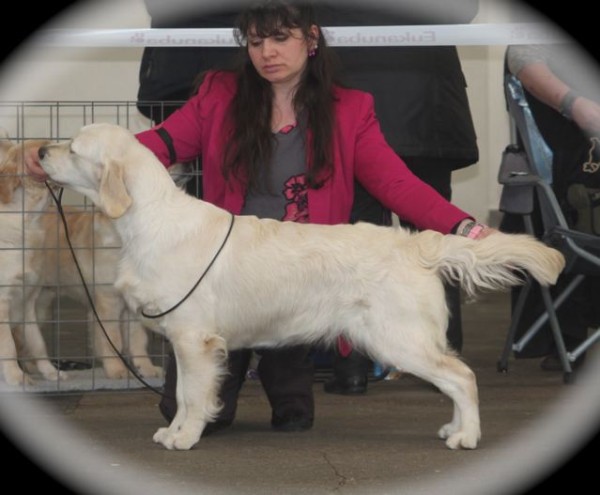 Jelly is now 17 months old and wins 2nd Excellent in the large Intermediate bitch class of 20 entries. Her critique from the judge said: "Very happy bitch which is well handled and well presented. In good coat and excellent condition. Sweet, feminine head with lovely dark eyes and lovely dark nose pigment. Plenty of work over eyes and the sagital line. Good neck crest. Level topline. Positive mover, Excellent."
3rd August 2013 – The German Retriever Club (DRC) Specialty Championship Show, Hochstadt, Germany.
Judge : Dagmar Winter (Fourwind Cottage) – D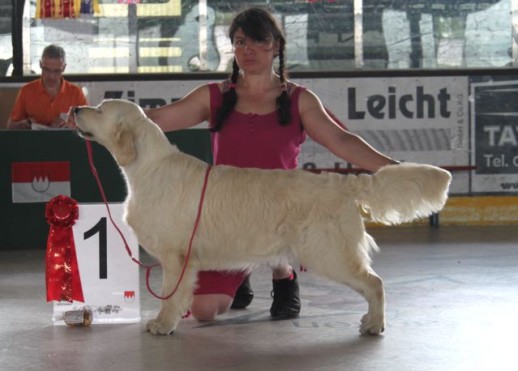 Jelly wins 1st Excellent in the Intermediate class with the CAC & VDH awards.
The judge wrote : "20 months old bitch. Excellent type. An excellent chiselled head. Top expression. Very good neck and shoulder flow. Good topline. Excellent forechest. A deep chest and excellentspring of ribs. Cat like feet. Correct angles. Moves with a lot of drive and covers the ground well. Excellent."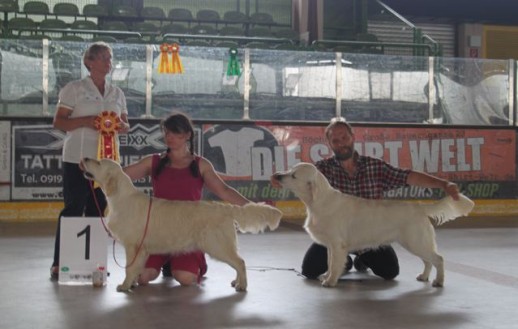 Jelly becomes BEST BITCH and then BEST OF BREED too!!!
( with fellow kennelmate Ramchaine Moment of Truth as BOS)
31st August 2013 – The German GRC Specialty Breed Championship Show, Hammoor, Germany.
Judge : Ralf Koch ( of the Crow Valley) – D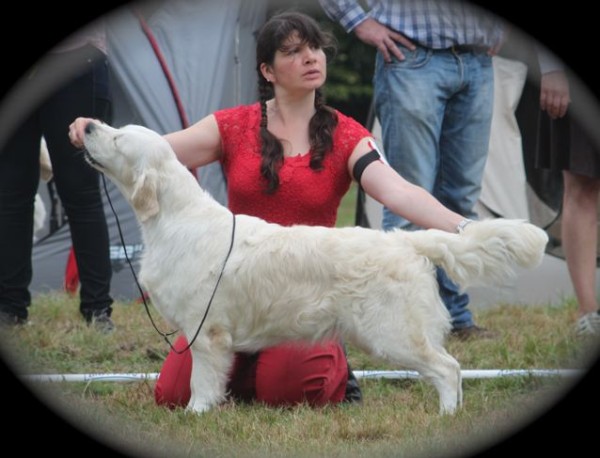 Our Jelly Belly wins 2nd Excellent and the RCAC in the Intermediate from a class of 11 bitches. The judge wrote: " Most appealing bitch of 22 months with excellent conformation over all. Most impressive front construction. Excellent body and hindquarters. Level, firm topline. Excellent bone. Excellent coat. Beautiful strong movement. Excellent."
20th October 2012- The GRCN Breeders Day Assessment, The Netherlands.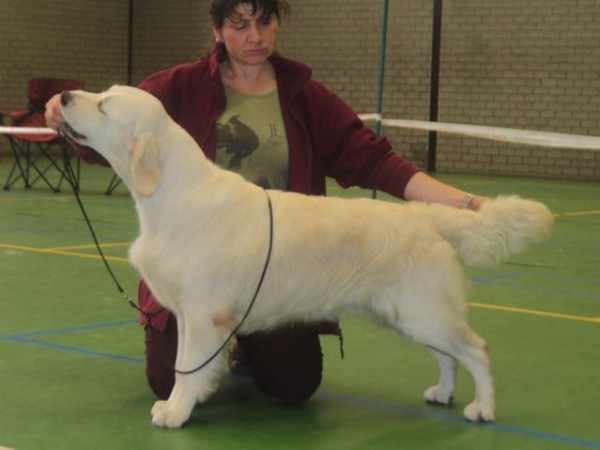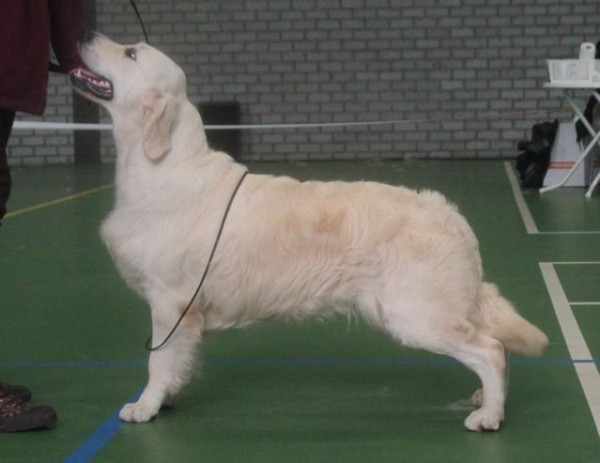 Jelly attends the compulsary Breeders Day run by the GRC of the Netherlands to be assessed and graded on her confirmation, movement, temperament, breed type, and steadyness to gunfire. She achieves a complete string of 'excellents/uitmuntend' for each factor .... as shown on her score sheet below!!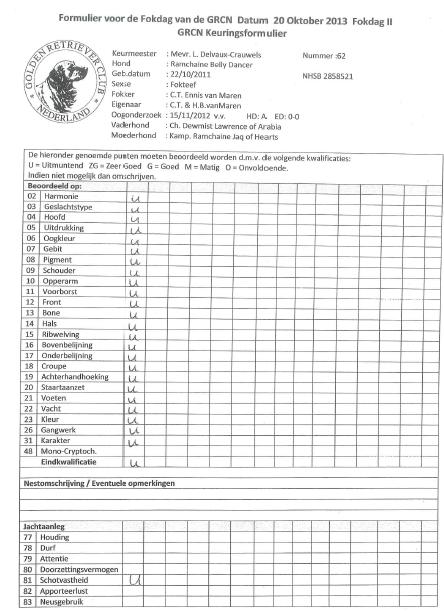 Achievements - Progeny - Gallery