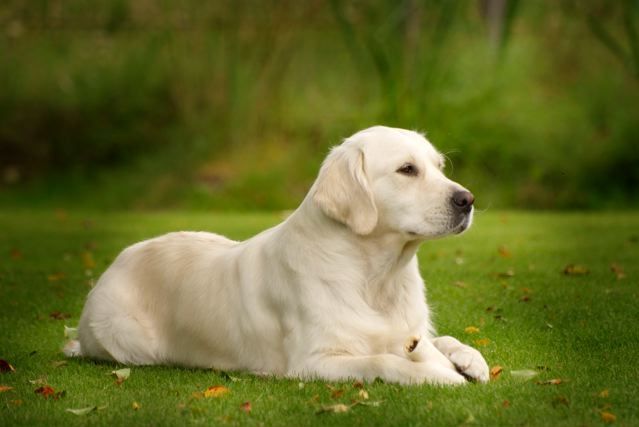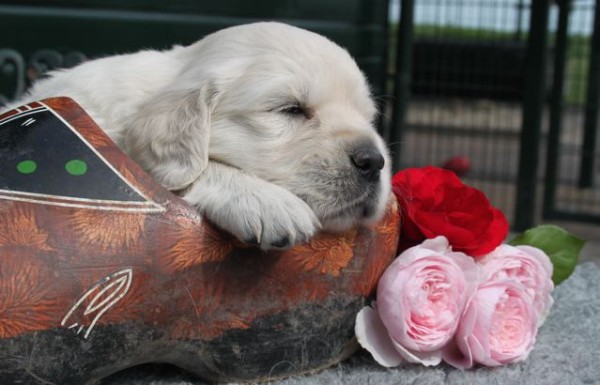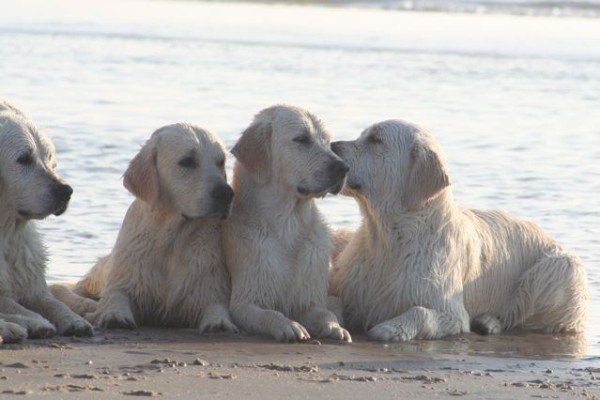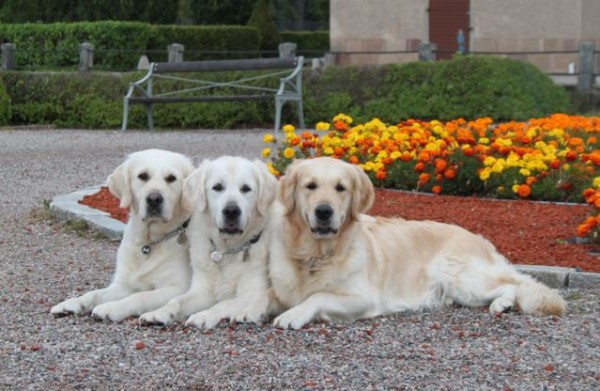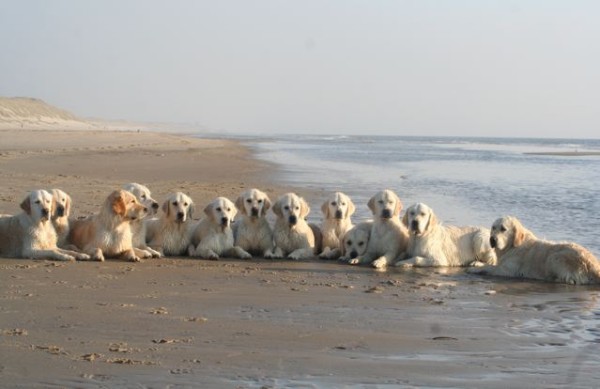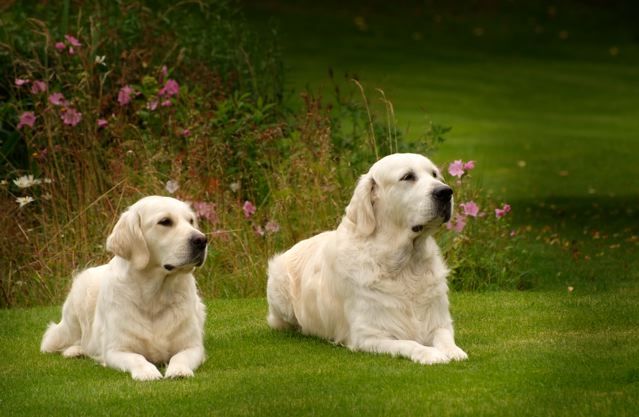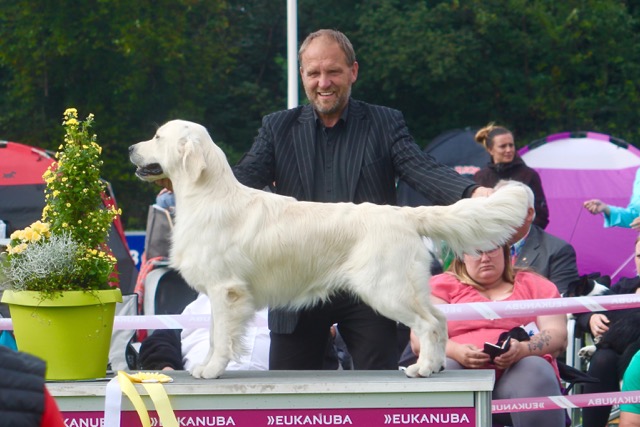 Achievements JCH. Ramachine Skyfull of Stars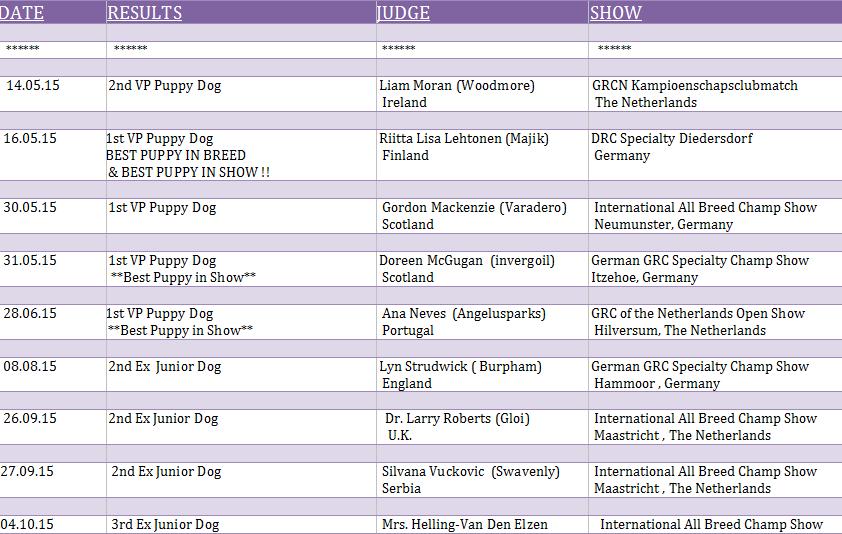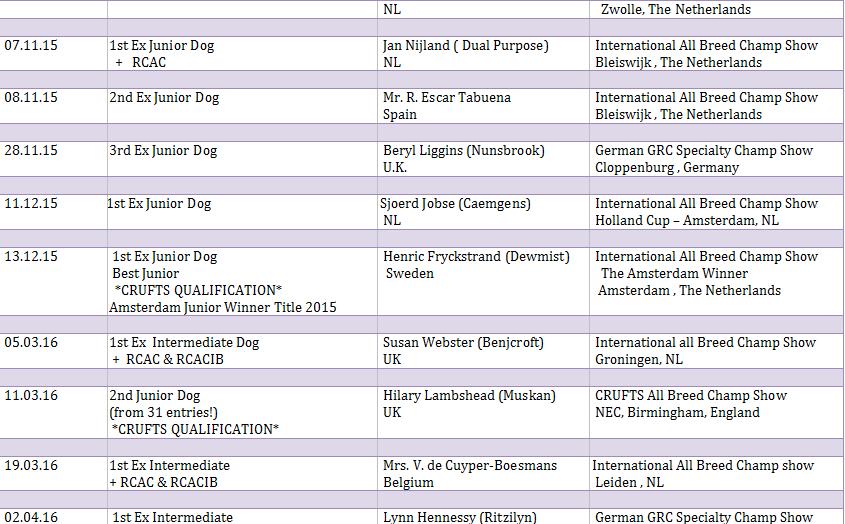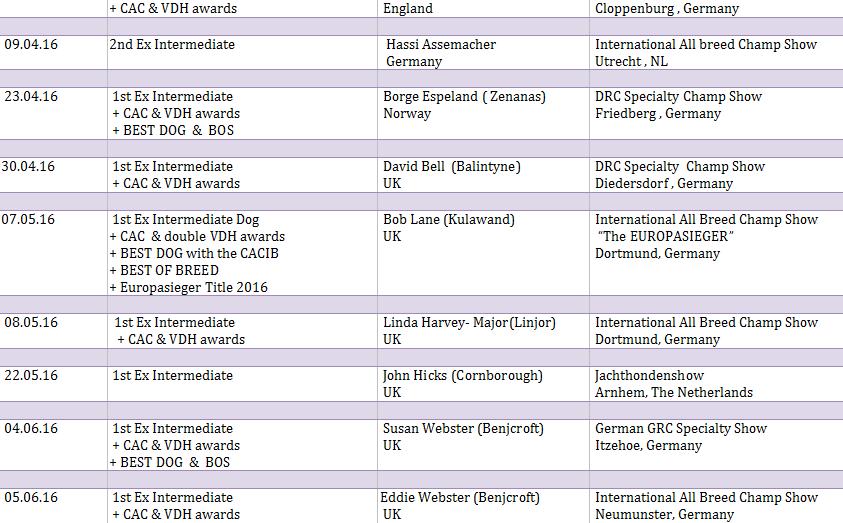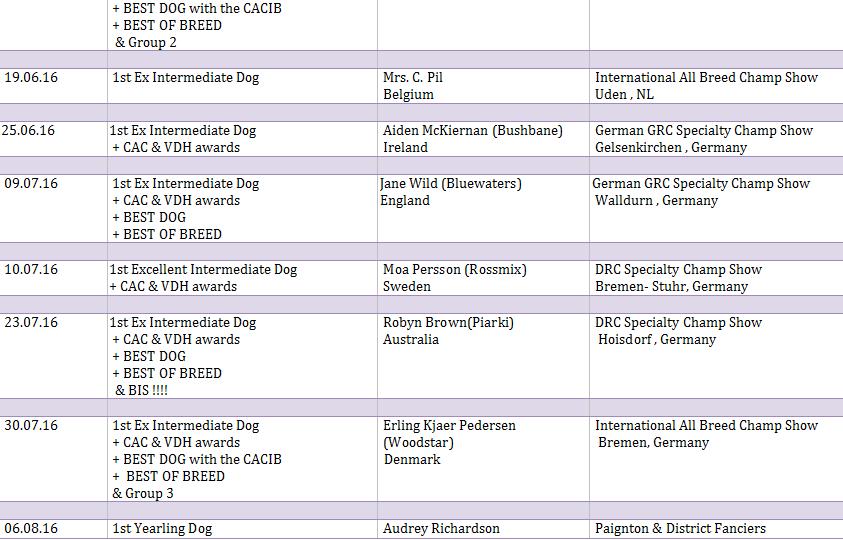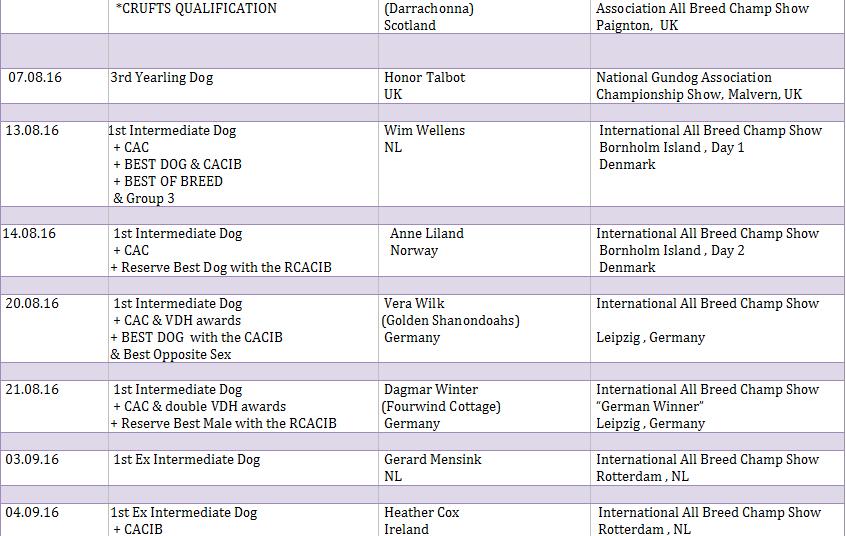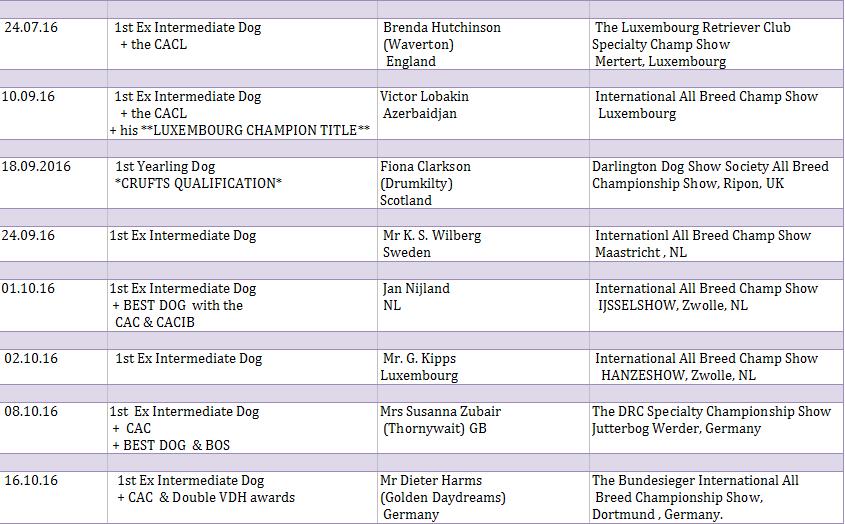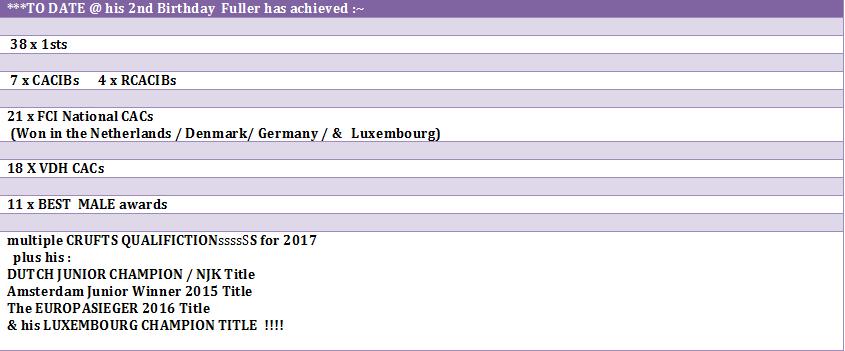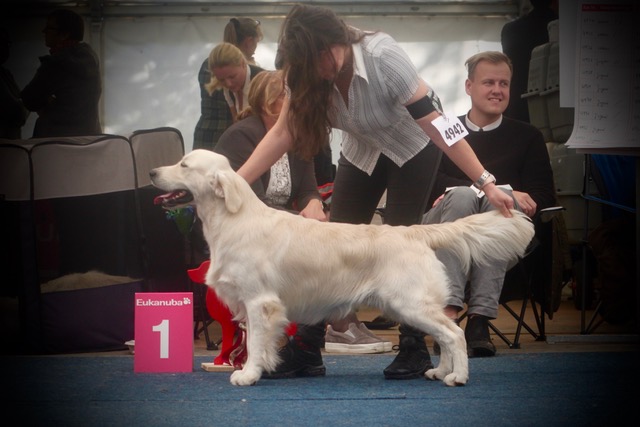 Just a few of Fuller's many wonderful critiques written by the judges :
His first from judge Liam Moran (Woodmore) @ 6 months of age :-
'Very confident pup with a very good ring presence. Nice head and good length of neck.
Good deep chest, good topline. Very nice back end. Moves very well.
Very nicely presented. Very Promising.'
@ 6.5 months from Riitta-Lisa Lehtonen (Majik)
'Excellent type. Very balanced all round. Excellent neck and topline. Beautiful head.
Excellent pigment. In beautiful coat of waves. Moves well and with drive.
Seriously nice !! Very promising.'
@ 7 months from Doreen McGugan ( Invergoil)
'Beautiful puppy, shown in excellent condition. Lovely and confident.
Good head with dark kind eyes and dark pigment. Excellent front angulation.
Level topline. Good width of thigh. Moved with drive.
Should have a very promising future.'
@ 10 months from Silvana Vukovic ( Swavenly)
'Excellent youngster with everything in proportion. Lovely head with kind expression.
Just right in development for his age. Excellent neck. Superb front angles.
Lovely back angles. Nice deep chest. Nice bone and feet. In superb coat.
Most excellent, dynamic mover.'
13 months old @ The Amsterdam Winner from Henric Fryckstrand (Dewmist)
'Very high quality. Attractive head and expression.
Excellent neck which is well set on good shoulders. Good bone. Good in front .
Excellent ribs. Short coupled. Excellent topline and tailset. Strong quarters.
Moves with drive. In lovely coat. Most promising for the future! Excellent.'
@ 16 months from Susan Webster (Benjcroft)
' Quality dog. Has very good bone, substance and balance.
Straight front legs with neat feet. Very pleasing head, eye, and expression.
Good forechest, good length of upperarm and good layback of shoulder blade.
Firm level topline, held on the move. Correct tailset. Nice bend of stifle.
Moved correctly and with super reach and drive in profile. Well presented and handled.'
CRUFTS DOG SHOW from Hilary Lambshead (Muskan)
'Lovely type of Golden with excellent front angulation. Good length of neck.
Lovely cat feet. Well ribbed. Strong well angulated quarters.
Moved around the ring with style and drive and when mature will trouble the best.'
@ 17 months from Lynne Hennessy (Ritzilyn)
' Super boy. Perfect level of maturity for age. Perfectly balanced.
Long clean neck into well laid shoulder. Good topline and tailset.
Stands on good legs and feet. Lovely head and expression.
Coming into new pretty coat. Superb mover.'
@ 18 months from Bob Lane (Kulawand)
' Impressive dog. Lovely head. Lovely expression. Good pigmentation.
Good neck and shoulders. Scores in his balanced angulation front and rear.
Tight feet. Good topline and tailset. Fantastic condition.
Good coat. Really moves well.'
@ 18 months from Linda Harvey-Major
' Loved this boy!! Super head with kind, biddable expression. Clean outline.
Good clean neck with good reach, flowing into correct shoulder placement.
Super depth of forechest, with good heartroom. Well sprung ribs. Super turn of stifle.
Excellent bone. Neat feet. Lovely driving action on the move.'
@ 19 months from Jane Wild (Bluewaters)
'Pale boy. Very difficult to fault. He has for me the most beautiful masculine head,
with a kind dark eye and expression and very good pigment. Superb length of neck.
Super forehand angulation and good chest. Level topline and tailset. Good bend of stifle.
Right amount of bone. Just super on the move! A dog I would love to own !'
Fuller turns 2 years of age on the 1st November 2016 and now has to be in the Open or Champion class.
We are very proud and extremely pleased with his show results to date, our bouncing, joyful young boy
has had a magnificent Puppy / Junior / Yearling / Intermediate Career accumulating
38 x *1st* Places
7 x CACIBs
4 x RCACIBs
21 x FCI 'National' CACs ( won in Holland, Denmark, Germany & Luxembuorg)
18 x VDH-CAC's
11 x BEST MALE
multiple CRUFTS QUALIFICTIONS for 2017
~ several GROUP PLACINGS
plus his :
*DUTCH JUNIOR CHAMPION / NJK Title
*Amsterdam Junior Winner 2015 Title
*The EUROPASIEGER 2016 Title
& his *LUXEMBOURG CHAMPION TITLE* !!!!